The annual EducationWorld Grand Jury India Higher Education Rankings were introduced in 2019 to acknowledge and felicitate higher education institutions (HEIs) — especially newly-promoted, low-profile HEIs. Special juries of knowledgeable educationists are constituted to recommend conferment of the EW Grand Jury Awards upon higher ed institutions implementing best practices.
To select progressive higher education institutions across the country, we invited nominations from educationists, individuals and higher ed institutions themselves supported by evidence of best practices in 12 categories including extraordinary leadership, campus design excellence, quality of campus life, best management practices, future-ready institutions, among others.
Evidence-supported nominations were received from 510 higher education institutions countrywide. To assess the evidence and rank nominated institutions in each category, this year's Grand Jury comprised eminent educationists Prof. A.S. Seetharamu, former professor of education, Institute of Social and Economic Change, Bengaluru and education advisor to the Karnataka government, Prof. Dilip Kumar Dureha, former vice-chancellor of Lakshmibai National Institute of Physical Education Deemed University, Gwalior and Dr. Hiren Ghelani, IT entrepreneur & coordinate member of Saurashtra University and Gujarat Technical University. The Grand Jury duly assessed the nominations and supportive evidence and ranked the Top 5 HEIs in each category.`
Extraordinary Leadership
These awards acknowledge extraordinary education leaders from among low-profile and newly emergent private higher education institutions.
We are grateful to the EducationWorld grand jury for this award. Carved out of Bangalore University in 2017, BCU is sited in the heart of the garden city with our Central College established 150 years ago. This award acknowledges the excellent administrative leadership provided by the BCU management to build upon this legacy. During the Covid pandemic, our management made extraordinary efforts to transition to online teaching-learning. We automated all administration, examination and finance systems, and examinations were conducted and results declared on schedule. BCU is among the first varsities to implement NEP 2020 with plans to introduce the four-year undergraduate and integrated Masters programmes. Moreover, we have introduced study programmes in new-age disciplines such as artificial intelligence, machine learning, data analytics, cyber security, internet of things.
— Prof. Lingaraj Gandhi, vice-chancellor, Bengaluru City University
Social & Community Impact
Awarded to institutions which have meaningfully engaged with communities, at local or national levels, to effect positive socio-economic change with lasting impact.
Our faculty and students are honoured to accept this award for social and community impact as KIIT University's primary objective is to accelerate social change through provision of high-quality education. We offer not only excellent academics but character building education to students by providing opportunities for community and social service. KIIT University students are encouraged to volunteer at our affiliated Kalinga Institute of Social Sciences (KISS), which provides free education, board and lodging to 30,000 students from marginalised tribal communities. For instance, under our Art of Giving project, KIIT students train KISS children in communication and soft skills.
Achyuta Samanta, founder, Kalinga Institute of Industrial Technology (KIIT) University and Kalinga Institute of Social Sciences, Bhubaneswar.
Campus Design Excellence
Attractive and conducive campuses providing state-of-the-art enabling infrastructure which enables students to learn joyfully and give their best are awarded in this category.
We are elated by this recognition award. The Design Village (TDV) campus is an embodiment of our motto 'Life through design'. Conceptualised and designed by the well-known architectural firm Studio Archohm, TDV is set in a former factory repurposed into a green, sustainable education campus. Former factory floorshops have been transformed into stimulating learning spaces. Cold storage rooms have been converted into classrooms and a chemicals pit is a meeting and conference hub. The EW award endorses our state-of-the-art design facilities including a fab lab with high-end prototyping equipment, iMac and fashion labs and Araku Cafe.
— Mudita Pasari (centre), associate dean, academics at The Design Village, Noida (230 students and 10 full-time teachers).
Promising Future Ready Institutions
Higher education institutions which have demonstrated high potential to quickly adopt and integrate 21st-century best education practices.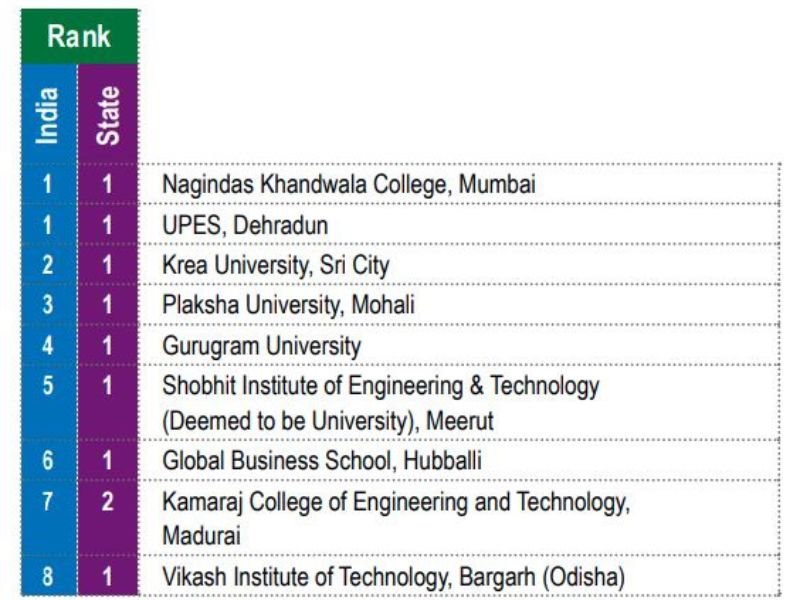 We are thrilled about being acknowledged as fully future-ready. I thank our teaching and non-teaching staff, and management who have worked collaboratively and proactively to provide contemporary future-ready education to our students by embracing latest digital technologies and best industry practices. Our new-age study programmes, curriculums and pedagogies equip students with the knowledge and skills to readily take on the challenges of competitive workplaces around the world.
— Dr. Ancy Jose, principal, Nagindas Khandwala College (Autonomous), Mumbai (estb.1983), which currently has an enrolment of 5,600 students.
Student Diversity
Institutions which promote admission of students from diverse socio-economic backgrounds, cultures and nationalities.
With students from 24 states of the Indian Union, diversity is a way of life at IGNTU. Our mission is to empower students, especially tribal youth, with contemporary higher education to prepare them for employment and leadership positions in an increasingly multicultural globalising world. Likewise, our faculty has been drawn from 27 states countrywide. This is what makes us a truly inclusive university.
— Shri Prakash Mani Tripathi, vice-chancellor, Indira Gandhi National Tribal University, Amarkantak, Madhya Pradesh (estb.2008), which has 3,912 students and 187 faculty on its muster rolls
Excellence in Online Learning
Private higher education institutions integrating and implementing innovative synchronous and asynchronous online learning pedagogies and curriculums to enable delivery of engaging and effective teaching-learning programmes.
We thank EducationWorld for this recognition. It will surely motivate our team to continuously improve and excel. Launched last year, Future Varsity is a pathbreaking higher education provider which offers career-oriented study programmes designed and delivered in collaboration with reputed higher education institutions. The USP of our programmes is that they are delivered through flexible blended learning formats including live online, simulated and on-demand sessions, contact programmes, distance learning, and in-person classes. All courses are taught by highly-qualified faculty and industry experts. Future Varsity has already signed up with Nagindas Khandwala College, Mumbai to provide bachelor's programmes in entrepreneurship and marketing management.
— Balkishan Sharma, Director, Future Varsity
Best Academia-Industry Alliances
Institutions spearheading alliances and collaborations to bridge the academia-industry gap, promote industry internships, enhance graduate employability and job-readiness.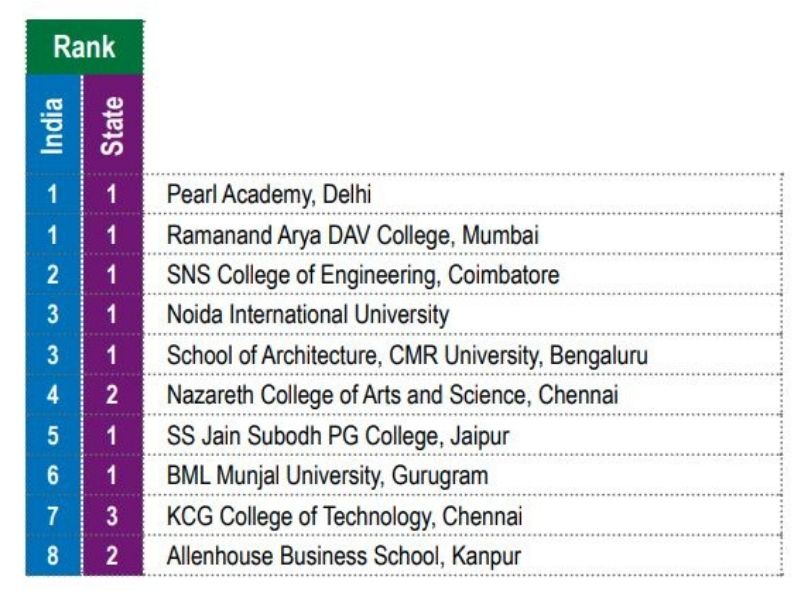 I am delighted, but not surprised, that Pearl Academy, Delhi is India #1 for academia-industry cooperation. Since its inception in 1993, we have focused on strengthening academia-industry partnerships to nurture readily employable, job-ready graduates. Pearl Academy has strong partnerships with leading industry bodies, associations, and corporates which enable industry internships and research projects for our students. Unsurprisingly, we routinely place 99 percent of our students of all our campuses — a testament to our strong industry connect. ASSOCHAM has also awarded us for driving innovation through industry-academia partnerships.
— Abhishek Sharma (left), regional campus director (North), Pearl Academy, Delhi (estb.1993), which has 1,600 students and 100 faculty on its muster rolls
Best Management Practices & Systems
Institutions adopting best management and administrative practices and systems to boost faculty and staff productivity, enhance student learning outcomes and ensure effective education delivery.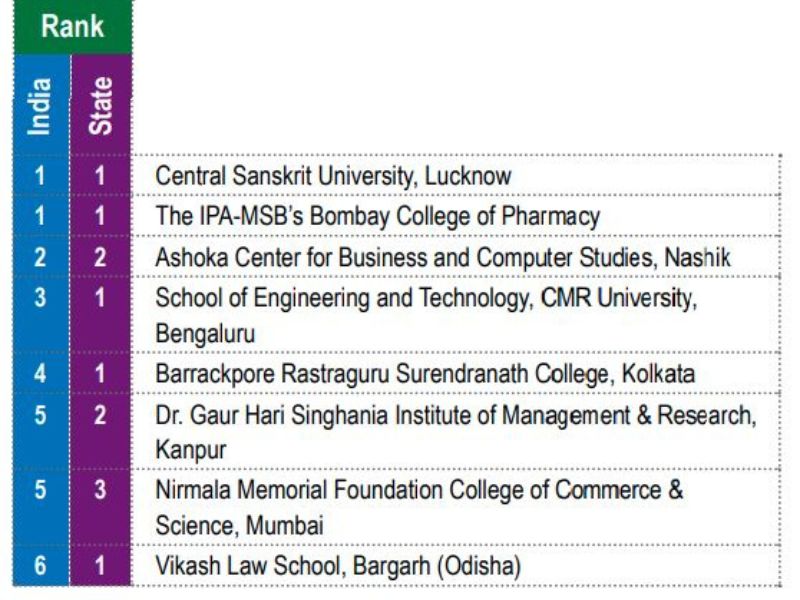 We are delighted with this award which recognises our sustained effort to introduce best management practices and systems. In BRSC, we have a democratic culture with students and faculty encouraged to share ideas and opinions with management. We have also designed excellent crisis management processes.
For instance, even before the Covid pandemic hit us, we had prepared a hybrid education model. Consequently we effortlessly transitioned to online teaching-learning during the long months of the pandemic. We are an ISO 45001 certified institution adhering to best international workplace standards and we will continue to improve our management practices to ensure all-round development and well-being of all our students and faculty.
— Dr. Monojit Ray, principal, Barrackpore Rastraguru Surendranath College (estb.1953), which has an enrolment of 6,000 students and 150 faculty
Best Skill Development & Education
Higher education institutions providing new-age career-oriented skills development and education programmes.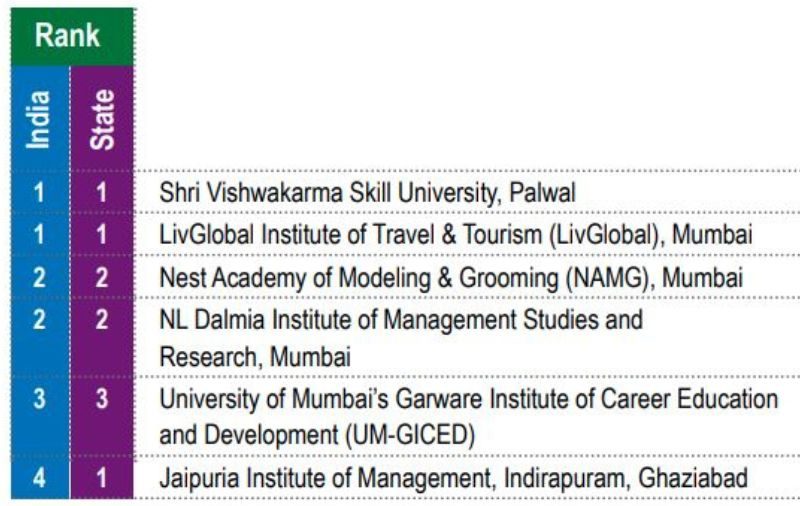 In NLDIMSR, our primary objective is to equip students with the skills and practical knowledge needed to succeed in the corporate world. Our full-time postgrad programmes include several value-added certificate courses designed to develop skills and capabilities required by industry, and our executive education programme — the Bloomberg Market Analyst — integrates Bloomberg data, news and analytics, which introduces students to real-time financial markets. Moreover, we have developed strong industry connect to enable students to develop contemporary skills and capabilities.
— Dr. M.A. Khan (centre), Director, NL Dalmia Institute of Mangement Studies & Research, Mumbai
New Age Study Programmes Leader
Higher education institutions pioneering the introduction of new-age and futuristic industry-aligned study programmes.
We are honoured that our high-quality professional degree programmes in cinema and the performing arts including film production, direction, cinematography, sound, VFX and animation have been acknowledged. Our study programmes are distinguished by contemporary curriculums, experiential pedagogies, and high-level industry engagement with students mentored by experienced industry professionals. To ensure that our graduates are job-ready, round-the-year industry visits and internships are built into our curriculums.
— Yogesh Soman (centre), director, University of Mumbai's Academy of Theatre Arts & Neeraj Kothari (inset), director, Mumbai School of Cinematic & Performing Arts
Professional Education
Institutions providing globally benchmarked professional study programmes such as events management, fashion design and mass communication among others.
We are delighted to be ranked #1 for new-age study programmes by EducationWorld. I attribute this honour to the enduring value systems conceptualised by our founders B.K. and Sarala Birla, which continue to guide us, visionary institutional leadership, supportive management, and highly motivated faculty. Since we were granted autonomous status by the University Grants Commission in 2018-19, we have introduced numerous new-age study programmes including in data science, artificial intelligence, sports and events management, cyber security and forensics.
— Dr. Naresh Chandra (right), Director (education), BK Birla College (Autonomous), Kalyan, Mumbai (estb.1972), which has 12,800 students and 107 teachers on its rolls
Quality of Campus Life
Higher ed institutions providing students excellent academic & residential facilities, as well and health and wellness, social & cultural and other student welfare programmes.
We are proud and delighted that LPU is ranked #1 for quality of campus life. After almost 15 months of online remote learning, students have returned to in-person learning eager to derive the full benefit of the excellent learning ambience LPU provides. Sited across a 600-acre campus, LPU offers state-of-the-art academic, residential, sports and co-curricular facilities supplemented with high-quality student welfare programmes. Right from the start, our mission was to provide students a stimulating learning environment, flexible curriculums, industry internships, excellent faculty, and international exchange programmes. Our high-quality campus life has earned us an international reputation.
— Aman Mittal, vice president, Lovely Professional University, Phagwara (estb.2005), which has an enrolment of 30,000 students from 70 countries worldwide.
Also Read: EW Grand Jury India Higher Education Rankings 2021-2022