To create level playing fields, in this issue we present EW India Higher Education Rankings 2020-21 ranking private autonomous, government autonomous and Top 100 non-autonomous colleges separately on five common parameters of collegiate excellence – Dilip Thakore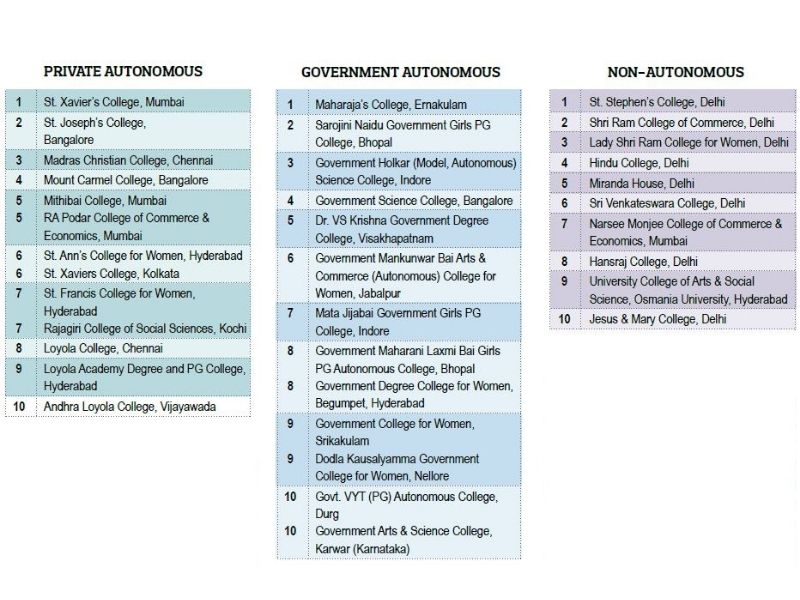 Perhaps the greatest tragedy of post-independence India's failed national development effort is that even the brightest and best of the country's intellectuals are unable to fully absorb the proposition that high-quality education across the spectrum from pre-primary to PhD is the essential prerequisite of national prosperity. This is why despite using reams of newsprint to propagate their prescriptions for socio-economic progress and growth of the nation, the public intellectual who recommends top budget priority for education is a rara avis. Despite a mountain of historical evidence in the public domain testifying that the dominance of OECD nations in the global order is attributable to sustained investment in public and private education, India's academy and public intellectuals at best bleat a weak chorus in support of top budgetary and resource allocation for educating the world's youngest youth and child population of over 500 million.
In the Union budget 2020-21 presented to Parliament and the people on February 1, finance minister Nirmala Sitharaman allocated a sum of Rs.99,312 crore for education — or Rs.122,312 crore if one adds the allocation made for ECCE (early childhood care and education) in the country's 1.6 million anganwadis run by the Union ministry of women and child development. But this sum adds up to a mere 0.54 percent of GDP. If the provision made for public education by India's 29 state governments and Union territories is added, it aggregates to Rs. 6.8 lakh crore, equivalent to a mere 3.1 percent of GDP. Against this the spend of 190 countries around the world averages 5 percent of GDP. Prudently, developed OECD countries routinely allocate 6-12 percent of GDP per year for public education.
Last month in the annual post budget issue of EducationWorld, your editors presented a detailed schema/calculus outlining ways and means for the Union government to mobilise an additional Rs.6 lakh crore for investment in public education, and Rs.2 lakh crore in public primary health.
In the unlikely event of this schema being accepted, the Central government's outlay for education would increase to Rs.7.22 lakh crore, equivalent to 3.18 percent of GDP (Rs.227 lakh crore) and the outlay for public primary health to Rs.2.65 lakh crore (1.16 percent of GDP). Significantly, although EW's additional resource mobilisation plan for public education and health was sent to over a dozen nationally renowned economists (and Niti Aayog, the Central government's think tank) with an invitation for comment and critique, none of them has responded. Indifference towards public education is pervasive in Indian society where high productivity, the outcome of good education, seems to be a peripheral issue.
Your editors are exceptions to this rule. Indeed the raison d'etre of this publication encapsulated in our mis-sion statement ("to build the pressure of public opinion to make education the #1 item on the national agenda") obliges us to accord highest importance to the promotion and nurturance of excellent institutions in pre-primary to postgraduate university education.
Therefore way back in 2007, we promoted the annual EducationWorld India School Rankings (every September) to stimulate healthy competition among schools in different categories to excel across 14 parameters of education excellence, including academics. In 2010, driven by the same logic we pioneered the EducationWorld India Preschool Rankings (December) and in 2013 the annual Education-World India Higher Education Rankings. We believe that acknowledging, felicitating and celebrating education institutions which provide innovative, high-quality holistic education to develop the multiple intelligences of the country's children and youth is the best prescription for national development.
Since unlike in the other two segments of the education continuum, i.e, early childhood and primary-secondary education, we were not the pioneers in ranking higher education institutions — several publications notably India Today, Outlook and Economic Times started publishing college, university and B-school league tables before us — for the past few years EducationWorld has been ranking privately-promoted higher education institutions. With admission into Central government institutions such as the IITs, IIMs, NITs and 49 Central universities requiring sky-high cut-offs in higher secondary school leaving examinations, private colleges and universities ranked in the dedicated annual Higher Education Rankings 2020-21 serve a very useful social purpose by way of offering alternatives to thousands of school-leavers who don't make the cut for admission into the handful of government tertiary institutions which provide acceptable quality education.
However in a departure from tradition, on the advice of several members of our Board of Advisors and eminent academics, in this issue we present league tables rating private autonomous, government autonomous colleges and the country's Top 100 non-autonomous colleges separately on five common parameters of collegiate excellence, viz, competence of faculty, faculty welfare and development, curriculum and pedagogy, placement record, infrastructure and leadership/management quality. The score awarded by carefully chosen sample respondents to private autonomous, government autonomous (as classified by the University Grants Commission) as also the country's Top 100 non-autonomous colleges under each parameter were totalled to rank colleges in each discrete category.
Contrary to popular belief, UGC's conferment of autonomous status on private and government colleges is primarily about academic freedom. In 1956, the Delhi-based University Grants Commission was established to monitor, regulate, supervise and subsidise all Central government universities, and to endow project funding to state government universities. In the Union budget 2020-21 the Centre's financial allocation to enable the commission to discharge its charter is Rs.4,693 crore.
Moreover under s.12 and s.26 of the UGC Act, 1956, the commission is empowered to issue rules/guidelines to non-technical colleges/universities for the maintenance of standards. Under the University Grants Commission (Conferment of Autonomous Status upon Colleges and Measures for Maintenance of Standards in Autonomous Colleges) Regulations, the commission is empowered to confer academic autonomy on high performing colleges. Unlike non-autonomous colleges which are tied to the apron strings of their affiliating universities, autonomous colleges are permitted to design their own syllabuses and curriculums, introduce new study programmes, conduct examinations and have the freedom to prescribe rules for admission in consonance with the reservation policy of the state government/national policy, and independently prescribe tuition fees. They can also constitute their own academic councils, board of studies and finance committees and shall have "complete administrative autonomy and the privilege of appointing their own administrative staff and teaching faculty including principal".
However, UGC prescribes stiff conditions for awarding colleges and universities autonomous status. Applicant colleges must be of more than ten years standing and "accredited by either NAAC (National Assessment and Accreditation Council) with minimum 'A' Grade or by NBA (National Board of Accreditation of the All India Council for Technical Education) for at least three programme(s) or be awarded autonomy by a corresponding accreditation grade/score from a UGC empanelled accreditation agency". Unsurprisingly, only 747 colleges, five Central, 21 state, 24 deemed and two private universities out of the country's 39,931 colleges and 993 universities have been awarded autonomous status by UGC (until December 19, 2019).
"EducationWorld's decision to evaluate and rank private autonomous and government autonomous colleges separately is an excellent and overdue initiative. Colleges which have been awarded autonomy by UGC are separate and distinct from the great majority of India's 39,000 colleges because they are on a higher plane by virtue of being awarded A grade status by NAAC. This status is awarded by NAAC after detailed examination and investigation. That's why the number of autonomous colleges is only 747 across the country according to latest data. In its National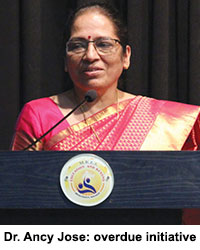 Education Policy 2019 draft, the K. Kasturirangan Committee has strongly recommended liberal conferment of autonomous status on colleges to 'innovate, compete, cooperate, govern more locally and optimise resources', and there is every indication that the NEP 2020 will incorporate this recommendation. To encourage autonomous colleges to regularly debate and discuss ways and means to raise academic and administration standards, I was all set to launch a new Association of Autonomous Colleges in Mumbai on April 18. But the launch has been postponed due to the Covid-19 crisis. However, the association will be promoted in the near future," says Dr. Ancy Jose, activist principal of the Nagindas Khandwala College, Mumbai (NKC, estb.1983), a private autonomous college affiliated with Mumbai University which was conferred autonomy in 2016.
A mathematics and education postgraduate of Kerala University, Jose signed up with NKC ab initio as a lecturer and was appointed to the principal's office in 1993. This private autonomous arts, science and commerce college has introduced several new degree programmes in fashion design, international accounting and sports management. Currently NKC has 4,557 students mentored by 74 full-time and 51 visiting faculty on its muster rolls.
Against this backdrop, EducationWorld commissioned the Delhi-based Centre for Forecasting & Research Pvt. Ltd (C fore, estb.2000), routinely numbered among India's most respected market research and opinion polls company (clients: Congress party, Nestle and Mint, among others), to poll knowledgeable academics, faculty and final year college students countrywide to rate and rank the best private autonomous and government autonomous colleges, as
also Top 100 non-autonomous colleges in their categories. "Over 150 C fore field personnel interviewed 4,813 sample respondents comprising 1,946 college/university faculty and 2,467 final year college students and persuaded them to rate India's best private autonomous, government autonomous colleges and also Top 100 non-autonomous colleges on five parameters of tertiary education excellence, viz, competence of faculty, faculty welfare and development, curriculum and pedagogy, industry placement record, infrastructure and quality of leadership/governance. Respondents were asked to award 1-100 scores on four parameters with the all-important parameter of faculty competence given a higher weightage of 200. The scores awarded by respondents under each parameter were totalled to rank colleges in each category," says Premchand Palety, an alum of the Punjab Engineering College, Fore School of Management, Delhi and former senior manager of ORG — India's pioneer retail market research company — who went solo in the millennium year and promoted C fore.
In the pages following we present detailed city, state and national rankings of India's most admired private autonomous, government autonomous as also Top 100 non-autonomous colleges in that order. Although high national rank confers prestige and bragging rights, city rankings are arguably of greatest interest to students and parents. State rankings are also prestigious because most of India's states are as large and populous as European countries. League tables of the best 100 non-autonomous colleges are also presented because these are excellent institutions, ready for award of autonomous status in the near future.
Moreover, the detailed Higher Education Rankings 2020-21 also rank Top 10 colleges under all five parameters of collegiate education excellence to enable students to choose the aptitudinally most suitable college — even if not top ranked — for undergrad education.
Recommended: India's Top 100 Arts, Science & Commerce Colleges 2018-19