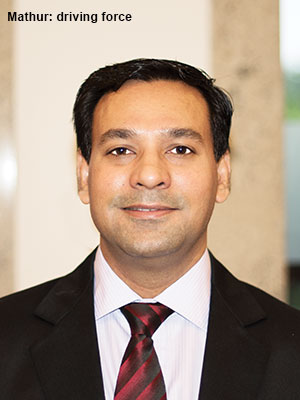 Siddharth Mathur is director of the Mumbai-based National Academy of Science and Creative Arts Llp (NASCA, estb.2017, headcount: 60) which offers a unique hands-on STEAM (science, technology, engineering, arts and mathematics) curriculum mapped with national and international boards to schools in India. Over the past three years since it was promoted, 48,000 students in 70 schools across the country have signed up for NASCA's in-school STEAM programme.
Executed in highly, specialised lab environments, NASCA's RoboWizard modules — designed by an expert team of engineers and educationists — teach logic development, early science and math learning, cause and effect and visual understanding to primary school children, and robotics, coding and programming, sensors and actuators, physics, mechanics, electronics, mathematical applications, Internet of things, artificial intelligence and design thinking in higher classes.
Newspeg. Since the Covid-19 induced national emergency lockdown in midMarch forced the closure of all education institutions across the country, NASCA's 60 subject experts have been conducting live online classes to maintain learning continuity of its STEAM programmes.
History. A science and business management alum of Mumbai University and IIM-Calcutta, Mathur acquired two decades of work experience in blue-chip corporates (Bennett Coleman & Co, Goldshield Plc) before he experienced an epiphany that transforming education was his "true calling". In 2013, he introduced a selfdesigned Robowizards programme at the SVKM JV Parekh International School, Mumbai and a few other schools in the city as a pilot project. In 2017, he quit his job with the Shiamak Davar dance academy and formally promoted NASCA Llp with an investment of Rs.45 lakh from personal savings.
Under the NASCA business model, partner schools pay Rs.4,500 per student per year for installing specialised STEAM labs with trained faculty, teaching tools/equipment and curriculum.
Direct talk. "It's highly satisfactory that students exposed to STEAM education have shown better conceptual understanding of their subjects. Their average performance in annual and competitive exams has improved remarkably compared to non-STEAM students. Moreover, exposure to school-level robotics, IoT, data science and AI has also generated great curiosity within students making them eager to explore careers in related fields. The idea is to ignite curiosity and imagination of students," says Mathur
Future plans. Enthused by the encouraging response to Nasca's STEAM curriculum, Mathur has set a target of reaching 1 million students by 2024. "We are planning to expand our footprint to 25 Indian cities and foreign countries — UAE, South Africa and South-east Asia — during the next two years with an investment of Rs.1.5 crore. Moreover, we plan to establish two 10,000 sq. ft Centres for Innovation in Mumbai and Delhi to develop STEAM product prototypes and patent some of these technologies. We are also collaborating with several state governments, local municipal corporations and NGOs to launch subsidised or CSR-funded STEAM programmes in municipal schools across the country," says Mathur, who is sailing smoothly full steam ahead!
Akhila Damodaran (Bangalore)
Also read: Energetic entrepreneur