Category: Music Education
Drawing inspiration from the rich musical legacy of the Furtados Group (estb. 1865) – one of the commercial capital's first retailers of Western musical equipment — the Mumbai-based Furtados School of Music (FSM, estb.2011) provides children joyful music education through age-appropriate curriculums. FSM has signed up 175 schools including the top-ranked Jamnabai Narsee International School and Billabong High International School, Mumbai to provide its well-designed music education programme. Moreover, FSM classes are also conducted at the group's 15 retail centres in Mumbai, Pune, Delhi, Hyderabad, Bangalore and Akola with additional provision for home-based online learning. Since it began modestly with a first batch of one student nine years ago. FSM has provided music education to 75,000 children through its 300-strong team of qualified teachers/instructors.
FSM offers five music study programmes:
International Performance Curriculum (IPC) for instrumental music, International Music Curriculum (IMC) for vocals and percussion instruments, 'Music is Fun' (MIF) programme for preschools, 'Sangeet is Fun', the Hindustani vocals curriculum and Pro Step, a year-long certificate programme for professionals.
With the outbreak of the global pandemic, FSM did not shudder or pause, but quickly took all its classes online. FSM believes the will to keep learning and evolving is responsible for its continuous growth. Teaching videos have been incorporated, and a music assessment tool Music buddy has been introduced. Schools as well as individual students switched online and kept the learning going.
FSM Leaders
Tanuja Gomes & Dharini Upadhyaya

Co-founders & Co-CEO
An alumna of Bombay University and Mumbai's Narsee Monjee Institute of Management Studies, Tanuja Gomes is the co-founder and co-CEO at Furtados School of Music. A former banker, she has 16 years' experience in multinational banks such as HSBC and Barclays in India and Singapore. A core committee member of the Confederation of Indian Industry's Indian Women Network, Tanuja was awarded the prestigious 'Goldman Sachs' award in 2014.
With over a decade of experience, Dharini Upadhyaya commands considerable experience in the banking industry. Dharini was previously the Head of Investment & amp; Premier Banking at Barclays Bank, before that she worked with ICICI Bank and DBS. Dharini's love for music and education led her to co-found Furtados School of Music with Tanuja Gomes. She aspires to bring music education all over the country that will symbolise quality and consistency along with rich curriculum where children can inherit a life of joy by learning music. Dharini's contribution in building FSM has helped garner numerous awards especially in Pedagogy of Music Education.
Parameters
Value for money
360-degree solution, from setting up music labs to a world-class curriculum and training.
Wide exposure through FSM's extensive network in the music community.
Programme quality
Age-appropriate music education.
Professionally certified teachers/instructors who make music education engaging and joyful.
In-school music programme is integrated with the school academic calendar while at FSM centers, courses are offered semester-wise with each semester being 20 weeks long.
Home learning and practice through the 'FSM Buddy' online software.
Affiliation with Berklee College of Music.
User interface design
FSM's integrated music curriculum is designed by an experienced music educator, Rowan Parker, former music examiner of Rock School, UK and designer of the Yamaha School of Music curriculum.
Curriculum and training covers music theory, learning musical instruments and basic music composition.
FSM organises annual recitals and performances to ensure every student gets an opportunity to showcase his/her talent.
Customer Satisfaction
"Since FSM came on board, students are excited about their music lessons. FSM teachers have been successful in creating love for music within students. I look forward to continuing this relationship with FSM." — Geeta Menon, principal, Chembur English High School, Mumbai.
"Students eagerly look forward and enjoy FSM music sessions. Teachers are well-trained and professional." — Mahera Goel, principal, Fazlani L'Academie Globale, Mumbai.
Innovation
Animated curriculum which can be taught even to preschoolers.
First music school to introduce Music Buddy app to enable students to practice music lessons at home.
Launched FSMBuddy.com which offers creative programmes in music, dance, speech & drama, communication and painting.
Training support
End-to-end music education solution for K-12 schools.
Services include setting up of the music lab with instruments, providing trained and certified teachers, monthly curriculum updates, annual assessment, concerts and recitals.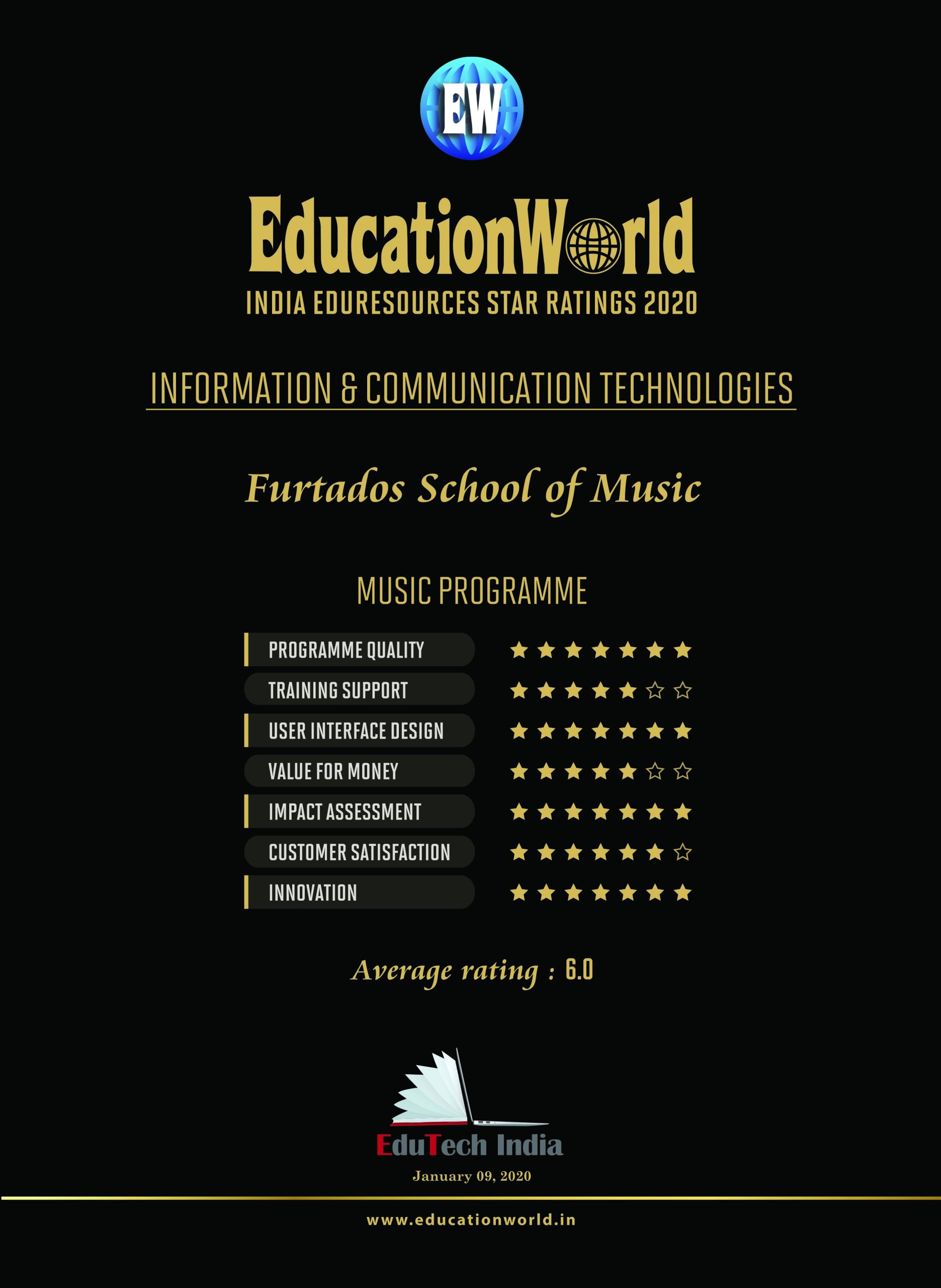 Impact assessment
Research has proven that music education promotes children's all-round development.
Participants registering for FSM's inter-school band competition 'Band-It' have increased manifold over the past years.
Instrument training as a skill-development programme to create larger social impact.
Contact details
www.furtadosschoolofmusic.com
[email protected]
1800 1234 44441
Also read: Kool 4 Skool | EWIER 2020 Series