– Dipta Joshi and Sukanya Nandy
Across India, the countdown has begun for class 10 and 12 students slated to appear for their February-March 2021 summative board exams. However, instead of filling out their board mandated pre-examination forms at this time of the year, educators, parents and students are debating whether the 2021 board exams should be held at all in the face of unprecedented uncertainty due to the COVID-19 pandemic?
Each year, 10 million plus students appear for the grade 10 and 12 board exams conducted by various state and national-level educational boards like the Central Board of Secondary Education (CBSE) and the Council for the Indian Secondary Certificate Examination (CISCE) across India. Class 10 and 12 board exams are important mileposts in the education graph of Indian students irrespective of the education board or education structure followed in the state.
While across India, class 12 results determine admissions to higher education universities, in Maharashtra, class 10 board exams too assume significance since the state follows the secondary (class 10), higher secondary (class 11-12) and university (class 12 onwards) based education pattern. Students from the state board affiliated schools as well as those from CISCE as well as CBSE schools compete to get admitted to state-board affiliated higher secondary junior colleges that offer courses in arts, science and commerce streams based on their class 10 board results. Even in states that have a continuation of class 10-12 classes, class 10 boards are important because they are the first public exam the student appears for.
The COVID-19 outbreak and the ensuing national lockdown resulted in schools and educational institutions remaining shut since March 24. Online classes, which were supposed to be a stop-gap arrangement, replaced regular schooling for a large part of the academic year 2020-21. With both online learning and teaching continuing to face hiccups in several parts of the country owing to Internet connectivity issues, parents remain nervous about their wards attempting their board exams this academic year.
"Almost half the academic year is over and our children have not been in classrooms. The Maharashtra HSC board has introduced a new syllabus this year, so 12 board students have no reference material or pattern this year. They have not had any in-person interactions with their teachers to guide them either. This is an important year where results decide the course of their future education and I feel having board examinations this year would be unfair to this batch of students," says Mumbai-based Shirlyn Patil, parent of a class 12 student.
While educators, unlike parents, aren't questioning the need to hold exams; they do believe delays in announcement of exam details is leading to apprehension among parents about the authorities' readiness in holding public exams on such a large scale. "While each year, we finish filling examination forms in October, this year we are yet to hear from the officials about when and how the exams will be held. This uncertainty is adding to the parents' and students' anxiety. Each day, we are inundated with queries especially about how the 20 marks set aside for 'practical' and external evaluation will be marked this year. Unfortunately, we have no answers," says Anna Correa, principal of the Mumbai-based St Stanislaus High School.
According to reports, while the West Bengal and Maharashtra education departments are mulling over the possibility of postponing one of the two state board exams, Assam secondary education board is considering holding exams in March instead of February 2021.
Arunabh Singh, director, Nehru World School, Ghaziabad feels educational boards will be better equipped to announce decisions regarding board exams once schools reopen on October 15. According to him, "The lockdown has not been equitable for all the students in terms of learning. Once students return to school, we will be able to assess how effective our online teaching-learning was, which should be helpful to the boards in setting up detailed guidelines for the board exams."
Singh also dismisses the fear regarding written board exams. "I do not envisage a challenge since schools which otherwise used to hold exams for grades 1-12 between February to March each year, will only be conducting exams for two grades (class 10 and class 12) this year. Protocols regarding seating and maintaining physical distancing during the board exams is manageable. I also feel since all educational boards have already reduced and are going to further reduce the class 10 and class 12 syllabus, students should find it easier this year. So, while students may have less time to study before the exams, they will have a lesser number of chapters to study as well," he says.
When schools shut down in March, Kalyan-based (adjoining Mumbai) Arya Gurukul School conducted the remaining of its scheduled examinations for classes V through VIII online.
"Within 48 hours, we took consent from parents and conducted the online exams with the help of Microsoft teams. It went in a very smooth manner. We were the first school in Maharashtra to do so. We also gave the results and send the marksheets. If schools can do it, why not boards," says Bharat Malik, chairman, Arya Gurukul Group of Schools.
"It seems like an ambitious plan, but we already use technology to teach so why not look at using technology to assess students too. If the government can reach out to every child in the rural areas too, we could turn the pandemic into an opportunity for change," he adds.
Several educators have suggested we reinvent the way board exams are conducted and assessed by opting for a more objective based assessment or even incorporating open book exams. Given that despite the unparalleled situation, the probability of either of the board exams being cancelled this year seems implausible; parents can hope for the next best thing – decision-makers across the country are open to suggestions from educators.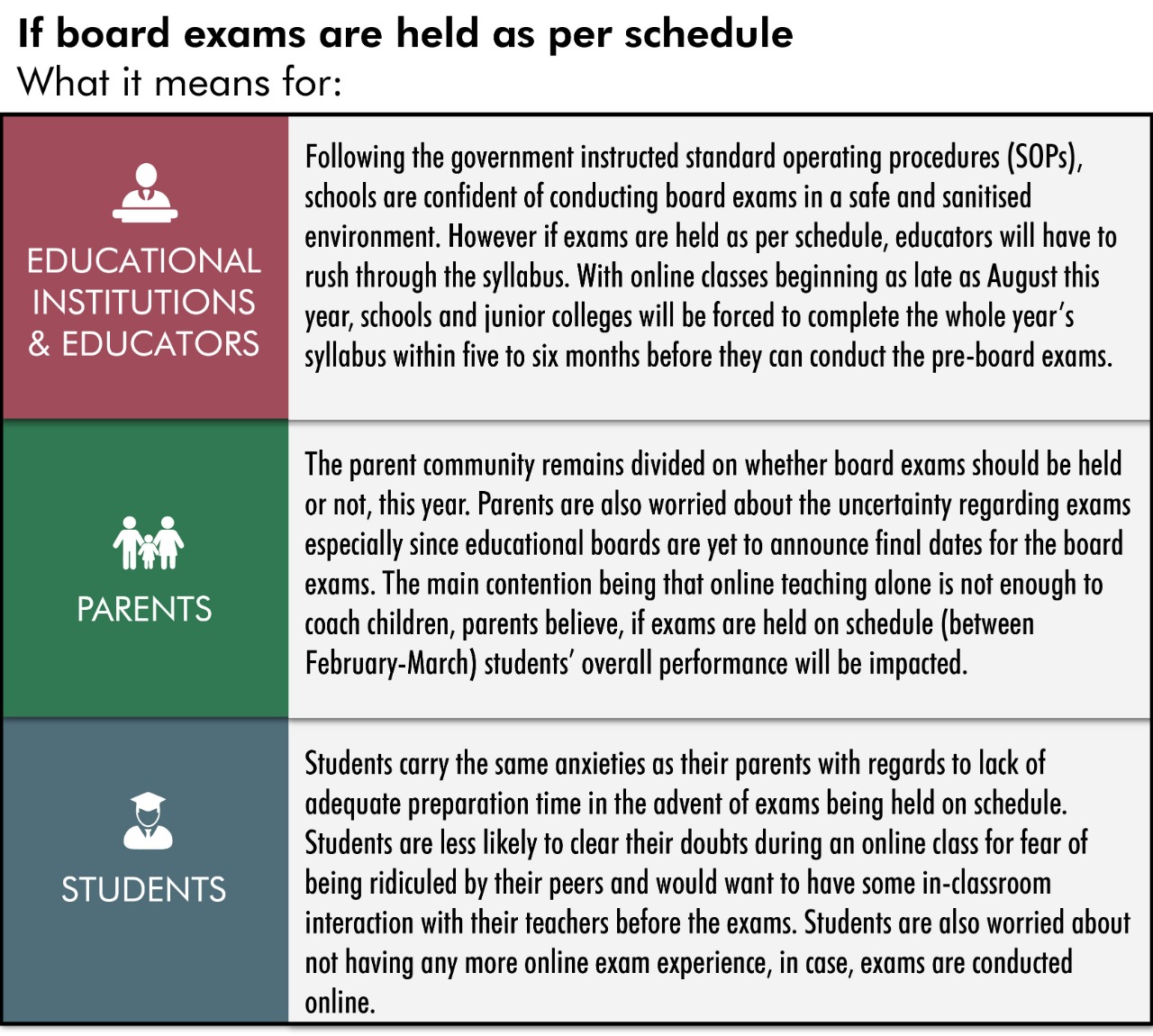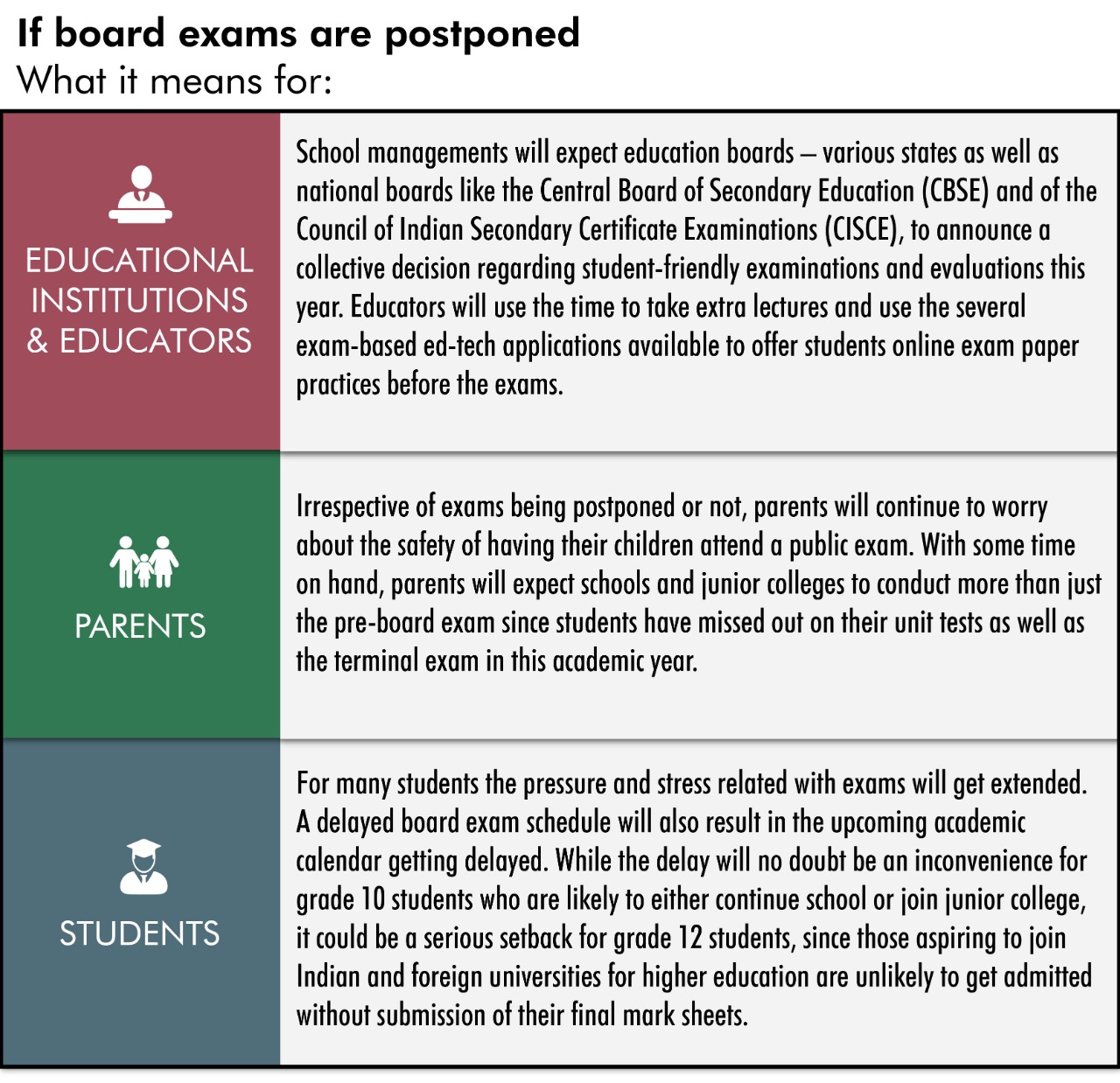 Read: Arya Gurukul School conducts exam online amid coronavirus shutdown
Also read: From alternate to mainstream – Edtech is fast changing the face of education
Also read: CBSE board exam 2021: Attendance relaxation for classes 10, 12 students
National
,
News