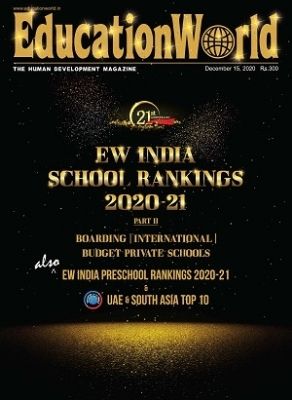 Heritage Girls School, Udaipur is ranked #9 in the country among girls boarding schools in the EW India School Rankings 2020-21 (EW December). Needless to say, I'm extremely disappointed.
We take these rankings very seriously and had worked extremely hard to ensure we smoothen out the wrinkles in our performance to move up a notch or two. Nevertheless, we accept the rank with grace and take this as an indication that we have to pull up our socks and start working.
Tulsi Bhatia
Principal, Heritage Girls School
Udaipur
Please note that the sample respondents who rate schools, vary from year to year. Meanwhile build your brand equity – Editor
Methodology query
It's a matter of pride that DPS, Hisar is ranked in the premier EducationWorld India School Rankings year after year. In the latest EW India School Rankings 2020-21, DPS, Hisar is ranked #3 in the city, #17 in the state and #200 all-India with a total score of 1,023. This has triggered mixed feelings of ecstasy and defeat.
In your Letter from the Editor you say that all schools were assessed on 14 different parameters of holistic education. We are more surprised than disenchanted as to how internal information could be so easily available to you without our consent to tabulate individual scores under all 14 parameters.
We are also worried about the authenticity of the information gathered. In the same breath, we are all agog to know the elaborate criteria of rating and your sources of information.
Please advise on what basis you have assessed us on the 14 parameters. This will enable us to address our shortcomings.
Manju B. Sudhakar
Principal
DPS Hisar
I am surprised you are unaware that the annual EWISR is the outcome of the perceptions of over 11,000 knowledgeable sample respondents who rate India's Top 2,500 schools on 14 parameters of school education excellence. (Please study pg. 41-42 of EW November) – Editor
Commendable evolution
My heartiest compliments to EducationWorld for the slightly delayed but comprehensive EW India School Rankings 2020-21 Part I and II (EW November and December) issues. As a regular reader of EW — especially the school rankings edition — I am impressed with the way the parameters of school education excellence have evolved over the years to match the needs of changing times. For instance, inclusion of the 'curriculum & pedagogy (digital readiness)' parameter this year is apt to assess learning delivery during the pandemic. With schools forced to adopt online digital technologies during the past eight months of lockdown, performance on this new parameter assumes great significance!
Another welcome inclusion in the issue is a new league table of philanthropic schools which is nothing short of inspirational! The concerted effort made by your team in these challenging times is praiseworthy. Congratulations again!
Preeti Menon
Gurgaon
Re special needs children
I am the father of a four-year-old special child with Down Syndrome. Recently while I was searching for schools to enrol him, I came across your esteemed EW India School Rankings 2020-21 which ranks schools across the country, including in my home state of Kerala. I approached several schools ranked in your Kerala state league table but most of them were not even aware of inclusive education i.e, mainstreaming special children.
Please note that there's a mandate from CBSE and Kerala government to include special children in mainstream schools, but most school managements are still reluctant to admit them.
I request you to add inclusive education and facilities in your rankings assessment criteria. This will be of immense help to parents of special needs children.
Arunraj S. on e-mail
Please note that special needs/inclusive education is already one of the 14 parameters of holistic education excellence under which all day and day-cum-boarding schools are assessed in the annual EWISR.
In addition, for parents of severely challenged children EWISR 2020-21 includes a detailed league table of India's Most Respected Special Needs Schools. (See p.250 EW November) — Editor