IBCP is a popular and accepted qualification across the world. In September 2021, the Association of Indian Universities (AIU) issued a letter recognising and accepting the International Baccalaureate Career-related Programme (IBCP) and accorded equivalence with +2 stage (Grade 12) of an Indian School Board i.e, CBSE and other recognised/approved state school boards accepting it as an entry qualification for admission into Indian universities.
The International Baccalaureate Careerrelated Programme (IBCP) of the Geneva-based worldrenowned International Baccalaureate (IB, estb.1968), whose primary-secondary qualifications are offered by over 5,000 schools in 150 countries worldwide, is set to become more broad-based with the Plus Two (class XI and IBCP receives AIU recognition for India XII) IBCP receiving official equivalence with national senior secondary certifications. In September 2021, the Association of Indian Universities (AIU, est. 1925) – the apex inter-university organisation vested with the power to accord academic equivalence to degrees obtained from accredited foreign education boards – issued a letter recognising and accepting the IBCP as an entry qualification for admission into Indian universities. "It is intimated that AIU has accorded equivalence to IBCP programme of International Baccalaureate with +2 stage (Grade 12) of an Indian School Board i.e, CBSE and other recognised/approved state school boards" states the AIU letter dated September 22, 2021.
Consequently, students graduating with the IBCP qualification are eligible for admission into Undergraduate Degree Programmes of any recognised Indian Higher Education institution.
Known for its rigorous internationally oriented education, the IB offers the Primary Years Program (PYP, for ages 3-12), Middle Years Program (MYP, for ages 11 to 16) and International Baccalaureate Diploma Programmes (IBDP, for ages 16-19) to schools globally. Currently, in India, nearly 198 schools offer IB programmes.
In 2012, the IB launched its fourth programme, the International Baccalaureate CareerRelated Programme (IBCP) globally after a 6-year pilot. The IBCP's unique educational framework consists of three elements: academic study; the skills-based core and a career-related study (CRS). Under CRS, students study a professional course in their chosen area of specialisation, using the IBCP's practical real-world approach to learning. Schools can choose to offer the CRS most suited to local conditions and the needs of their students. The distinguishing feature of IBCP is that it blends academic and vocational qualifications enabling students to develop adaptable skills and cultural sensitivity required to succeed in an increasingly connected world. Currently, nearly 300 IB World Schools offer IBCP.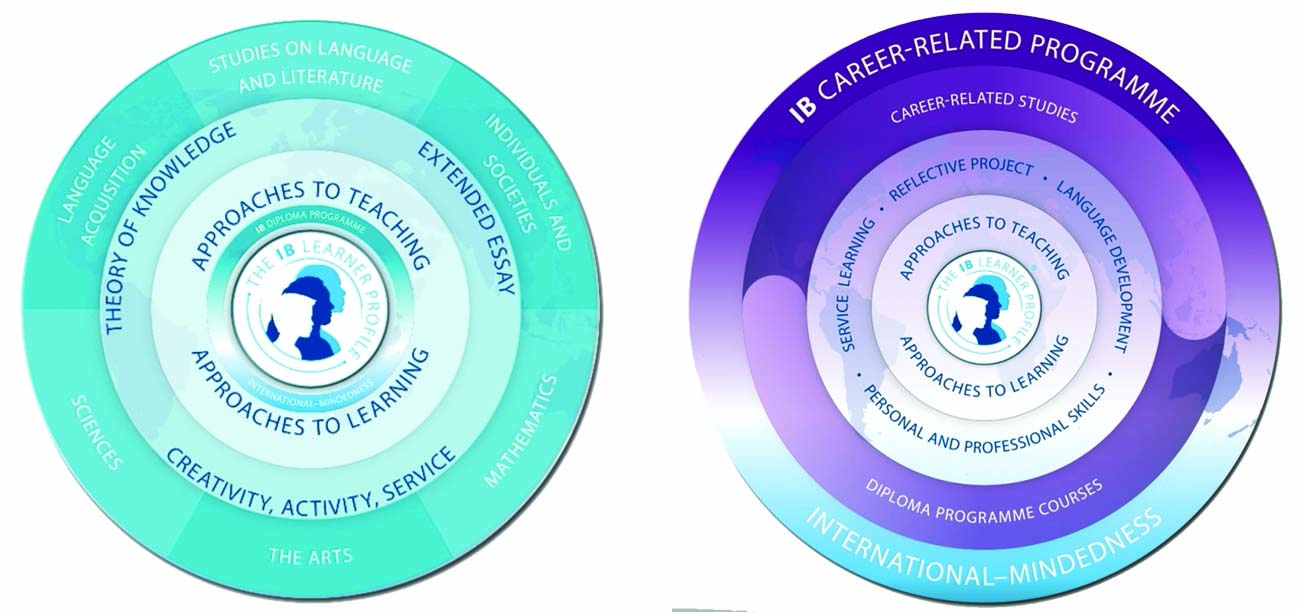 World Academy of Career Programmes (WACP), a Singapore based educational research organisation that offers K-12 based career-related courses in multiple academic streams designed for 21st-century learners. WACP offers various new-age Career study modules to many schools in India and South Asia including candidate schools pursuing IBCP.
The WACP offers over 40 varied skill-based career pathways spanning journalism, artificial intelligence, data science, diet and nutrition, business administration, sports management, event management, pre-medical, pre-engineering, etc., with an aim to provide only the best to its students. However, despite IBCP's highly appealing prospects, the Ahmedabad-based Mahatma Gandhi International School – being Gujarat's first authorised IBCP world school — The lack of recognition from AIU, was hampering the growth of IBCP & the programme was preferred only by students who were certain of studying abroad.
Now with AIU accepting IBCP as an equivalent qualification for admission into Indian universities, the programme is set to become a popular choice of Plus Two students in India. "The AIU recognition marks a significant milestone for IB's development team which has been focussing on the growth of the career-related programme (CP). CP's innovative approach to upper-secondary education makes it possible for learners to leverage the connections that exist between different types of qualifications to better prepare them for life beyond school. We also know that universities value CP students, thanks to their deep general knowledge and enthusiasm for learning, as well as their preparedness for undertaking research. The AIU recognition will benefit many CP students in-country and Indian nationals returning to the country, who want to pursue further education in India," says Stefanie Leong, Head of Development and Recognition, Asia Pacific, International Baccalaureate. International Universities like Stanford, Harvard, MIT, and other popular Universities also accept IB qualification for admissions including the IBCP.
The IB development team is excited about the positive impact of AIU acceptance and expects it to generate greater interest from schools in India looking to add IBCP to their educational offering.
"The Association of Indian Universities' acceptance of IB's MYP/ DP and now the CP has a positive impact on IB as a valuable system of education which develops active, compassionate and life-long learners. It reassures schools, students and parents that the IB students have both local and global pathways as well as standing. Additionally, schools now have the option to offer a very different package to their communities," says Mahesh Balakrishnan, Development and Recognition Manager, India and Nepal, IB, WACP has already partnered with 25 schools in India to offer career-related studies to their students since 2020 and over 14 of their schools are undergoing IBCP's rigorous authorisation process.
Under the two-year IBCP programme, senior students (class XI and XII) will undertake two to three DP subjects from the IBDP and at least three subjects from the IBCP curriculum as well as a relevant career-related subject. The Jamnabai Narsee International School (JNIS), Mumbai is undergoing IB authorisation to offer the IBCP in India. "As a future-focused school, we have always used our flexible curriculum to promote skill-based learning and courses to help students' prospective career paths. JNIS's ethos of holistic development that goes beyond just academics and includes life skills and values, is naturally aligned to IB's focus on developing lifelong learning skills in all of its programmes including IBCP. We were one of the first schools to introduce IB education in the country and will now be the first school to offer all four IB programmes to our students. Our student and parent communities are happy about this new development," says Sujai Jairaj, Trustee, Jamnabai Narsee International School.
A great deal of interest from the parents' community for career programmes can be attributed to the increasing acceptance of skill-based programmes by industry. Moreover, the need to develop skill-based competencies within students has become more pressing with the COVID-19 pandemic making the future workplace volatile, uncertain and ambiguous.
A recent study that explores how fit-for-purpose the IB Diploma Programme (DP) and IBCP curricula are with regards to employability skills stresses the need for deliberate effort and innovative pedagogies to address the challenges of the 21st-century labour market. The study concluded that, amongst other skills, 'communication' and 'ethics' are two key employability skills that appear to be the most represented in IB's curriculum documentation, equally included in both the DP and CP cultivating the competencies that students need to respond for future employment.
Balkishan Sharma, founder-director of the World Academy of Career Programmes (WACP), popular for Career relevant studies in India and overseas, believes that WACP is well-equipped to provide contemporary career-related programmes rooted in real-world learning. "Real-world relevance is vital to the success of our programme. WACP has a robust network of corporates and prominent universities across the world and thereby offers unmatched practical training, internships and higher education pathways to students. Focused on knowledge, application and enhancing skills, our teaching methodology comprises classroom sessions, masterclasses, case studies, projects, practical training, group work and capstone projects. Our career programmes offer the right balance of theory, practice and experience creating a truly futuristic curriculum aimed at producing highly skilled individuals and serving as a launchpad for budding entrepreneurs, as well as providing higher education pathways with university tie-ups across India" says Sharma.
WACP's modern and enhanced curriculum blends immersive industry exposure through practical training and internships, intensive personal and professional development through classroom sessions and workshops, combined with CSR activities to create an experiential learning process. It also offers students higher education counselling and internship assistance in a wide range of corporates, events, entertainment, sports and media companies.
The programme's emphasis on career/skills education is also synchronous with the National Education Policy (NEP) 2020's thrust on vocational skills training and experiential learning. "The AIU recognition of IBCP couldn't have come at a more opportune time with the NEP 2020 all set to change the course of education in the country. The NEP document's clause.26 speaks about giving middle years students an education that helps them choose a vocation while promoting a practice-based curriculum. The IBCP, with its equal weightage to theory and practical, is unique in the country. I believe the IBCP's winning proposition is ORM – 'options' which were unavailable in the country for class XI and XII students until now, 'relevant' to students' future needs and adds 'meaningful' impact because it gives students practical knowledge along with theory," says Bhavin Shah, CEO of EducationWorld (est. 1999) – India's #1 education magazine with a readership of over 1 million countrywide. EducationWorld has been supportive of the WACP's efforts to make the IBCP a popular choice of students in India. The AIU equivalence of IBCP was discussed with school leaders and a letter to WACP was unveiled at the EducationWorld India Schools of Eminence Awards 2021-22 held in Delhi on October 8.