A notable feature of India's best day-cum-boarding schools 2018-19 national league table is that seven DPS schools promoted/franchised by the Delhi Public Schools Society (estb. 1937) are seated at the Top 10 table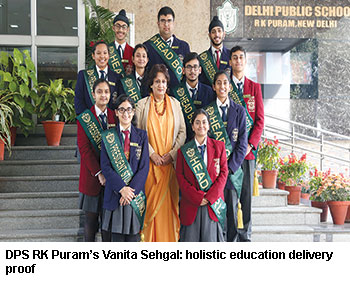 2017-18 was a year of churn for the 70-plus institutions listed in the EducationWorld league table of India's most admired co-ed day-cum-boarding schools which are multiplying at a fast clip as upwardly mobile, clued-up parents in tier-I and tier-III cities send their children to the metros where schools tend to have better teachers and offshore exam board (IB, CAIE etc) affiliation.
Comparatively, 2018-19 is a year of consolidation with the vintage Delhi-based DPS (Delhi Public School), R.K. Puram (DPSRK, estb. 1972) and Modern School, Barakhamba Rd, Delhi (1920) retaining their #1 and #2 ranking. This year's sample respondents have demoted Greenwood High Bangalore (estb.2004) ranked #1 last year, to #3.
Nevertheless, there is a rearrangement of the pecking order at the Top 5 table with Emerald Heights International School, Indore (estb. 1982), ranked #4 in 2017-18, promoted to #2 (jointly with Modern School, Barakhamba Rd) this year. Moreover, Sai International, Bhubaneswar, ranked #4 last year, has been promoted to #3 interchanging places with Sanskaar Valley, Bhopal. DPS, Vasant Kunj, ranked #5 (6 last year) completes the 2018-19 Top 5 table.
A notable feature of this year's co-ed day-cum-boarding national league table is that seven DPS schools promoted or franchised by the Delhi Public Schools Society (estb. 1937) chain of 222 schools in India and abroad are seated at the Top 10 table.
"The annual EducationWorld Top 1,000 schools survey serves a very useful public purpose. The 14 paremeters under which schools are rated and ranked are good yardsticks for us to measure our progress in all aspects of school management, and they keep the spirit of inter-school competition alive. Winning such accolades makes the entire school feel good and we are privileged that DPS-RKP is ranked India's #1 co-ed day-cum-boarding school for the second year consecutively. This top ranking reassures us that we are going in the right direction. I'm also very pleased that DPS-RKP is rated and ranked #1 on five of the 14 parameters of school education excellence including teacher welfare & development, faculty competence, academic reputation and community service. It's proof that we are providing a holistic education experience to our students," says Vanita Sehgal, an alumna of Delhi University who signed up with DPS-RKP as a teacher in 1984 and was appointed principal of this highly regarded CBSE-affiliated class VI-XII school set within a 12-acre campus in the heart of the national capital, in 2016. Currently, DPS-RKP has 7,245 students mentored by 401 teachers on its muster rolls.
Siddharth Singh, director and principal of the Emerald Heights International School, Indore (EHIS, estb. 1982) which has been steadily rising in the public esteem since 2015 when it was ranked #7 in this category, is delighted that EHIS has been promoted from#4 last year to runner-up in EWISR 2018-19.
"It feels great to see that our continuous hard work is being recognised. Our team at EHIS has been working very hard to gather the best resources from around the world for our students. During the past four years, the school has crossed several milestones in terms of intercultural exchanges, global conferences, domestic and foreign placements, sports, co-curricular and academics. It's most encouraging that your informed sample respondents have taken our various initiatives in whole school improvement into consideration," says Singh, an alumnus of Stony Brook University, USA who took charge of this family-run school in 2012, and with the aid and advice of former Lawrence, Sanawar and Daly College principal, Sumer Singh — now an Indore-based education consultant — has transformed EHIS into a globally benchmarked CBSE-affiliated K-12 day-cum-boarding school ranked #1 on the parameter of infrastructure provision and parental involvement. Currently, EHIS has 4,000 students, mentored by 160 teachers on its muster rolls.
It is pertinent to note that apart from DPS-RKP and Modern School, both based in Delhi, the majority of schools crowding the Top 5 co-ed day-cum-boarding schools table are sited in non-metros such as Indore, Bhopal and Bhubaneswar which are emerging as modern education hubs.
For instance over the past decade, the Sai International School, Bhubaneswar (SIS, estb. 2008) which was ranked a modest #8 in EWISR 2013, has steadily improved its infrastructure, pedagogies and national and international linkages and moved higher in the esteem of informed monitors of Indian education. Ranked #6 in 2014-15 and #4 last year, SIS has been promoted to #3 in 2018-19. Indeed, it's no exaggeration that Bijoy Sahoo, a former chartered accountant who switched professions and promoted SIS in 2008 and subsequently Sai Angan which he claims is the largest pre-primary worldwide, and the wholly residential, CBSE-affiliated Sai International Residential School, Bhubaneswar, which admitted its first batch this year, has placed the educationally under-served eastern India state of Odisha (formerly Orissa, pop. 40 million) on the school education map of India.
"We prize our ranking among the Top 3 schools countrywide in this competitive category. The annual EWISR survey of the country's Top 1,000 schools is a brilliant portal for all stakeholders in education to acquire a wider perspective of India's best schools. It is an excellent reference index for parents to select the most aptitudinally suitable school for their children. It also enthuses teachers and staff because their hard work and efforts are acknowledged. I have no hesitation in stating that the annual EWISR has encouraged and guided us in SIS to continuously improve across all 14 parameters of education excellence, and given schools in distant corners of the country national, and even international recognition and respect," says Bijoy Sahoo, promoter-chairman of SIS, Sai Angan and the Sai International Residential School which between them have an aggregate enrolment of 796 children mentored by 71 teachers.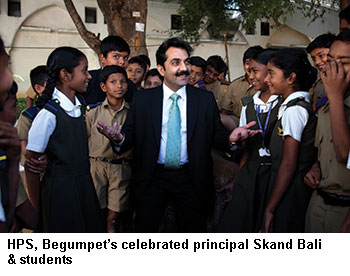 Among the schools which have dramatically improved their ranking this year is the Hyderabad Public School, Begumpet under its new high-profile principal Skand Bali, who took charge in August last year. Ranked #9 in 2017-18, the vintage HPS, Begumpet (estb. 1923) has been promoted to #6 this year, while following the retirement of internationally renowned principal Sumer Singh in 2016, the vintage Daly College, Indore (DC, estb.1882) hasn't yet found a replacement and has slid from #2 in 2016 to #8 last year and #11 in 2018-19.
Perhaps in anticipation, A.S. Ansari, vice principal of Daly College, has sent a legal notice to EducationWorld saying it has "withdrawn its consent" for DC to be included in the 2018-19 rankings league table. DC's request and legal notice has been refuted on the ground that DC is a public institution open and accessible by all, and therefore its bona fide inclusion in our league tables is a fair comment on a matter of public interest.
Beyond the Top 10, further down this year's league table of the country's top co-ed day-cum-boarding schools, there is a shake-up. The CBSE-affiliated The Mann School, Delhi (estb. 1989) which has substantially raised its hitherto low public profile recently, has made a great leap forward in the esteem of the knowledgeable public and is ranked #12 (18). Ditto the Laxman Public School, Delhi ranked #13 (22), Yadavindra School, Mohali #14 (17), L.K.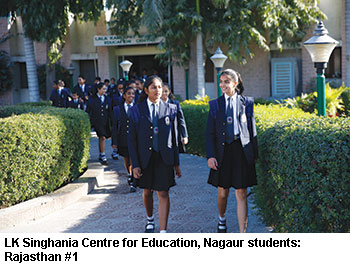 Singhania Education Centre, Nagaur (Rajasthan) also ranked #14 (17), DPS, Siliguri (West Bengal) #16 (20), DPS, Sonipat (Haryana) co-ranked #15 (24) with the Sanjay Ghodawat International, Kolhapur (21), and DPS, Panipat City (23).
That the league table of co-ed day-cum-boarding schools sufficiently well-known to be included in the EW 2018-19 league table (low-profile schools rated and ranked by less than 25 sample respondents in each region — north, west, south and east — are eliminated) comprises over 70 primary-secondaries even as the all-boys and girls schools tables are shrinking, is a progressive development which augurs well for gender relations and equality. A perusal of the state and city league tables (see pp. 58-139) which are of greater relevance for day schools indicates that co-ed day-cum-boarding schools are mushrooming countrywide.
For instance, in tier-II and tier-III cities they are rising in the public esteem. This year the national ranking of the N.H. Goel World School, Raipur (Chhatisgarh) has risen to #21 (26), Contai Public School, Medinipur to #22 (30), Ryan International, BetaI, Greater Noida to #23 (25), Rajkumar College, Rajkot to #25 (29), Sehwag International, Jhajjar to #26 (33), Cambridge International, Dasuya Hoshiarpur, Punjab to #27 (31) and Sunbeam Suncity, Varanasi to #27 (42).
Inevitably, all these primary-secondaries which are rising in the national league table are top-ranked in their cities, a signal that high-quality holistic school education is spreading countrywide.
Recommended: India's most respected international day-cum-boarding schools