With a large number of conservative households still preferring to send girl children to all-girls schools for religious and cultural reasons, the 2018-19 girls day schools league table is lengthier than all-boys day schools
Except at the very top of the 2018-19 national league table of sufficiently well-reputed all-girls day schools where J.B. Petit High School for Girls, Mumbai has consolidated its position as India's #1 all-girls day school, there's been a major rearranging of seating at the Top 10 table.
Rajmata Krishna Kumari Girls Public School, Jodhpur has been promoted to #2 (#3 in 2017) as has La Martiniere for Girls, Kolkata to #3 (4), Modern High School for Girls, Kolkata to #4 (6), NASR School, Khairatabad, Hyderabad to #5 (6) and Villa Theresa High School, Mumbai to #7 (9).
Among girls day schools which have lost ground are Loreto House, Middleton, Kolkata, which has slipped to #6 (5), Maharani Gayatri Devi Girls Public School, Jaipur to #7 (4), St. Mary's School, Pune to #8 (7) and Sacred Heart Sr. Sec. School, Chandigarh to #9 (8).
Benaifer P. Kutar, principal of the CISCE-affiliated J.B. Petit High School for Girls in downtown South Bombay, is delighted that the vintage school (estb.1860) is ranked #1 for the second consecutive year and top-ranked under the critical parameters of academic reputation, faculty competence and leadership/management quality. "Our #1 overall ranking and highest scores under the parameters of faculty competence and leadership is the outcome of adhering to our core principles — liberality, creativity, free expression and service. In 2016 with the objective of preparing for the future, the school unveiled the JB Building Excellence redevelopment project to expand and modernise the campus and add an International Baccalaureate section.
This modern facility will effectively complement the existing historic campus, and benefit our school community for generations to come," says Kutar, an alumna of SNDT University, Mumbai who signed up as teacher in 1995 and was appointed principal of the school in 2010. Currently J.B. Petit has an enrolment of 923 students mentored by 80 teachers.
Mir Mohiuddin Mohammed, principal of the CISCE-affiliated Nasr School, Khairatabad, Hyderabad, is also "very happy" that this all-girls institution promoted by Begum Anees Khan in 1965 has been consistently moving up the all-girls day schools league table. From #8 in 2016 to #6 in 2017 and into the Top 5 in 2018-19, Nasr Girls — the alma mater of international tennis star Sania Mirza and unsurprisingly ranked #1 under the parameter of sports education — has steadily risen in the esteem of the informed public. Moreover its affiliated Nasr Boys, Hyderabad is also highly ranked (#7) in the boys day schools league table.
"I am very happy that Nasr School is living up to the ideals of our founder principal, Begum Anees Khan. We regard our entry into the national Top 5 as a pat on the back for our dedicated efforts to provide open-minded enjoyable education to our girls through well-researched pedagogies and parent-teacher cooperation. I am especially delighted with our #1 rank on sports education as it is accorded high importance at Nasr. Our girls routinely participate in inter-school sports events and this year we also hosted the 1st ASISC skating competition. The school's focus on well-rounded education has resulted in our nurturing confident and competent young women ready to assume leadership positions in society. We plan on expanding with more campuses in the new IT hub of Cyberabad," says Mohammed.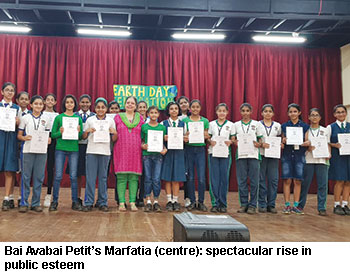 The biggest leap forward in the EW India Girls Day Schools Rankings 2018-19 is of the Bai Avabai Framji Petit Girls High School, Bandra West, Mumbai (estb. 1913) which has risen spectacularly in the public esteem from #42 in 2017 to #10 this year. Founded as a boarding school for girl children of the minority Parsi community, it admitted day scholars in 1963, and over the past century has evolved into a highly-respected day-cum-boarding all-girls school affiliated with the Delhi-based CISCE. "Our #10 rank is great news and we deserve this recognition. I believe the many initiatives we have taken over the past year to upgrade infrastructure by installing Smart boards in all classrooms, establishing an e-library, providing comprehensive CCTV surveillance, and inaugurating a state-of-the-art computer lab has given our reputation a boost. We have also invested heavily in training our teachers to integrate digital technologies and IT-enabled pedagogies into their teaching-learning processes. Our entry into the Top 10 table will definitely boost the morale and self-esteem of our teachers and students and spur them onward and higher," says Diana Marfatia, principal of the school which has 970 girl students including 110 boarders on its muster rolls.
Beyond the Top 10 league table, several all-girls schools ranked within the Top 50 have excellent reputations within their states and cities, and often outperform boys and co-educational schools in CBSE/CISCE board exams. For instance, the low-profile St. Thomas School, Delhi, ranked #15 nationally is the #1 girls day school in Delhi (pop.19 million); DAV Girls Senior Secondary School, Mogappair, Chennai, ranked #18 nationally, is #1 in Tamil Nadu (pop.67 million); Convent of Jesus & Mary, Dehradun, ranked #36, is #1 in Uttarakhand (10 million), and Notre Dame Academy, Patna ranked #37 all-India, is the #1 all-girls day school in Bihar (112 million).
Moreover, with many conservative households in India still preferring to send their girl children to all-girls schools for religious and cultural reasons, the league table of India's most admired girls' day schools is 87-strong (cf. 48 of boys day schools).