To encourage and motivate managements and teachers of government schools to raise teaching-learning standards, EW has ranked the country's Top 10 best government day & boarding schools inter 2019-20 se in separate league tables.
It's common knowledge that despite most of India's 1.30 million schools promoted/managed by the Central, state and local governments providing free-of-charge primary education with free mid-day meals, textbooks and uniforms thrown in to their students, there is a rising trend of even bottom-of-pyramid households making great financial sacrifices to send their children to private schools. This is hardly surprising given that the great majority of government schools are characterised by crumbling buildings, lack of toilets, drinking water, electricity, and suffer acute teacher shortages, multi-grade teaching and rock-bottom learning outcomes.
However, to encourage and motivate managements and teachers of government-run schools to raise teaching-learning standards, since 2014 EducationWorld has rated and ranked the Top 10 government day and boarding schools inter se in separate league tables. For this year's league tables, a survey of 1,126 SEC (socio-economic category) 'B', 'C' and 'D' households was conducted by C fore, the Delhi-based market research and opinion polls company which orchestrates the annual EducationWorld India School Rankings (EWISR).
In the EWISR 2019-20 national league table of the country's Top 10 government day schools, the Delhi state government-promoted Rajkiya Pratibha Vikas Vidyalaya (RPVV), Dwarka, Delhi, is ranked India's #1 for the second year in succession. It is followed by Kendriya Vidyalaya (KV), IIT-Madras, Chennai (ranked #2 for the past four years) and the Government Vocational Higher Secondary School for Girls, Nadakkavu, Kozhikode ointly ranked #2 (3), KV-IIT Powai, Mumbai #3 (5), KV, Pattom #4 (6) and Rajkiya Pratibha Vikas Vidyalaya, Lajpat Nagar, Delhi #5 (6). It's also noteworthy that Rajkiya Pratibha Vikas Vidyalaya, Sector 11, Rohini, a class VI-XII CBSE school, is ranked #7 (12) in the dozen strong league table of government schools sufficiently well-known to be included in EWISR 2019-20 (schools evaluated by less than 25 respondents are not ranked).
Credit must be given to the Aam Aadmi Party which has ruled Delhi state since it won the legislative assembly election of 2015 with a huge majority, for placing education on the top of its development agenda. In 2015, it became the first state government nationwide to allocate over 20 percent of its budget (Rs.9,836 crore) to education. In the recent 2019-20 budget, it raised the allocation for education to 26 percent (Rs.15,601 crore).
Dr. Rajpal Singh, a maths and history alumnus of Meerut University with 28 years of enriching teaching and administrative experience and principal of RPVV, Dwarka since January 2019, acknowledges the enabling support of the AAP government. "I am grateful that your informed sample respondents have recognised and rewarded the culture of academic excellence we have in RPVV, Dwarka, thanks to generous and valuable government funding. This recognition for the second consecutive year, will motivate our team to work harder. I am not surprised our school has been awarded top score on six of 14 EW parameters of school excellence. Unlike other government schools, our teachers have complete autonomy to experiment with innovative pedagogies. Our goal is to transform our students into confident, well-rounded citizens and provide them maximum global exposure through competitions and exchange programmes," says Rajpal Singh.
Nevertheless, although the seating order at the high end of the Top 10 table of government schools has been reshuffled, the CBSE-affiliated Kendriya Vidyalayas (KVs) — promoted and funded by the Central government and acknowledged as the crown jewels of public K-12 education — dominate the government schools league table. Seven KVs are ranked in the 12-strong government day schools league table 2019-20.
Mamata Bhattacharya, an alum of Patna University and principal of KV-IIT, Mumbai (estb.1965) is enthused by the higher #3 ranking awarded to the school this year. "Last year we lost rank as a consequence of insufficient infrastructure. This year we are happy to have regained our lost ranking. Our students have achieved outstanding results with some of our school-leavers admitted into foreign universities, apart from premier engineering and medical schools in India. I am glad the improved performance of our students in academics, sports and co-curricular activities at the international, national and state levels has been recognised," says Bhattacharya.
Government boarding schools
Just as the league table of India's government day schools is dominated by KVs, the league table of India's Top 10 government boarding schools is dominated by the Central government-promoted and managed Jawahar Navodaya Vidyalayas (JNVs).
This year, however, the EWISR 2019-20 sample respondents have voted Simultala Awasiya Vidyalaya (SAV), Jamui, Bihar, India's #1 government boarding school followed by the Oak Grove School, Mussoorie of Indian Railways, ranked #2. The remaining seats at the Top 10 table of government boarding schools are filled with JNVs (Allapuzha #3, Gachibowli #4, Kannur #5, Hamirpur #6, Ernakulam #7, Samastipur #8, Chittoor #9 and Karim Nagar #10).
Dr. Rajiv Ranjan, principal of the Simultala Awasiya Vidyalaya (SAV), Jamui, promoted in 2010 by the Nitish Kumar-led JD (S) government of Bihar as a "model English-medium government residential school," is elated that SAV has regained its #1 ranking of 2016. "I thank my teachers, non-teaching and support staff for their dedicated service and all my students for their hard work, sincerity and commitment for bringing back the school's lost glory. We are a unique state government-promoted boarding school which enjoys full autonomy to conduct our own entrance exam, prepare the academic curriculum and recruit teachers from across the country. Our primary goal is to nurture responsible and confident citizens with critical thinking abilities," says Ranjan, an alumnus of Tilka Manjhi Bhagalpur University who taught for 14 years in Bhutan before taking charge as principal of SAV in 2011. Currently, this government co-ed boarding school has an enrolment of 700 students of whom 350 are girls, mentored by 32 teachers.
Conceptualised in 1984 by the late prime minister Rajiv Gandhi (1944-91) as free-of-charge co-ed boarding schools modelled on India's best public (i.e, exclusive, private) schools for the brightest and best students of rural India, the country's 660 Jawahar Navodaya Vidyalayas have built an enviable reputation for providing free-of-charge high-quality education to rural India's brightest students selected on merit.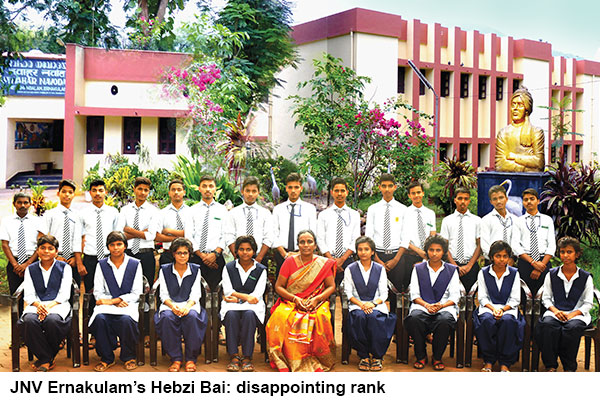 For instance, JNV, Ernakulam, which has an enrolment of 547 students (311 boys and 236 girls) instructed by 28 teachers, is ranked #7 for the third consecutive year. Stella Hebzi Bai, an education and physics postgraduate of Madurai Kamaraj University, who took charge as principal of JNV-Ernakulam in 2016, is clearly disappointed. "I honestly believe our school deserves a higher ranking. JNV-Ernakulam has produced the best results of all JNVs for the past three years in CBSE class XII board exams. We provide our students well-balanced education, with our teachers discharging the multiple roles of subject teachers, counselors and house masters," says Hebzi Bai, who acquired rounded teaching and admin experience in JNVs sited in Mayurbhanj (Odisha) and Lakshadweep.
Paromita Sengupta