With the Constitution guaranteeing gender egalitarianism under the law, co-ed day schools have become normative in urban and even rural India. Therefore the 600-plus co-ed day schools league table is the longest and most competitive in EWISR 2019-20.
Inevitably the longest league table in the annual EducationWorld India School Rankings (EWISR) is of the country's most admired co-ed day schools. Of India's Top 1,000 primary-secondary schools of all types and descriptions grouped under the broad categories of day, boarding and international, 600-700 are in the co-ed day schools category. Ever since January 26, 1950 when the founding fathers of the independent Republic of India endowed the people with the uniquely liberal and gender egalitarian Constitution of India, co-ed day schools have become normative in urban, and even rural India.
Certainly within the middle class and particularly in SEC (socio-economic category) 'A' households from whom the 12,213 knowledgeable sample respondents (comprising educationists, principals, teachers, parents and senior school students) have been drawn and polled, gender equality in terms of providing girl children the same, if not better, school and collegiate education is the rule rather than exception. Therefore unsurprisingly, the number of co-ed day schools nationwide by far exceeds single sex, boarding, international and other types of primary-secondary schools. This also makes the co-ed day schools category the most competitive in EWISR 2019-20.
However, it's important to note that for day schools of all types, including co-ed, national rankings are of peripheral importance and at best confer bragging rights. For day schools, civic/city and perhaps state rankings are of far greater utility for parents searching for the most suitable schools for their children, as also for teachers looking for institutions which provide continuous professional development opportunities and conducive environments in which they can give their best. It's unlikely that parents looking for the best day schools for their progeny will relocate to cities hosting nationally top-ranked schools. For such caring parents, day-cum-boarding and boarding schools rated and ranked separately in EWISR 2019-20 are the more sensible option.
Against this backdrop, it's indicative of the national mood swinging away from the traditional skill-and-drill, rote-oriented primary-secondary education, that the new genre Heritage Xperiential Learning School, Gurgaon (HXLS, estb.2003) is the country's #1 co-ed day school in EWISR 2019-20. Co-promoted by Rajesh, an alum of the Harvard Business School and Manit Jain, graduate of the Harvard School of Education of the eponymous American university routinely ranked among the world's Top 3 by the reputed London-based Quacquarelli Symonds and Times Higher Education, during the past five years, HXLS has been steadily rising in the estimation of knowledgeable monitors of the country's laggard education system. Ranked #7 in 2015, #5 in 2017 and #2 last year, HXLS is India's #1 co-ed day school of 2019-20 with top scores under the parameters of faculty competence, teacher welfare & development, leadership, infrastructure provision and special needs education.
"It's very encouraging that the EW sample respondents appreciate and endorse the work we are doing in HXLS. We were among the first movers in the experiential learning space in India. Having refined our teaching-learning model over the past 15 years, we feel we have found some answers to providing real and meaningful education despite the constraints of the formal system. Over the past decade, hundreds of school leaders from across the country have visited HXLS to understand the theory and models of change. Now, even parents acknowledge that traditional school systems based on rote and mindless rigour are no longer relevant. As parents seek more futuristic, humane and holistic education for their children, models like ours are likely to receive appreciation and endorsement," says Manit Jain, promoter-director of this nursery — class XII school affiliated with CBSE (Delhi), Cambridge International (UK) and IB (Geneva) exam boards. Currently, HXLS has 3,629 boys and girls — including 100 special needs children — mentored by 411 teachers on its muster rolls.
Looking back over the past 16 years since HXLS admitted its first batch, Jain attributes the school's rise to the top of the annual EWISR survey to the management's sharp focus on teacher training and development. "Our heaviest investment has been in teacher professional development. We were quick to discern that teachers across the country had not been exposed to experiential curriculums in their own education. Therefore, our teachers undergo over 300 hours of training and professional development programmes every year covering all aspects of curriculum, pedagogy and assessment. We have designed detailed teacher competency frameworks and a team of expert cognitive development and instructional pedagogy coaches drawn from India and abroad supports every HXLS teacher's training and development. Therefore, our #1 ranking under this parameter gives me the most satisfaction," adds Jain.
In this most competitive segment of the EWISR 2019-20, the Top 10 table of the country's most admired co-ed day schools is crowded because of over a dozen tied scores and rankings. The high table comprises the Vasant Valley School, Delhi and Valley School, Bangalore at #2 (ranked #1 and #2 last year), and Step by Step, Noida, Mallya Aditi, Bangalore and Inventure Academy, Bangalore co-ranked #3 (#3, 4, 4 respectively in 2018-19), the Shri Ram School, Vasant Vihar/Moulsari, Delhi and Smt. Sulochana Devi Singhania, Mumbai co-ranked #4 (#4 & 3) and Cathedral & John Connon, Mumbai #5 (5).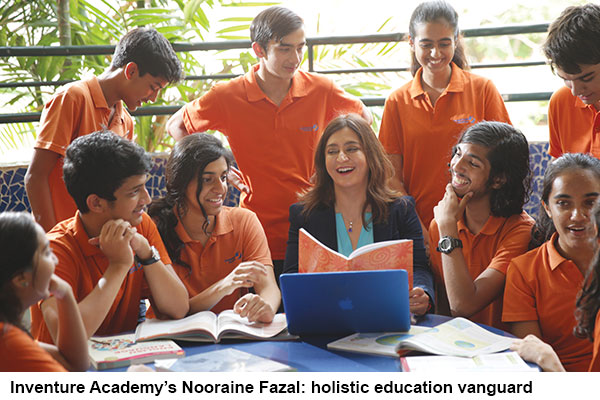 Nooraine Fazal, an alumna of Boston University who acquired valuable business and organisational management experience for 12 years with IBM and Reuters before she returned to India in the new millennium to co-promote the Inventure Academy, Bangalore (IA) with Irfan Razack, chairman of the Prestige real estate megacorp in 2005, is "encouraged, pleased but not complacent" with the steady ascent of this K-12 CISCE (Delhi) and Cambridge International (UK)-affiliated school in the annual EWISR and its #3 India and #2 Bangalore and Karnataka rankings in 2019-20.

"I attribute IA's continuous rise in public esteem to growing awareness that we have been in the vanguard of a national movement to provide holistic 21st century education since we admitted our first batch of children 14 years ago. We have been delivering excellent results in academics, sports and the arts and have recorded national and internationally acclaimed achievers in these domains. I believe that a specially distinguishing characteristic of IA is the happiness quotient of our students which is perhaps the highest among all schools. We believe that every child is endowed with multiple intelligences and provide full support to discover the domains in which all our students can excel," says Fazal, a highly-respected education reform activist who has involved IA in the movement to revive Bangalore's dying lakes, and with developing model English-medium government schools under the public-private partnership model.
Further down from the high end of the Top 10 table, the Delhi-based Mother's International and Sanskriti are jointly ranked #6 (#5 and 6 in 2018-19), Shri Ram School, Aravali and KFI, Adyar, Chennai are co-ranked #7 (7 and 8), CHIREC, Hyderabad and Springdales, Dhaula Kuan, Delhi jointly #8 (9 & 9) and Jamnabai Narsee, Mumbai and Vidyashilp, Bangalore #9 (11 & 8). Sishya School, Chennai and R.N. Podar, Mumbai co-ranked #10, complete the crowded Top 10 co-ed day schools table.
Coming down the lengthy co-ed day schools league table, among the schools which have improved their ranking this year are DPS, Navi Mumbai ranked #14 (20) and #5 in Maharashtra (pop.115 million), Heritage School, Kolkata #13 (24) and #1 in West Bengal (pop.91 million). Most other well-reputed co-ed day schools have lost rank in the national league table although they retain their high city and state ranking which (in that order) are of greater import for parents and students and arguably for teachers in search of job fulfilment and security.
"We are overwhelmed with the high India and Maharashtra ranking awarded to us in EWISR 2019-20, and thank your well-informed sample respondents for the faith reposed in DPS, Navi Mumbai. We assure all our stakeholders that we intend to cross many more milestones in our efforts to nurture global citizens. I believe that our investment in the latest digital technologies for classroom transactions, and the commitment and excellent work ethic of our teachers are behind our substantially higher ranking this year," says J. Mohanty, principal of DPSNM (estb.1999). A maths, law and computer applications postgrad of Utkal University (Odisha) and IGNOU with 30 years of teaching and admin experience in several DPS schools (Korba, Vindhyanagar (MP) and Ranchi), Mohanty was appointed principal of DPSNM in 2014. Current ly, this upwardly mobile class K-12 co-ed school affiliated with CBSE (Delhi), has 3,651 children and 181 teachers on its muster rolls.
Similarly, Seema Sapru, principal of The Heritage School, Kolkata (THSK, estb. 2001) is elated that this year's EW sample respondents have ranked THSK among the country's Top 20, and especially that it's ranked #1 in Kolkata. "I am delighted to learn that we are ranked West Bengal's and particularly Kolkata's #1 co-ed day school. I believe our high ranking is due to growing awareness within the public that in THSK, we are always ready to break new paths in K-12 education and experiment with new pedagogies, teacher motivation systems bearing in mind that we are educating a new generation of students — and parents — whose exposure to the world — is far greater than 20 years ago. Therefore, transparency, honesty and integrity in our transactions with students and parents are our institutional culture. I believe these are the key factors combined with continuous improvement of our infrastructure, teacher training and development and excellent curriculum transaction in our classrooms, that have helped THSK win a good reputation in Kolkata and beyond," says Sapru, a chemistry and education postgrad of Meerut University with 29 years of teaching and admin experience in Baldwin Boys, Bangalore, Calcutta International and Eklavya, Ahmedabad schools who was appointed principal of THSK in 2007. Currently, this CISCE, Cambridge International (UK) and IB (Geneva)-affiliated school has 3,215 students and 235 teachers on its musters.
Beyond the Top 20 of the EWISR 2019-20 lengthy national league table of co-ed day schools, most have yielded ground this year. The exceptions are Udyanchal High, Vikhroli, Mumbai, ranked #23 (32 in 2018-19), Sri Sri Academy, Kolkata ranked #25 (52), Silver Oaks, Hyderabad #31 (50), Bal Bharti, Gangaram Hospital, Delhi #39 (50), Avalon Heights International, Navi Mumbai #49 (98), Reliance Foundation School, Navi Mumbai #49 (104), Somaiya School, Mumbai #52 (72), Manav Rachna International, Gurgaon #56 (88), Bombay Cambridge International, Mumbai #57 (60), Jubilee Hills Public, Hyderabad#59 (85), DPS, Gautam Budh Nagar #59 (74) and Seth Anandram Jaipuria, Kanpur #64 (75).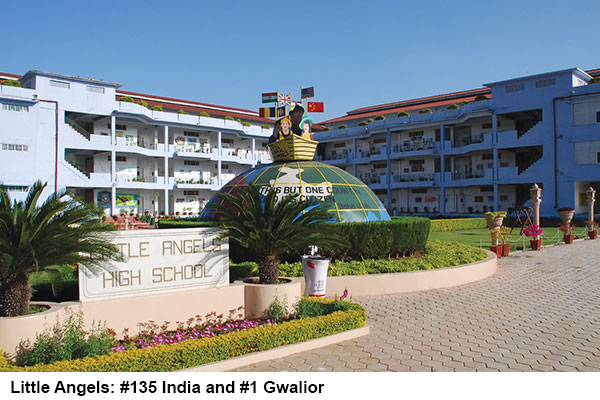 However for parents, students and perhaps teachers (looking for suitable professional environments), it's of critical importance to note that high national ranks of day schools at best establish them as role model institutions. For parents and children, city and perhaps state rankings are of greater utility. It's sobering to note that most day schools which are modestly ranked in the national co-ed day schools league table are highly ranked in their host cities.
For instance, St. Xavier's High School, ranked #324 in India, is the #1 co-ed day school of Cuttack (pop. 606,000), Odisha. Likewise, the Kennedy School ranked #253 in India, is the #1 co-ed day school of Guntur (pop. 648,000), Little Angels India's #135 is #1 in Gwalior (pop.1.1 million) and Seth Anandram Jaipuria ranked #54 is the #1 co-ed day school of Kanpur (2.9 million). This is why the city, state and national league tables of co-ed day schools are presented in this order in the pages following.