To compile the 2021-22 league table of dedicated special needs schools, C fore field personnel interviewed 494 parents of children with disabilities and special needs educators in six cities. They were asked to rate special needs schools on ten parameters of education excellence, writes Paromita Sengupta
One of post-independence India's greatest acts of omission according to the author, scholar, historian and politician Dr Shashi Tharoor, MP, is the neglect of primary education (see www.educationworld. in). But perhaps the greater collective sin is neglect of children with physical and mental disabilities whose number nationwide is estimated at 20 million, according to ADAPT (formerly Spastics Society of India).
To right this egregious wrong since 2011, EducationWorld has encouraged mainstream K-12 schools to make better provision for children with special needs (CWSN) by introducing the parameter of special needs education (with a maximum score of 100) in the annual EW India School Rankings. Subsequently, in 2015, we introduced a dedicated league table ranking the country's best special needs schools. Since then, the number of sufficiently high profile special schools has risen from 16 in 2015 to 28 in 2021.
To compile the 2021-22 league table of India's Top 28 special needs schools, C fore field researchers interviewed 446 parents and 48 special needs educators in six major cities. They were asked to rate and rank special schools on ten parameters of education excellence — teacher welfare and development, competence of faculty, quality of program, rehabilitation, co-curricular education, individual attention to students, leadership/management quality, safety and hygiene, infrastructure provision and value for money.
Ranked #3 last year, the Academy for Severe Handicaps and Autism, Bengaluru (ASHA, estb.1995) is India's #1 special needs school in 2021-22. ASHA has been awarded top scores under the parameters of teacher welfare and development, teacher competence, quality of program and individual attention to students.
"This is wonderful news! Our hard work has paid off! Forced to switch to online learning last April, we provided intensive digital technologies training to all our teachers, investing substantial time to design specific solutions for the special needs and conditions of our children. Our teachers responded enthusiastically and won us the day. We hope to strengthen our online learning competence and develop new ways of teaching-learning, and continue providing training in English and vernacular languages to teachers and parents across Karnataka," says Jayashree Ramesh, a special education postgrad of San Jose State University, USA, and founder-director of ASHA which currently has 92 students and 36 teachers including seven therapists, on its muster rolls.
At top table, The Aditya Birla Integrated School, Mumbai (TABIS, estb.2014) promoted by philanthropist Neerja Birla, is ranked #2 (#1 in 2020-21) followed by Delhi's pioneer Tamana Autism Centre (estb.1992) promoted by celebrated educationist Dr Shayama Chona at #3 (2). SPJ Sadhana School, Mumbai #4 (4) and Mata Bhagwanti Chadha Niketan (MBCN), Noida #5 (5) have retained their 2020-21 rankings with Sankalp, Chennai, making a great leap forward into the Top 5 from #13 last year.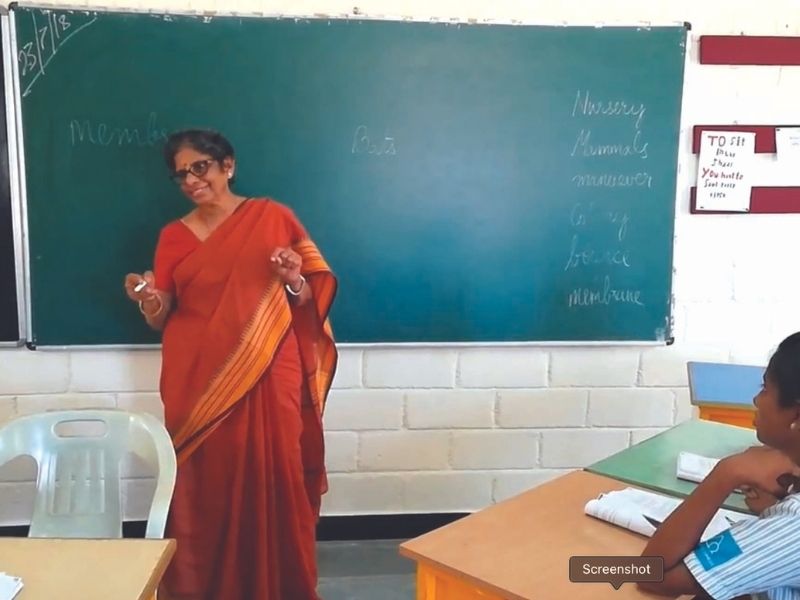 The Top 10 table is completed by Alpha to Omega Learning Centre, Chennai (Alpha-2-Omega, estb. 1988) which has vaulted from #23 last year to an impressive #6 this year; Sweekar Academy of Rehabilitation Sciences, Secunderabad #7 (6) jointly ranked with The Gateway School, Mumbai (11), Asha Kiran Special Needs School, Bengaluru #8 (7) followed by Sanchetna, Noida #9 (8), Aatman Academy, Thane co-ranked #10 (9) with Jai Vakeel School, Mumbai (18).
"It is a matter of great pride for Alpha-2-Omega and our committed special educators and therapists that we are ranked among India's half-dozen most respected special needs schools. Our collective mission for the past 33 years has been to mainstream children with special needs in a structured environment. In particular, we are thrilled that we have been awarded the highest score under the parameter of rehabilitation. During the pandemic lockdown, all our teachers were trained in new-age technologies and have been routinely conducting online classes on Zoom since last April. Currently, we are affiliated with NIOS (National Institute of Open Schooling) for secondary school certification and hope to upgrade to senior secondary soon which will enable us to add more vocational subjects to enhance career options for our students," says founder-director Lalitha Ramanujan, an alumna of Annamalai, Madras and Minnesota (USA) universities. Currently, Alpha-2-Omega, Chennai has 52 students and 17 special educators including two therapists on its muster rolls.
Further down the 28-strong league table of the country's most respected special needs schools, eight institutions (Brindavan Education Centre, Bengaluru #11 (18), Dilkhush Special School, Juhu #13 (16), Vidyaniketan Academy, Bengaluru #14 (17), Asha Special Needs School, Delhi #15 (22), Connect Academy, Nashik #17 (19), Bubbles Centre for Autism, Bengaluru #18 (20), Bethany Special School, Bengaluru #19 (24) and Manovikas, Kulachi Hansraj, Delhi #20 (21)) have all improved their rankings. Simultaneously the previously unranked Mamta Mandir School, Navsari and Om Creations Trust, Mahalakshmi, Mumbai have debuted.
Paromita Sengupta
Also read: India's best co-ed day schools