Against the backdrop of plummeting standards of engineering education, EducationWorld presents India's Top 100 private engineering education institutions league table based on the assessments of 2,876 knowledgeable sample respondents countrywide – Summiya Yasmeen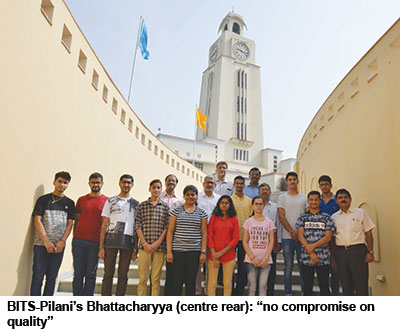 Engineering education in India is facing an unprecedented quality crisis. Surveys conducted by national and international organisations have laid bare the poor quality education dispensed by a majority of India's 3,415 engineering colleges. According to a 2018 study conducted by the World Bank and Stanford University, the higher order thinking skills of first and third year undergraduate engineering students in India are "substantially lower" than of their Chinese and Russian counterparts. Moreover, according to a damning employability survey conducted earlier this year by Aspiring Minds, a Delhi-based job seekers evaluation and certification company, 80 percent of the country's engineering graduates are unemployable in the knowledge economy.
A major cause of the steady decline in engineering education standards is reckless licensing of private engineering colleges over past two decades by the Delhi-based All India Council for Technical Education (AICTE), the apex regulatory body for technical education. The number of private engineering colleges countrywide has almost doubled from 1,511 in 2006-07 to 3,415 in 2017-18. This over-supply has resulted in several colleges reporting a rising number of vacant seats year on year which has forced hundreds of them to compromise on quality of faculty and enabling infrastructure. Replying to a question in the Lok Sabha last April, Satya Pal S, Union minister of state for human resource development, revealed that vacancies in AICTE approved engineering colleges during the past four years averaged 45 percent. This is why EducationWorld brings to you India's Top 100 private engineering education institutions.
Against this backdrop of plummeting standards — especially among private engineering colleges which have mushroomed across the country — in 2016 EducationWorld took the initiative to publish pan-India rankings of the country's most respected private engineering institutes, excluding the relatively well-funded and heavily subsidised Central government-promoted Indian Institutes of Technology (IITs) and National Institutes of Technology (NITs), which offer study programmes approved by AICTE's National Board of Accreditation (NBA), attract high-quality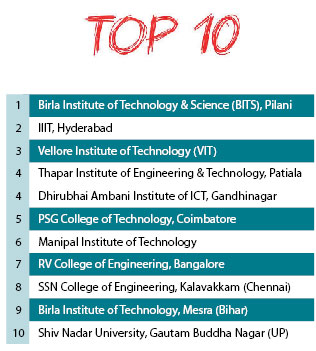 faculty and provide enabling infrastructure. Routinely ranked among the Top 10 engineering colleges in all media league tables, the IITs and NITs admit a mere top 1 percent of higher secondary school-leavers who clear their rigorous common entrance exam. Therefore with the IITs and NITs leagues ahead of the rest, it made good sense for EducationWorld to assess, evaluate and rank the India's Top 100 private engineering education institutions to enable parents and students to choose the most suitable among them.
To compile the EW India Private Engineering Institutes Rankings (EWIPEIR) 2019-20, 150 representatives of the Delhi-based Centre for Forecasting and Research Pvt. Ltd (C fore, estb.2000), one of the country's premier market research companies (which also conducts the annual EducationWorld India School Rankings (estb.2007) and EW India Preschool Rankings (2010), interviewed 1,134 faculty and 1,255 final year engineering students and 487 industry representatives across the country.
These sample respondents were persuaded to rate engineering institutes (of whom they had sufficient knowledge) on nine parameters of excellence including competence of faculty, placements, research and innovation, curriculum and pedagogy, industry interface, value for money, infrastructure, faculty welfare, leadership and governance. The scores awarded by respondents under each parameter were totaled to rank India's Top 100 private engineering institutions inter se. Low-profile institutions rated by less than 25 respondents are not ranked.
The 2,876 knowledgeable respondents polled by C fore have, for the fourth consecutive year, voted the Birla Institute of Technology and Science (BITS), Pilani (Rajasthan) India's #1 private engineering institution/university (a deemed university, BITS-Pilani is also separately ranked #2 among private universities, see pg. 50) and also top-ranked it on six of the nine parameters of engineering education excellence including faculty competence, industry interface, infrastructure, leadership, placements and value for money.
Curiously although BITS-Pilani, established by legendary freedom fighter, industrialist and philanthropist G.D. Birla in 1964, is commonly acknowledged to be on a par with the best IITs, in the Union government's National Institutional Rankings Framework (NIRF) Top 100 engineering institutes league table 2019, BITS-Pilani whose alumni include Bharat Forge chairman Baba Kalyani, Sandisk president and co-founder Sanjay Mehrotra, and social activist and politician Nanaji Deshmukh, is ranked #25. Lower than the Institute of Chemical Technology, Mumbai, Indian Institute of Engineering Science and Technology, Shibpur and National Institute of Technology, Suratkal — a patent absurdity.
Nevertheless, Dr. Souvik Bhattacharyya, vice chancellor of BITS-Pilani, is inclined to be charitable. "The NIRF rankings are not in sync with reputed academy ranking agencies such as THE and QS where BITS has been improving its position. Be that as it may, we are pleased to be recognised as India's #1 private engineering education institution by EducationWorld. Our #1 ranking on the critical parameters of faculty competence, industry interface, placements, and infrastructure is evidence that we don't compromise on quality. India's most successful companies are satisfied with our well-rounded and job-ready graduates. Recently BITS-Pilani was conferred 'Institute of Eminence' status by the Union HRD ministry. This tag will give us greater academic autonomy and enable us to realise our objective of ensuring that BITS-Pilani is ranked among the Top 500 higher ed institutions in the world in the near future," says Bhattacharyya, an alumnus of Jadavpur, Cincinnati and Texas A&M universities, who served as vice chancellor of Jadavpur University, Kolkata and deputy director of IIT-Kharagpur, prior to being appointed vice chancellor of BITS-Pilani in 2016.
Following BITS-Pilani is the Hyderabad-based International Institute of Information Technology (IIIT) at #2 and Vellore Institute of Technology at #3, both of which have retained their rankings for the second successive year. While there's no change in the seating order at the very top, further down the league table, there's been a substantial rearrangement of seating.
The Gandhinagar (Gujarat)-based Dhirubhai Ambani Institute of Information & Communication Technology has risen considerably in public esteem and is ranked #4 (#7 in 2018) jointly with the Thapar Institute of Engineering & Technology, Patiala while PSG College of Technology, Coimbatore has retained its #5 ranking followed by Manipal Institute of Technology which has slipped to #6 (5) this year. The low-profile RV College of Engineering, Bangalore has improved its national ranking to #7 (9) while SSN College of Engineering, Chennai has maintained its #8 position even as Birla Institute of Technology (BIT), Mesra, ranked #9 (10) and Shiv Nadar University, Dadri at #10 (13) complete the Top 10 table.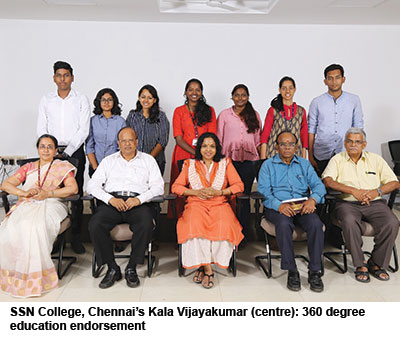 "It is very encouraging that we've maintained our position in the Top 10 table of private engineering colleges. It's testimony to the hard work and commitment of our management, faculty, and students. Moreover, our Top 10 national ranking on all nine parameters of engineering education excellence is endorsement of the 360 degree education our high-quality faculty provides to our students. Our highly qualified faculty is also actively engaged in research and innovation which gives an edge to teaching-learning processes. We have also signed several collaboration agreements with blue-chip corporates for joint research, consulting and student projects," says Kala Vijayakumar, an alumna of the University of Madras and president of SSN College of Engineering (estb.1996) which has 4,100 students mentored by 275 faculty on its muster rolls.
With Tamil Nadu (516) and Maharashtra (370) hosting the largest number of private engineering colleges in the country followed by Karnataka (212), it's hardly surprising that colleges sited in these three states dominate the national league table. Tamil Nadu has 20 engineering colleges ranked among the private Top 100; Maharashtra 19 and Karnataka 17.
Beyond the Top 10, several institutions have risen in the EWIPEI Rankings 2019-20. Among them: BMS College of Engineering, Bangalore, ranked #15 (#21 in 2018), the National Institute of Engineering, Mysore #19 (36), Vivekanand Education Society's Institute of Technology, Mumbai #24 (29), Gokaraju Rangaraju Institute of Engineering and Technology, Hyderabad #37 (47) and Vidya College of Engineering, Meerut #54 (74).
Moreover, it's pertinent to note that although some engineering colleges are modestly ranked nationally, they are highly ranked in their states. For instance, the Vivekanand Education Society's Institute of Technology, Mumbai ranked #24 nationally is ranked #1 in Maharashtra (pop.115 million). Similarly, the Rajagiri School of Engineering and Technology, Ernakulam, ranked #39 all-India is #1 in Kerala (34 million), and Heritage Institute of Technology, Kolkata, ranked #74 nationally, is West Bengal's #1 private engineering college.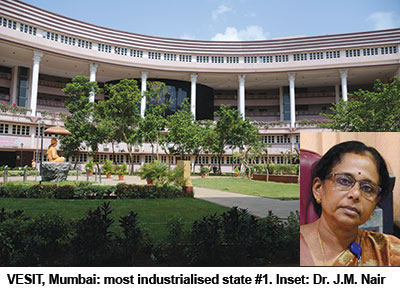 Dr. J.M. Nair, an alumna of IIT-Bombay and College of Engineering, Trivandrum and principal of the Vivekanand Education Society's Institute of Technology (VESIT), Mumbai, is delighted that VESIT is the top-ranked private "and rigorously administered" engineering college in India's most industrialised state. "We have great respect for the annual EWIPEI Rankings which are based on the assessment of knowledgeable leaders of industry and academia as also senior students in higher education. It is public acknowledgement that we provide high-quality industry-relevant engineering education to our students. VESIT has applied to the University of Mumbai for autonomy status, which we hope to get soon. Autonomous status is important because it will give us full freedom to update our curriculums, strengthen industry linkages, introduce interdisciplinary courses and focus on research, innovation and entrepreneurship," says Nair.
With Hemalatha Raghupathi (Chennai) and Dipta Joshi (Mumbai)
Also Read: https://www.educationworld.in/mba-and-engineering-colleges-lack-high-class-skill-set-education-quality/