Against the backdrop of the rising popularity of private universities which are beginning to establish themselves as formidable competitors not only to public universities in India but also to foreign varsities, for the past five years EducationWorld has been publishing league tables rating and ranking private universities on several parameters of higher education excellence – Dilip Thakore
India's 334 private universities, which for decades have been playing second fiddle to their public, i.e, government owned and funded counterparts, are beginning to establish themselves as formidable competitors not only to public universities in India, but to foreign higher education institutions which were hitherto the preferred destination of school-leavers and college graduates who couldn't squeeze themselves into the handful of government universities of near-global standard.
Now, especially since the historic winds of liberalisation and deregulation swept through the dirigisme (control-and-command) Indian economy in 1991, dozens of private universities modelled after premier private Ivy League universities of America have established good and growing reputations for delivering high quality tertiary education. And although Left intellectuals who still dominate the academy and the media are fighting a rear-guard battle opposing the promotion of private institutions of higher education on the grounds that they levy high tuition fees and are thus 'elitist', the plain truth is that the tuition fees of post-liberalisation India's new crop of private universities and institutes of professional education are a small fraction of the differential higher fees imposed upon foreign students by the US, UK and other countries of the English speaking Commonwealth. Little wonder India's new genre private universities have benchmarked themselves with the world's top-ranked higher ed institutions rather than domestically top-ranked public varsities, none of whom are ranked in the global Top 200 World University Rankings (WUR) league tables of the London-based Quacquarelli Symonds (QS) and Times Higher Education.
It's an open secret that because of constant interference by the ubiquitous control-and-command neta-babu brotherhood, over-subsidisation of tuition fees and runaway affirmative action — seat reservation and quotas for numerous castes and socio-economic classes — India's 907 public universities (some of which are of almost 200 years vintage) are mere ciphers by established international standards of higher education excellence. In the circumstances, it's hardly surprising that the best of India's new genre private universities have modelled themselves on top-ranked private varsities abroad. And since they offer — or aspire to offer — Ivy League-benchmarked high quality undergraduate and postgrad education at a fraction of the tuition fees demanded by foreign universities, it's unsurprising that the progeny of post-liberalisation India's fast-expanding middle class are flocking to them.
Against this backdrop of the rising popularity of private universities, for the past five years EducationWorld has been publishing league tables rating and ranking private universities on several parameters of higher education excellence including competence of faculty, faculty welfare and development, research and innovation capability, infrastructure, industry interface, placements, internationalism and leadership and governance. Unlike the Union HRD ministry's National Institutional Rankings Framework (NIRF) published in early April, which 'invites' higher education institutions, including universities, to 'participate' in the annual NIRF Rankings by submitting institutional data in a prescribed format, the annual EW India Private University Rankings (EWIPUR) are based on interviews (conducted over four months) with 4,321 carefully chosen higher education faculty, final year students and industry representatives in 25 cities countrywide.
The selected sample respondents were persuaded to rate over 150 private universities on ten parameters of higher education excellence as described above on scales of 100-300 with research & innovation, competence of faculty and infrastructure accorded higher weightage. The score awarded under the parameter of research and innovation is based on the number of papers published by faculty members in A grade refereed journals as recorded by the globally respected Elseiver-Scopus Index. We believe our methodology of external assessment of higher education institutions is more accurate and reliable than the NIRF Rankings in which participation is optional, data is self-submitted and inadequately audited.
Be that as it may, excepting the status quo at the apex level, the EW 2019-20 league table of India's Top 100 private universities has thrown up quite a few surprises. Commendably, the low-profile and under-advertised Manipal/Bangalore-based Manipal Academy of Higher Education (formerly Manipal University until a whimsical November 2017 diktat of the Delhi-based UGC (University Grants Commission) forced it to revert to its former nomenclature) is ranked India's #1 private university for the fourth year in succession by this year's 4,000-plus sample respondents with top ratings under the parameters of infrastructure, leadership and range of programmes. But other than that, there's been a considerable rearrangement of seats at the Top 10 table.
The Sonipat (Haryana)-based uniquely crowd-funded liberal arts Ashoka University (estb. 2014), which has captured the imagination of the Indian middle class, continues its upward trajectory. Ranked #4 in 2018-19, it has been promoted to #2 and co-ranked with the blue-chip Birla Institute of Technology and Science (BITS), Pilani (Rajasthan) which has retained its second rank in 2019-20. Moreover, the ambitious Amity University which is going global in a big way, the highly-respected International Institute of Information Technology, Hyderabad (IIIT-H), Thapar Institute of Engineering & Technology, Patiala (aka Thapar University), Dhirubhai Ambani Institute of Information & Communication Technology, Gandhinagar (Gujarat), O.P. Jindal Global University, Sonipat, Shiv Nadar University, Noida (UP), SRM Institute of Science & Technology (aka SRM University), Chennai and Shanmugha Arts, Science Technology & Research and Academy (SASTRA Deemed University), Thanjavur (Tamil Nadu), Symbiosis International University, Pune and the Kalinga Institute of Industrial Technology (KIIT) University, Bhubaneswar, have all improved their rankings this year and have been promoted to the prestigious Top 10 table.
"Private higher education institutions have played a major role in fulfilling rising public demand for professional and non-professional higher education. The number of universities in India is set to rise exponentially from the current 900 to 1,500 in three years. At that time, at least 75 percent of the universities will be privately promoted institutions. But in terms of quality of education provided, they need time to catch up with the best in the West. That said I am very pleased that MAHE has been adjudged India's #1 private university for the fourth year consecutively by your knowledgeable sample respondents. In my opinion, even if you don't segregate private and public universities, MAHE deserves to be ranked among the Top 5 countrywide. Our Top 10 rank in the NIRF Rankings 2019 vindicates this opinion. Our goal is to be ranked among the world's Top 200 universities by THE and/or QS within the next five years," says Dr. H. Vinodh Bhat, vice chancellor of the Manipal Academy of Higher Educatin (aka Manipal University).
An alumnus of Glasgow University (UK) with postgrad qualifications in community medicine, Bhat has been associated with the Manipal Education and Medical Group for over three decades and was appointed vice chancellor of MAHE in 2015. "Infrastructure, faculty, diversity and international students are our traditional strengths. But during the past six years, our research output has increased by 300 percent and I expect it to grow by at least 200 percent in the next six years. The papers written by our faculty are being published in the best international journals. Higher score under this parameter is the focus of our attention currently," says Dr. Bhat who modestly abstained from commenting upon Manipal's #1 ranking under the parameter of leadership and governance.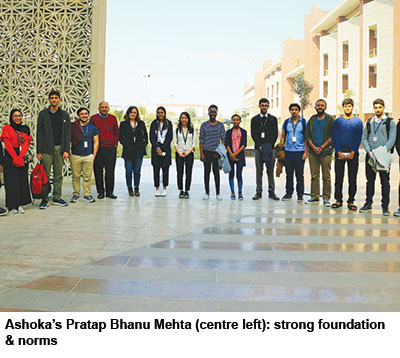 Dr. Pratap Bhanu Mehta, vice chancellor of Ashoka University (AU) which has been steadily advancing up the annual EWIPUR, is delighted by the continuous promotions given by knowledgeable EW sample respondents to this liberal arts university which admitted its first batch of 133 students in 2014. Ranked #9 in 2016, it has steadily risen to #5 in 2017, #4 in 2018 and #2 in 2019-20 with the highest ratings under the parameters of competence of faculty and curriculum and pedagogy and second highest score for leadership and governance.
"A new generation of private universities that have integrity, new forms of pedagogy and research are beginning to innovate across several governance models. This is a healthy development and I'm glad it is being acknowledged by EducationWorld. We feel humbled by the support we are getting. Ashoka University is an institution built on strong foundations and norms. But we are also aware of our responsibility to work harder to surpass ourselves. So the real challenge of aiming even higher begins now," says Mehta, an alumnus of Princeton and Harvard universities and hitherto president of the high-profile Centre for Policy Research, Delhi who was appointed vice chancellor of this Ivy League-style private university in 2017.
A formidable public intellectual in his own right whose weekly online essay in the Indian Express has a huge international readership, Mehta is specially pleased with AU's top rating/scores under the parameters of faculty competence and curriculum and pedagogy. "It is difficult to think of another academic institution that has paid as great attention to faculty recruitment, and we are fortunate that our top-grade faculty is constantly innovating our pedagogies, learning from our own experiences and other excellent institutions worldwide. We believe that the important thing for us is to focus on the all-round intellectual development of our students, to provide them the best resources we can to enable them to navigate the complexities of the new world they will encounter," adds Mehta.
Most private universities, which have to soldier on with minimal recognition in the shadow of top-ranked, well-funded public universities such as JNU, Delhi University and the vintage Bombay, Calcutta and Madras (estb.1857) universities, welcome the spotlight beamed upon them by EducationWorld. But inevitably some are disappointed by their ranking in the EW India private universities league table 2019-20.
For instance, despite the Sonipat (Haryana)-based O.P. Jindal Global University (JGU, estb. 2009) having improved its ranking from #22 last year to #6 in 2019-20 and ranked #1 under the parameter of internationalism, Dr. C. Raj Kumar, vice chancellor of JGU, declined to comment on the ground that several universities ranked below JGU in the QS BRICS and Asia league tables, are ranked higher by EducationWorld. According to him, the C fore-EW rankings methodology is "flawed".
Similarly, although she welcomes the idea of private universities being given high importance by EducationWorld,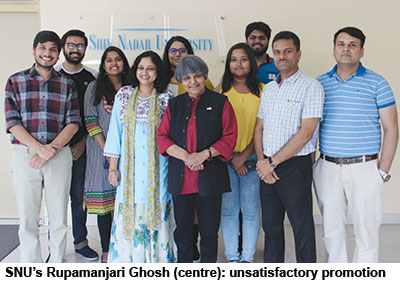 because the "scale of demand for higher education is mind-boggling" and they are "as well qualified to contribute to skill development and the nation's knowledge economy", Dr. Rupamanjari Ghosh, vice chancellor of the superbly-equipped and lavishly funded multi-disciplinary Shiv Nadar University (SNU, estb. 2011), is also dissatisfied with the #7 rank awarded by the 4,321 sample respondents to SNU. This despite our knowledgeable respondents having promoted SNU from #10 in 2018-19 to #7 this year.
"SNU's unique features — holistic, multidisciplinary curriculum, learning-by-doing pedagogy, research-led learning, guided learning beyond classrooms, 24×7 residential campus, and diverse students body — deserve higher ratings. Moreover the quality of our research publications is among the best in the country. Our 'source normalized impact per paper' score is very good at 0.91 and on a par with top-ranked higher education institutions such as the Indian Institute of Science and the IITs. Furthermore, our graduate placements have been averaging 90 percent-plus for several years," says Ghosh.
A physics postgrad of Calcutta University awarded a Ph D by the University of Rochester (USA), Ghosh is a former dean of the School of Physical Sciences at Jawaharlal Nehru University, Delhi, and chief advisor of NCERT (National Council of Educational Research and Training) who was appointed founder-director of the School of Natural Sciences at SNU in 2012. In 2016, she was promoted to the office of vice chancellor. Curiously, although Ghosh is inclined to dispute the higher #7 ranking awarded to SNU by EW's 4,000-plus sample respondents drawn from the academy and industry, she is less indignant about the #52 rank awarded to SNU by the HRD ministry babus in NIRF 2019.
In the Top 10 table there has been some rearrangement of the seating order. Ranked #5 in 2018-19, Amity University, Noida has been promoted to #3 by this year's sample respondents, IIIT-Hyderabad to #4 (6), and the Dhirubhai Ambani Institute of Information & Communication Technology, Ahmedabad (DAIICT) has made a great leap forward in public esteem to be ranked #6 (12). Other private universities winning golden opinions are SASTRA, Thanjavur, promoted to #9 (11), Symbiosis International University, Pune to #10 (12) and KIIT, Bhubaneswar debuting in the Top 10 table.
Beyond the Top 10, a substantial number of private universities have improved their ranking in the EW Top 100 league table 2019-20, indicating that with the heavy regulatory hand of UGC (University Grants Commission, Delhi) having become lighter, India's best private universities are beginning to get their act together. Among private universities which have substantially improved their ranking this year are Christ University, Bangalore, ranked #12 (16); Birla Institute of Technology, Mesra #13 (18), the cloistered Azim Premji University, Bangalore #14 (17), Sathyabhama University, Chennai #13 (19), Nirma U, Ahmedabad #19 (26), ICFAI, Hyderabad #20 (30), FLAME, Pune #23 (41), BML Munjal, Gurgaon #24 (35), D.Y. Patil, Navi Mumbai #26 (34) and Karunya University, Coimbatore #27 (30).
While perusing the latest EW India Top 100 private universities league table, it's important to bear in mind that while a university may be modestly ranked nationally, it could be very highly ranked in its host state. And given that almost every state of the Indian Union is bigger and more populous than many countries of Europe, if not Asia, that's not an insignificant achievement.
For instance DAIICT, Ahmedabad is the #1 private university in Gujarat (pop. 62 million) and Shiv Nadar University is top-ranked in Uttar Pradesh (215 million), while KIIT is the most respected private university in the fast-rising eastern seaboard state of Odisha (46 million). Viewed from this perspective, Sikkim Manipal and Shoolini universities, which are top-ranked in Sikkim and Himachal Pradesh, are highly valued higher education institutions in these states, particularly as only a small percentage of relatively affluent and adventurous students tend to cross state boundaries in pursuit of tertiary education.
Therefore, private university promoters, managers and faculty are advised to carefully study the painstakingly compiled EW private varsities league tables from state, city and parameter rankings perspectives, bearing in mind that ratings under each parameter of higher education excellence have been awarded by knowledgeable sample respondents. This advice is also applicable to parents and students in search of most suitable university education.