The managements and faculty of the best among India's 'other' B-schools believe that despite being obliged to compete academically with the government-backed B-schools without the benefit of subsidies and handouts, they are closing the gap which separates them from the IIMs
Long accustomed to playing second fiddle to the country's Central government-promoted and heavily subsidised six vintage and seven newly established Indian Institutes of Management (IIMs), which hog media headlines and attract the country's brightest postgraduates aspiring to become business management professionals, the best among India's 'other' B-schools have welcomed the inaugural EducationWorld-C fore survey rankings of the Top 50 management institutes — from which the over-hyped IIMs have been excluded — as overdue recognition of institutions struggling to catch up on an uneven playing field.
Their managements and faculty believe that despite being obliged to calibrate their tuition fees according to IIM benchmarks, and balance budgets and compete academically with the government-backed B-schools without the benefits of subsidies and handouts, they have closed the teaching-learning even if not the research gap, which separates them from the IIMs. Certainly from the body language and tone of faculty and students of the Indian School of Business, Hyderabad; XLRI (formerly Xavier Labour Research Institute), Jamshedpur; S.P. Jain Institute of Management & Research, Mumbai which head the inaugural EW-C fore league table of India's other B-schools, they genuinely believe they are as good as the IIMs in all respects.
In particular, the top management of the Indian School of Business, Hyderabad, promoted in 2001 by the Who's Who of India Inc in collaboration with the globally top-ranked US-based Wharton and Kellogg schools of business at a project cost of Rs.250 crore, and housed on a spectacular, well-equipped 250-acre campus in the suburb of Gachibowli, seems to entertain few doubts that it is as good, if not better than the IIMs. Despite levying a tuition-cum-residential fee of Rs.20 lakh for its intensive 12-month MBA diploma programme, and the institute not 'recognised' by the powerful Delhi-based All India Council for Technical Education, ISB doesn't experience any shortage of admission applicants. This year ISB (which also has a superbly equipped 70-acre campus in Mohali, Haryana, inaugurated in 2012) received 4,000 admission applications against which it admitted 770 graduate students after intensive interviews countrywide.
"I am pleased that ISB continues to be acknowledged as a premier B-school offering world class management education. Although we are a relatively new institution, ISB is the youngest school ever to be consistently ranked among the world's best for its MBA programmes, and the first B-school in South Asia to receive the prestigious AACSB (Association to Advance Collegiate Schools of Business) accreditation. We are also one of the largest providers of executive education in Asia and arguably the most research-productive institution of business management education in India," saysAjit Rangnekar, an alumnus of IIT-Bombay and IIM-Ahmedabad who acquired over 30 years of industry and consulting experience with the Associated Cement Company and Pricewater-houseCoopers, Hong Kong, prior to being appointed dean of ISB in 2009.
Rangnekar's evident satisfaction with the smooth take-off and development of ISB is not unwarranted. ISB is ranked #1 on the vital parameters of faculty competence, pedagogic systems and processes, infrastructure and research. "The factor that differentiates us from all other B-schools is our focus on research. Therefore our top ranking on this parameter is very satisfying," adds Rangnekar. Nor is he fazed by ISB not being ranked among the Top 10 on the parameter of 'value for money'. "We provide world class education and teaching by some of the best international faculty at half the price of any top global MBA programme. Our students and alumni understand the value of this experience," he says.
Somewhat self-righteously, XLRI, Jamshedpur, ranked a high second among the country's non-IIM B-schools and #1 on the critical parameter of 'faculty welfare and development', declined to comment on this first-ever league table of the country's non-IIM B-schools. "Every publication has its own methodology for assessing and ranking education institutions. We don't agree with any of these methodologies. Therefore we refrain from participating or commenting on such surveys," says a spokesperson of the institute, unpersuaded by the argument that if the institute, is indeed endowed with a superior methodology, it should share it with the media and public.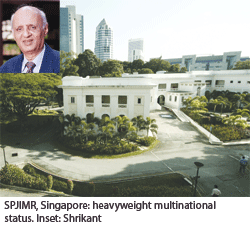 This attitude is not shared by Dr. Manesh Shrikant, the long-serving founder (now honorary) director of the S.P. Jain Institute of Management and Research (SPJIMR), Mumbai. A low-profile B-school promoted by the folksy, olde-world Indian cultural trust Bharatiya Vidya Bhavan (estb. 1938) in 1981, SPJIMR has silently metamorphosed into a heavyweight multinational B-school with campuses in Dubai, Singapore and Sydney, and has won the grudging respect of its peers and Indian industry. Ranked India's #3 among non-government B-schools in this inaugural EW-C fore survey, SPJIMR has sprung a few surprises by being top-ranked on the parameters of 'industry interaction' and 'pedagogic systems and processes' by the 532 B-school faculty and 518 final year students who constituted the respondents base of this survey.
However, Shrikant evidently doesn't agree with the ranking accorded to SPJIMR in the EW league table. "By including ISB (which offers a 12-month MBA programme) you are comparing apples with oranges. In all surveys of non-government B-schools offering the two-year MBA, SPJIMR is routinely ranked first or second," says Shrikant.
An alumnus of America's top universities — Michigan and Illinois where he studied engineering, Cornell (finance and economics) and Harvard Business School (Ph D in general management), Shrikant quit as chief executive of Mukand Ltd in 1976 for Harvard and returned to India to launch SPJIMR, which has stolen a march over the IIMs by going overseas in a big way. In particular, the institute's superb Singapore campus housed on the sprawling seven-acre property of the former Nizam of Hyderabad in the island republic, has enabled SPJIMR to offer students a multinational education experience.
A high rating on the parameter of 'research orientation' is also cause for considerable satisfaction in IMT, Ghaziabad (estb. in 1980 by industrialist Mahendra Nath), ranked among the Top 10 (#8) B-schools in the EW-C fore Top 50 league table, but #2 nationwide on this parameter. "In future the factors that will distinguish the best B-schools from the rest will be faculty competence and research rigour. On both these parameters, IMT-G has been highly ranked in your survey. We have alliances with some of the most respected B-schools in the world with whom we have student and faculty exchanges. We want to further challenge ourselves on these parameters to achieve standards of teaching-learning and research set by the best B-schools in Asia and beyond," says Dr. Bibek Banerjee, an alumnus of the universities of Calcutta, Purdue and Krannert Graduate School of Management and professor of marketing and economics at IIM-A, currently on lien to IMT-Ghaziabad.
Somewhat belatedly, research has become a buzzword, if not fashion statement in business management education institutions. Therefore the fact that in the inaugural EW-C fore league tables the Ahmedabad-based Institute of Management (IM, estb. 1996), the B-school of Nirma University promoted by Karsanbhai Patel, the detergents tycoon who humbled the mighty Hindustan Unilever in the 1980s, is not ranked among the Top 10 on the parameter of 'research orientation' is described by Nirma University's director-general Dr. Anup Singh as "wrongly ranked" and "a serious problem". "We are a research-oriented B-school and our intellectual capital is quite high," he insists. But Singh is content with the inclusion of IM (ranked #25 overall) in the Top 10 under the parameter of 'infrastructure'. "Students require high-quality faculty and infrastructure to learn and grow. Nirma University has paid attention to these two drivers from the outset," says Singh, former director of IMI, Delhi and the Jaipuria Institute of Management, Delhi.
The value of the inaugural EW-C fore Top 50 non-IIM B-school Rankings 2013, is that it has beamed the spotlight on a host of high-quality private sector business management education institutes competing with the government-supported IIMs, and inter se to provide consistently improving teaching-learning and research output which Indian industry — lumbered by high costs and a lopsided ICOR (incremental capital-output ratio) — desperately needs. But with media and public attention focused on the 13 IIMs which contribute a mere 2,800 MBAs annually to India Inc, the greater contribution of the best other B-schools remains unsung. The emergence of the dark horse ISB, Hyderabad/Mohali, which has broken the IIM monotony in the Top 10 rankings apart, it's useful to learn that some other B-schools are perceived as better than ISB on several parameters.
Aside from the excellence of XLRI and the transnational SPJIMR detailed above, the Faculty of Management Studies of Delhi University, is top ranked in our survey on the parameters of 'placements' and 'quality of alumni' and ranked #6 nationally. Yet its sarkari mindset was revealed when the institute's director was "out of town" and other top faculty were unwilling to be interviewed out of respect for hierarchy.
Other premier institutes ranked within the Top 10 include NITIE, Mumbai (promoted in 1963 by the late Prof. N.S. Ramaswamy who also promoted the Jamnalal Bajaj Institute of Management Studies (JBIMS), Mumbai (#15) and IIM-Bangalore); MDI, Gurgaon; the Indian Institute of Foreign Trade (IIFT); IMT, Ghaziabad; IMI, Delhi (currently headed by Dr. Pritam Singh who nurtured and developed IIM-Lucknow) and the Narsee Monjee Institute of Management Studies (NMIMS), Mumbai.
Also increasingly fancied by informed faculty and students are the relatively new S.J. Mehta School of Management of IIT-Bombay (estb. 1995) and the Vinod Gupta School of Management of IIT-Kharagpur (estb. 1993), which are expected to rise to IIM standards in the near future. Another dark horse is the relatively young Amity Business School of Amity University (estb. 1995) which perhaps drawing inspiration from SPJIMR, has emerged as the country's second transnational B-school with campuses in London, Singapore, Dubai and Mauritius.
Undoubtedly behind the somnolent facades of the country's non-IIM B-schools, there's a high degree of activity by way of drawing up plans and strategies for expansion and improvement. Although there are a large number of fly-by-night institutions within the country's 4,500 institutes of business management education, there's no denying that the Top 50 among them are making serious efforts to close the qualitative gap which separates them from India's government-supported and subsidised IIMs, which to their credit have set internationally comparable benchmarks for business management education institutes in India.
The inaugural EW-C fore rankings of the country's Top 50 non-IIM B-schools offer the great majority who aren't admitted into the IIMs, valuable insights and information to enable them to choose other B-schools providing nearly as good education suited to their needs.
For the EW-C fore league table of India's Top 50 'other' B-schools visit http://www.educationworld.in/rank-b_school/2013.html