On the reasoning that 70 percent of the country's 3,452 B-schools are privately promoted, the IIMs, which routinely top all B-school surveys and the small minority of other government B-schools have been eliminated from this year's private B-schools league tables: Summiya Yasmeen
The Xavier School of Management, Jamshedpur (formerly XLRI) followed by Mumbai's S.P. Jain Institute of Management & Research and Narsee Monjee Institute of Management Studies (NMIMS) are India's top three private business management institutes, according to the latest EW India Private B-schools Rankings 2016.
A specially constituted sample database of 1,197 respondents comprising 542 faculty members, 522 final year management students and 133 industry representatives evaluated 500 privately-promoted B-schools on nine parameters of academic excellence — faculty competence, faculty welfare and development, research orientation, pedagogic systems and processes, industry interaction, placements, infrastructure and facilities, value for money and quality of alumni. This pan-India survey was conducted early this year by 40 field researchers of the well-reputed Delhi-based market research and opinion polls company Centre for Forecasting and Research Pvt. Ltd (C fore, estb.2000).
For this year's survey of B-schools, all government-promoted business management institutes including the Indian Institutes of Management (IIMs) are excluded on the reasoning that they routinely top all B-school surveys, and the fact that the 19 IIMs together admit only 3,635 of the 210,000 students who write its annual Common Admission Test (CAT). EducationWorld's last survey of B-schools conducted in 2013 had also excluded the IIMs for the same reason.
Taking this reasoning a step further, since over 70 percent of the country's 3,452 B-schools are privately promoted and managed, your editors decided to also eliminate the small minority of other non-IIM B-schools promoted by Central and state governments from the ambit of the survey. But bearing in mind that a great majority of private B-schools are nothing to write home about in terms of competent faculty, contemporary curriculums, pedagogies and processes, we took the decision to rate and rank only the 50 best among them.
"We shortlisted 500 private B-schools offering the two-year MBA programme for this year's survey. This means that highly-fancied B-schools such as the Indian School of Business which offer one-year programmes have been excluded. Respondents were asked to assess the shortlisted B-schools on a ten point scale against the nine parameters of academic excellence. The scores awarded by respondents under each parameter were multiplied by ten and totaled. Ratings awarded by faculty/students to their own institutes were invalidated and B-schools not known to at least 25 respondents were eliminated from the rankings," says Premchand Palety, promoter chief executive of C fore explaining the painstaking effort invested in ranking India's pre-eminent private B-schools.
With the premier Indian School of Business, Hyderabad — ranked #1 in EW's 2013 league table of best non-IIM B-schools and ranked among the world's Top 20 B-schools by the Financial Times, London — eliminated from the survey, the Xavier School of Management (XSM), Jamshedpur, ranked #2 in 2013, has claimed first rank in the EW Top 50 Private B-Schools Rankings 2016. Promoted in 1949 by the Jesuit religious order on a 40-acre campus in the steel city of Jamshedpur, XSM is top-rated on six of the nine parameters of management education excellence viz, faculty competence, faculty welfare and development, pedagogic systems, placements, infrastructure, and alumni quality by the EW sample respondents.
"We are very pleased to be ranked the #1 private B-school in India. XSM is one of the few B-schools in India which is a signatory to PRME — Principles for Responsible Management Education — an initiative of the United Nations and over 500 leading business schools and academic institutions worldwide to inspire and champion responsible education, research and thought leadership. Over the past 60 years, XSM has developed into a B-school which shapes responsible and ethical business leaders. We are perhaps India's first B-school to mandate compulsory study of ethics and sustainable development for all students. That's why our graduates are much sought after — this year 386 offers were made to 361 students with the average start-up remuneration being Rs.18.5 lakh per year," says Fr. E. Abraham S.J, director of XSM which has an enrolment of 2,000 students mentored by 82 faculty.
However the reaction of Dr. Ranjan Banerjee, dean of S.P. Jain Institute of Management and Research (SPJIMR), Mumbai to this highly-fancied B-school being ranked second nationally and #1 in Maharashtra (pop.114 million) is "relatively neutral". A low-profile B-school promoted by the Bharatiya Vidya Bhavan (estb.1938) in 1981, SPJIMR has since metamorphosed into a heavyweight transnational B-school with campuses in Dubai, Singapore and Sydney, and is rated #1 on the parameters of industry interface and value for money in the EW India Private B-schools Rankings 2016.
"We benchmark ourselves against India's top four B-schools — IIM-A, IIM-B, IIM-C and XSM. That's why we only take overall rankings — not private and public separately — seriously. In our own estimation according to several objective criteria, we are ahead of most IIMs, and relative to XSM and IIM-Calcutta, we are 20 years younger. What distinguishes SPJMIR is our entrepreneurial orientation, high degree of industry integration, teaching quality, location, and success in combining an original, values-based Indian model of education with the best Western models," says Banerjee, an alumnus of IIT-Bombay, IIM-Calcutta and University of Minnesota, USA with several decades of experience in blue-chip corporates including Asian Paints, Vadilal and Hindustan Unilever who was appointed dean of SPJIMR in April 2015.
Another Mumbai-based B-school — the Narsee Monjee Institute of Management Studies (NMIMS), is ranked among the Top 3 private B-schools countrywide. Promoted in 1981 by the Shri Vile Parle Kelavani Mandal trust, NMIMS, which was conferred deemed university status in 2003, is also ranked #14 in the contemporaneous EW India Private University Rankings 2016, and its Mukesh Patel School of Technology is ranked #44 among private engineering colleges this year.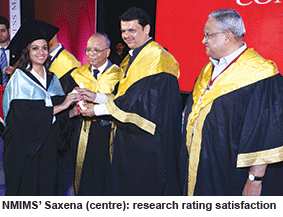 "EducationWorld's ranking of NMIMS among India's top three private B-schools reconfirms our belief that investment in institution building creates excellent institutions. Sustained investment in terms of people, finance and other resources in curriculum and pedagogy development is showing results. Simultaneously, investment in faculty development and integration of technology in programme delivery has boosted our reputation. These factors combined with numerous industry partnerships make NMIMS graduates highly industry-ready. I am really glad about our #1 rating under the research parameter because we routinely monitor industry and economic trends and based on this research, design courses with active industry involvement," says Dr. Rajan Saxena, vice chancellor of NMIMS University and distinguished professor of marketing. Currently, NMIMS University has an enrolment of 10,000 students, 1,800 of whom are enrolled in its management school mentored by 60 faculty.
The Top 10 table of India's best private B-schools is completed by the Institute of Management Technology (IMT), Ghaziabad (#4), Symbiosis Institute of Business Management, Pune (#5), Xavier Institute of Management, Bhubaneswar (6), International Management Institute, New Delhi (7), T.A. Pai Management Institute, Manipal (8), K.J. Somaiya Institute of Management Studies, Mumbai (9) and Symbiosis Centre for Management and Human Resource Development, Pune (10).
Dr. Atish Chattopadhyaya, director of IMT, Ghaziabad, is "delighted" this B-school is ranked #4 all-India and #1 in Uttar Pradesh (pop.204 million). "This high rank is the outcome of our continuous efforts to invest in knowledge development, pedagogical practices and engagement with industry. IMT Ghaziabad was recently accredited by the prestigious US-based Association to Advance Collegiate Schools of Business, a select community of the world's top 755 business schools. Our #2 rank for research is also very satisfying as we have established five centres of excellence with the objective of engaging in cutting-edge environment management, financial and strategic information management, global supply chain, rural innovation and capacity building research initiatives," says Chattopadhyaya, an alumnus of Aligarh Muslim University, former dean of MICA, Ahmedabad and deputy director at SPJIMR, Mumbai who took charge as director, IMT in March.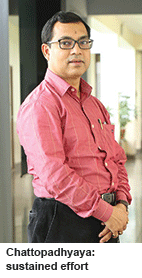 With the IIMs and other government-supported B-schools eliminated from the survey, the EW India Private B-schools Rankings 2016 beam a much-needed spotlight on a host of high-quality private business schools working without recognition to improve teaching-learning and research output which Indian industry desperately needs. The high quality of management education institutions ranked in the EW Private B-schools league table is testified by the high state rankings of institutes not ranked among the Top 10.
For instance, the Amrita School of Business, Coimbatore, ranked #13 all-India, is top-ranked in the highly industrialised southern state of Tamil Nadu (pop.68 million). Likewise the Ahmedabad-based Institute of Management of Nirma University, is ranked #15 nationally but #1 in Gujarat (62.7 million), Chitkara University, ranked #41 pan-India, is ranked #1 in Punjab (28 million) — a hub of small-scale and ancillary industries — and the Heritage Business School, ranked #50 nationally, is top ranked in West Bengal (pop. 91 million).
The EW India Private B-schools Rankings 2016 offer the great majority of students who don't make the cut into the IIMs and other government-funded B-schools, valuable insights and information to enable them to choose the most personally suitable private B-schools from among the best. In the pages following, we present national and state league tables, and ratings and rankings of the Top 10 B-schools under each of the nine parameters of academic excellence.
With Dipta Joshi (Mumbai) & Swati Roy (Delhi)
To read India's Top 50 Private B-Schools table visit: