The Doon School, establised 83 years ago as a nationalist riposte to starchy anglicised boarding schools which were reluctant to admit native students, has captured the imagination of post-independence India's elite classes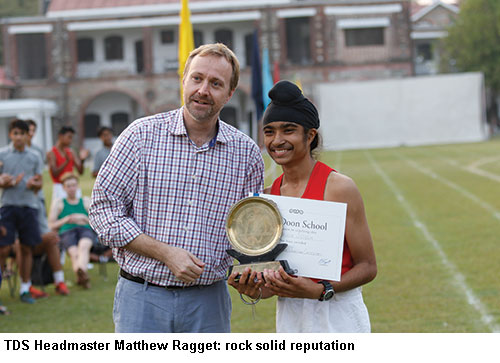 Although it maintains an obstinately low public profile and continuously flies below radar, The Doon School, Dehradun (TDS, estb.1935) enjoys a rock-solid reputation for dispensing all-round primary-secondary education within the community of knowledgeable monitors of India's education scene in which the distance between the best private and government schools is as wide as the chasm between Lazarus nestling in Abraham's bosom and Dives burning in the fires of hell. Therefore it's unsurprising that for the sixth year in succession, the CISCE and Cambridge Assessment International Education (UK)-affiliated TDS is voted India's #1 all-boys boarding school by a wide margin by this year's knowledgeable 4,729 sample respondents in north India. Rated #1 on 13 of the 14 parameters of school education excellence including teacher competence, teacher welfare and development and academic reputation, TDS, establised 83 years ago as a nationalist riposte to starchy anglicised boarding schools which were reluctant to admit native students, has captured the imagination of post-independence India's elite and upper middle class households.
"Our focus in TDS and my ambition as a headmaster, is to concentrate on continuous improvement in teaching, learning and pastoral care and for the school to become the most exciting place to work and study in the country. And far from being a low-profile institution we are quite active in using social media channels and corporate magazines to tell the public about the very generous financial scholarships we provide to children from economically weaker sections of society as also for children of armed forces personnel. These things are well known within the educators and teachers fraternity and account for TDS' high ranking in your annual survey," says Matthew Raggett, an alumnus of Newcastle (UK) and Charles Stuart (Australia) universities and former principal of the Leipzig International School, Germany, who was appointed principal two years ago after his predecessor Dr. Peter McLaughlin, who served two five-year terms as headmaster resigned in 2015.
While the class VI-XII TDS has been comfortably seated at the head of the all-boys boarding schools for the past eight years and is ranked #1 on the parameters of academic reputation, teacher welfare and development, and internationalism across all boarding schools (co-ed, boys and girls — see pg. 268), there is a re-arrangement of seating at the Top 5 table. Welham Boys, Dehradun is promoted to #2, a position it shares with Scindia School, Gwalior, while the vintage Bishop Cotton School, Shimla (estb. 1859) is ranked #3 this year.
Dr. Gunmeet Bindra, the first woman principal of a top-ranked all-boys boarding school — Welham Boys, Dehradun (estb. 1937) — is appreciative that this year's sample respondents have promoted this 61-year class IV-XII CBSE-affiliated school to #2 , although it shares this ranking with the equally venerated Scindia School, Gwalior. She attributes Welham Boy's consistent Top 3 ranking to its management's capability to "maintain a perfect blend of tradition and modernity". "Although technology is updated constantly, our values remain the same; while pedagogy is reviewed regularly, the sanctity of the teacher-student relationship remains the pillar of Welham Boys. We have successfully established a great spirit of camaraderie and teamwork in this school. All stakeholders of Welham Boys from peon, student, teacher, to parent and alumni have pride and confidence in this institution. This motivates us to constantly endeavour to set and attain higher goals," says Bindra, an alumna of the Delhi School of Economics and Calcutta University, founder-principal of DPS, Jalandhar and Kanpur, and former principal of the Vidya Devi Jindal School, Hisar (Haryana) who was appointed the first woman principal of Welham Boys in 2011.
Evidently Welham Boys has flowered under her guidance. The school was ranked #1 under the parameter of leadership and management across all categories of boarding schools countrywide in 2016, 2017 and again this year.
This year's Top 5 boys boarding schools table has two notable new entrants, viz, the vintage St. George's College, Mussoorie (estb. 1853) and St. Paul's, Darjeeling both of whom offer increasingly rare clean mountain air and breath-taking vistas of the mighty Himalayas apart from the holistic admixture of academics, co-curricular and sports education for which India's legacy boarding schools are globally renowned. The entry of St. Paul's into the Top 5 is particularly commendable, because during the past eight months the Darjeeling district was shut down for almost 100 days by the Gorkha Janmukti Morcha, which has been agitating for a separate Gorkhaland to be carved out of West Bengal, following chief minister Mamata Banerjee's ill-advised decision to make Bengali a compulsory language in all schools statewide. Quite obviously sample respondents in eastern India were impressed by St. Paul's deft handling of the crisis.
"Admittedly St. Paul's, as other schools in Darjeeling, experienced turbulent political and socio-economic conditions in recent times. However the school's management pulled out all stops to discharge its responsibility of providing high-quality and continuous education to our students. Although this disruption required us to move the entire students' body to Siliguri to continue classes, our class XII board exam results were not severely affected this year and suffered only marginally," says Rev. Joy Halder, an English graduate of Delhi University and Union Biblical Seminary, Pune and former chaplain of Bishop Cotton School, Shimla who was appointed principal, administrator and chaplain of St. Paul's, Darjeeling in October 2011.
A noteworthy feature of the EW 2018-19 league table of boys boarding schools is that four primary-secondaries promoted by the multi-business, multinational house of Birla — Birla Vidyamandir, Nainital (estb. 1947) at #6, Sarala Birla Academy, Bangalore (2004) #7, Birla Public School, Vidya Niketan, Pilani (1944) #8 , G.D. Birla, Memorial, Ranikhet, Uttar Pradesh (1987) #10 — are ranked among the Top 10. This is a pleasant surprise because the popular belief is that like the rival business house of Tata, the Birlas were believed to be focused on higher education , e.g. the blue-chip Birla Institute of Technology & Science, Pilani which has huge campuses in Pilani, Mohali and Goa. That the Birlas who were undoubtedly inspired by the late G.D. Birla (1894-1983) who played a major but under-appreciated role in India's freedom movement, are active in K-12 education, augurs well for Indian education.
Further down, beyond the Top 10, there is minimal change in the pecking order of the small 30-strong list of boys boarding schools — a socially positive development which indicates that single sex primary-secondaries are falling out of fashion, as contemporary SEC 'A' parents prefer to enroll their children in co-ed schools which inevitably promote the socially benficial causes of gender equality, healthy socialisation and mutual harmony between the sexes from early age.