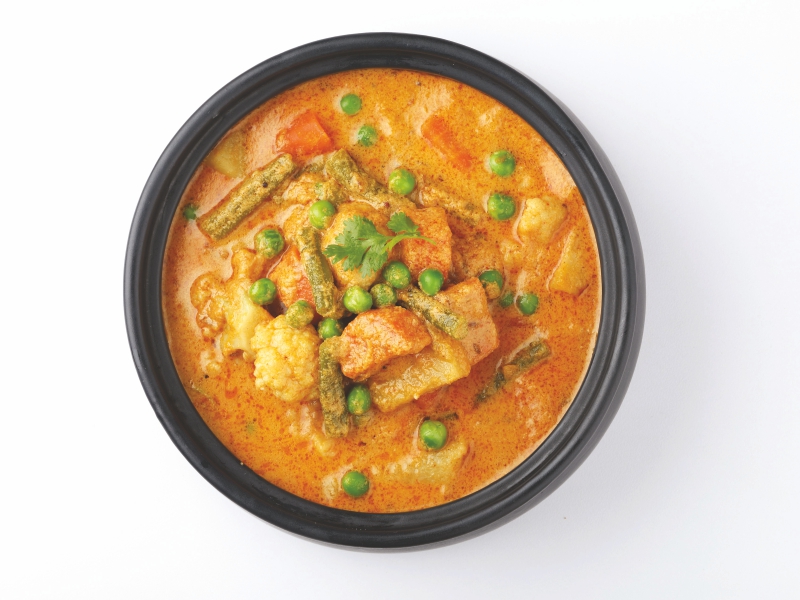 A traditional Indian delicacy, korma is a dish of meat or vegetables braised with curd, cream, coconut milk, water or stock, and mellowed in spices such as coriander and cumin to produce a thick sauce or gravy. Korma is usually served with naan/roti or rice. Try out these immunity-boosting healthy korma recipes – Parvathy Menon
Vegetable korma (6 servings)
Ingredients For the paste:
1 cup chopped onions
1 green chilli
1 ½ inch ginger
3 garlic cloves
¼ cup cashew nuts
½ cup water
Vegetables:
1 cup diced potato
1 cup cauliflower florets
½ cup beans cut into 1 ½ inch pieces
1 cup chopped tomatoes
1 cup diced carrot
½ cup frozen or fresh peas
2 ½ cups water
Other ingredients:
2 tbsp ghee
½ tsp turmeric powder
½ teaspoon garam masala
2 tsp Kashmiri chilly powder
½ tsp cinnamon powder
¼ tsp cardamom powder
1 ½ tsp salt
3 tbsp cream
Coriander leaves for garnishing
Preparation guide
Boil the ingredients for the paste in ½ cup of water. Then, blend in a mixer.
Boil the potato in 2 ½ cups of water for 3 minutes, add the carrots and green peas and boil for another 3 minutes. Now, add the cauliflower and beans and boil for another 3 minutes. Drain the vegetables and set aside.
Heat ghee in a large pan. Add the prepared paste and all spices. Cook, stirring occasionally until the ghee separates (should take less than 5 minutes).
Add the vegetables, the tomatoes and 1 cup of water and cook covered for another 3-4 minutes. Take off the heat and stir in the cream. Garnish with chopped coriander and serve hot with steamed rice or parathas.
Health benefits: Cashews are low in sugar and rich in fibre and plant protein. They're also a good source of magnesium and manganese — important nutrients for energy, brain health, and boosting immunity.
Also check: