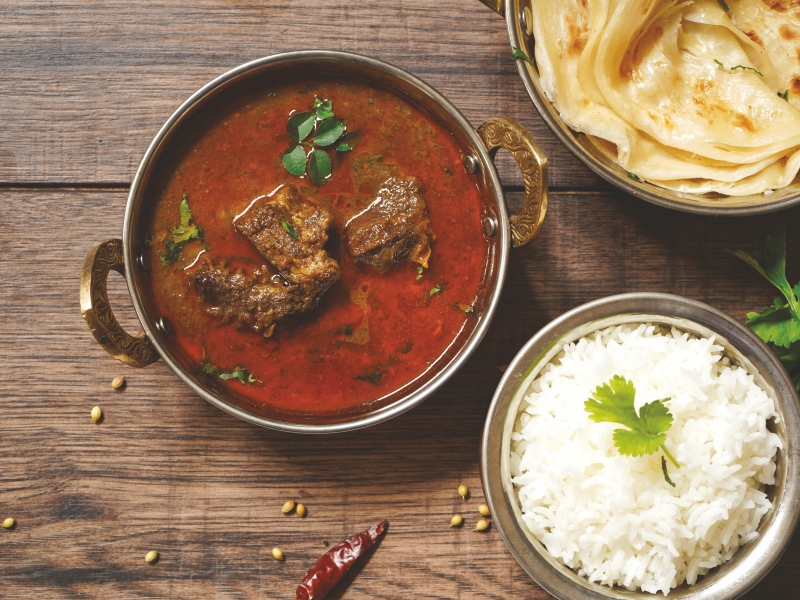 Mutton korma recipe (6 servings)
Ingredients
1 cup oil
1.5 kg mutton
1 tsp finely chopped fresh ginger
1 tsp finely chopped fresh garlic
3 medium sized onions (finely sliced)
2 cinnamon sticks
½ tsp cloves
½ tsp black peppercorns
2 black cardamoms
14 green cardamoms, split
4 bay leaves
2 tbsp kewra water
2 to 3 tbsp almonds
Salt to taste
2 tsp red chilly powder
1 ½ tsp coriander powder
½ tsp garam masala powder
1 ½ tsp cumin powder
1.5 cups yogurt
Preparation guide for mutton korma recipe
Heat oil in a pressure cooker, add onions and fry until golden brown. Drain the onions and set aside.
In the same oil, fry pepper corns, cloves, cinnamon, black and green cardamom for a couple of minutes. Now add the mutton.
Maintaining high heat, fry the meat, adding ginger garlic, yogurt, powdered masalas, salt and fried onions.
Now pressure cook for 5-6 whistles. Remove the lid and continue to braise meat for 10 to 15 minutes, stirring constantly. Add hot water as needed.
Add the bay leaves and kewra water. Once the curry thickens, the meat will become tender and the oil will separate. Serve with rotis or rice.
Optional: Garnish with fried almonds once korma is cooked or add blanched almonds to it 15 minutes before taking off from the fire.
Health benefits: Bay leaves are a rich source of vitamin A, vitamin C, iron, potassium, calcium, and magnesium. They contain enzymes that break down proteins to aid digestion.
Also check:
Kenyan vermicelli bread recipe