"KRM Matric. School provides a child-centric curriculum, excellent scholastic and co-scholastic programmes, leadership and life skills education to enable students to develop into intelligent, creative, and contributing members of society." – R. Janardhanan, Founder-Chairman, Kaligi Ranganathan Montford Matric. Hr. Sec. School
Within walking distance of the busy Perambur railway station and bus terminus in the southern port city of Chennai (pop. 10 million) is the 1.5-acre green campus of the Kaligi Ranganathan Montford Matric. Hr. Sec. School hosting 3,500 students and 200 teachers. Promoted in 1970 by R. Janardhanan (aka RJ Master), a legendary mathematics teacher and founder-chairman of the Kaligiammal Ranganathan Chettiar Educational Trust which runs five educational institutions in Tamil Nadu, this Matriculation board affiliated co-ed day school has quickly earned encomiums for providing values-based holistic education supported by state-of-the-art academic and sports infrastructure to its 3,500-plus children.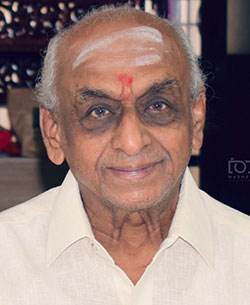 The school, which is celebrating its golden jubilee anniversary in 2019-20, is named after RJ Master's parents Kaligi Ammal and Ranganathan Chettiar. In the latest Education World India School Rankings 2018-19, Kaligi Ranganathan Montford Matric. Hr. Sec. School is ranked among the Top 30 co-ed day schools of Chennai. Moreover, this K-12 school is also winner of the British Council's International School Award (ISA) 2018-21 and is the first school in North Chennai to establish an Atal tinkering lab.
The school's verdant campus, which was visited by former President Dr. APJ Abdul Kalam in 2014, provides excellent facilities including three wi-fi enabled academic blocks featuring 100 well-ventilated Smart classrooms, three computer science, two science, one math and English laboratories and a well-equipped library housing 25,000 printed volumes. A campus highlight is the aesthetically designed Kaligi Confluence Hall and children's indoor play area.
This enabling academic infrastructure is complemented by excellent experiential pedagogies. The school's 200 well-trained teachers encourage children to supplement classroom learning with project/research work, discussion, debates and collaboration with peers. In addition, virtual and expert guest lectures are scheduled throughout the academic year. Beyond the classroom, field trips are also organised to promote life skills education and community service initiatives.
Moreover, contemporary sports facilities and professional coaches nurture students' sports intelligences. Facilities include grounds for football (joint venture with football club Chennaiyin FC), throwball, volleyball, basketball and handball courts, cricket nets (joint venture with Indian cricketer R. Ashwin's Gennext Cricket Academy) and a kabaddi court (joint venture with Tamil Thalaivas). Recently, the school earned entry into the Guinness World Records for the "most number of students able to solve the Rubik's Cube".
The Kaligi Ranganathan Montford Matric. Hr. Sec. School students have excelled in the class X and class XII board exams with many achieving state ranks and distinctions.
Further information: kaligischools.ac.in