Widespread protests by school managements and an online petition demanding public support for private school
teachers which attracted over 26,700 signatures, has compelled the state government to amend a March 30 circular of the department of public instruction (DPI) to private schools to desist from collecting pupils' tuition fees "until further orders". Under a second DPI circular dated April 23, private school managements are advised that they may collect fees for the quarter April-June from "parents who can afford", through the online mode.
Although the modified April 23 circular has assuaged some indignation of managements of Karnataka's 20,000 recognised private primary-secondary schools which host 46 percent of the state's 10 million school-going children, there is still considerable dissatisfaction with the second circular. For one, it directs schools to collect tuition fees from parents who can afford to pay leaving it to the discretion of parents.
"Parents who are economically sound and can pay the fees shall come forward to remit the fees in installments, according to their capacity," states a government order signed by S. Suresh Kumar, primary-secondary education minster of the state's BJP government which was sworn into office in controversial circumstances last August. Moreover, the order further states that fees remitted by parents should be utilised on a priority basis to disburse salaries to teachers and support staff.
Secondly, to maintain clustering and social distancing norms mandated by the national lockdown following
outbreak of the Covid-19 pandemic, it has ordered online payment of tuition fees. These hasty new directives have
created a new set of problems for beleaguered private schools.
According to D. Shashi Kumar, the energetic president of the Associated Managements of Primary & Secondary
Schools in Karnataka (KAMS, estb.1988) which has a membership of 2,000, mainly affordable budget private schools statewide, barely 2-3 percent of parents of KAMS member schools have voluntarily "come forward" to pay their contracted school fees. Even within this minority, a substantial number complain that they don't have the infrastructure and/or capability to make online payments of tuition fees.
"All schools know the socio-economic profile of their parents quite well. Therefore, the question of affordability
should be a bilateral matter between school managements and parents. As it is, most of our member schools collect school fees monthly. I'm sure school managements can give parents who have been genuinely hit by the national lockdown deferred payment plans or waive the fee altogether in some cases," says Shashi Kumar.
Shashi Kumar is especially outraged by the magnanimity of the state government circular which gives parents the option to pay contracted school fees at their discretion while maintaining a conspicuous silence on the matter of reimbursing the sum of Rs.1,200 crore owing to private schools which has been pending for three years. Under s.12 (1) (c) of the landmark Right of Children to Free & Compulsory Education (aka RTE) Act, 2009, all except minority primary schools are obliged to reserve 25 percent of capacity in class I for children from poor households in their neighbourhood and retain them until class VIII. The state government is obliged to reimburse part of the cost of educating these children to private school managements. Yet according to Shashi Kumar, the government has continuously dilly-dallied over the issue of discharging this accumulated debt. "If government pays our member schools their s.12 (2) dues, they might be in a better position to defer fee collection and pay teachers and staff," he says.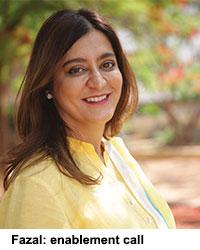 Nooraine Fazal, managing trustee and CEO of the CISCE (Delhi) and Cambridge International (UK)-affiliated Inventure Academy (estb. 2005), a mid-market, top-ranked co-ed day school, is also surprised by the wide latitude given by the state government to parents to pay contracted school fees at their discretion. "Most parents are aware that schools have fixed expenses, including teachers and staff salaries, to pay every month. Therefore, the majority duly pay school fees on time. Nevertheless, the discretion to provide concessions to parents who have suffered loss of pay and/or income should be left to school managements to decide on a case-to-case basis. Moreover, the government circular obliges parents to pay merely tuition fees depending on affordability. This means we have to absorb other costs such as payments to bus contractors and drivers, establishment maintenance workers, interest on loans etc. In these difficult times, parents who value their children's schools should aid and enable school managements, rather than add to their problems," says Fazal.
Clearly, the BJP government of Karnataka and the parents' community of private schools have less than distinguished themselves during the national lockdown. While private school managements have pulled out all the stops to switch — incurring substantial additional expenditure on hardware, connectivity and teacher training — to online classes, government ministers and bureaucrats have resorted to populist rhetoric, while middle class parents who shun free-of-charge government schools are showing careless regard for private schools established and nurtured with great expense.
In these circumstances there's a strong possibility of a large number of private — especially budget private schools — downing shutters and upscale schools suspending online teaching-learning. The biggest losers will be innocent children.
Akhila Damodaran (Bangalore)