Despite political turmoil for over half a century, West Bengal's famous private schools have managed to maintain their reputation, and Kolkata's top preschools providing quality education have impacted themselves on the city's bhadralok
Right until the 1970s, Calcutta (transformed into Kolkata in 2001) was the education (and industry and business) epicentre of newly independent India. But the rise of the anarchist Naxalite movement and Left students unions on Calcutta's university campuses culminated in the CPM (Communist Party of India-Marxist)-led Left Front government being voted to power in Writers Building, the administrative headquarters of West Bengal (pop.91 million) in 1977.
The Left Front government ruled West Bengal uninterruptedly for 34 years during which it decimated the state's academy (and industry). In 2011, the Trinamool Congress (TMC) led by Mamata Banerjee broke the communist stranglehold on West Bengal with a sweeping victory in the legislative election held that year, and replicated the feat in early 2016. But during the past quinquennium, the TMC has not had much success in reforming the state's moribund primary-secondary or higher education systems.
Nevertheless despite continuous political turmoil in the state for over half a century, West Bengal's famous private schools have managed to maintain their reputation, and in Kolkata, preschools providing quality early childhood care and education (ECCE) have managed to impact themselves on the city's bhadralok (refined middle class).
Proprietary/owned
Promoted way back in 1964 as one of Kolkata's first Montessori-inspired pre-primaries, Mongrace Montessori House, Short Street (MMH), has firmly established itself as the city's pre-eminent preschool.
In the EW Kolkata Preschool Rankings 2016, MMH is voted Kolkata's #1 proprietary pre-primary for the fourth consecutive year. Top-ranked on nine of the ten parameters of ECCE excellence, MMH offers its 350 children (mentored by 50 teachers), a 6,000 sq. ft play area, 16 classrooms fully equipped with Montessori equipment, a well-stocked library and computer rooms. Its affiliated Mongrace Montessori, New Town, has also retained its #3 position in this year's proprietary preschools league table.
"To be ranked #1 four years in a row is highly satisfying and motivating. It's very encouraging that our efforts to improve teaching-learning are being acknowledged and appreciated by Kolkata's parents and educators. Although we are ranked #1 on almost all parameters, we derive the greatest satisfaction from our high ratings on teacher competency and professional development because our teachers are continuously upgrading their skills through workshops and seminars, and collaboration with peers in preschools around the world through the British Council's International School Award programme. Encouraged by public support, we have drawn up a plan to promote greenfield preschools in other cities. We recently inaugurated an MMH preschool in IIT-Kharagpur and another in Shantiniketan will be inaugurated soon," says Suman Sood, a graduate of Panjab and Calcutta universities who took charge as principal of MMH, Short Street in 2011.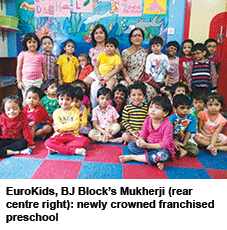 The biggest surprise in this year's proprietary pre-primaries league table has been sprung by Prarambh Preschool, BT Road, which has leapfrogged from #12 in 2015 to #2. Top-ranked on the parameter of infrastructure provision, this preschool was founded in 2005 by the Kolkata-based RDB Group of Industries (estb.1991), one of eastern India's leading real estate companies, and is a feeder preschool of the RDB group's CISCE-affiliated class I-X Aryan School.
The spectacular rise of Prarambh has pushed down Stepping Stone, Salt Lake, ranked #2 in 2015 to #4 this year while Montessori Bal Nilaya, Lake Gardens (estb.1962) has retained its #5 rank. There are other surprises in the EW Kolkata Proprietary Preschool Rankings 2016 with several pre-primaries gaining and losing ground. For instance, Little Scholars, Sarat Bose Road has risen sharply in the public esteem to be ranked #6 (#11 in 2015) and Little Hartley, Garcha Road has moved up to #8 (14) and Tulipians Academy, Dover Lane, ranked #15 last year, has debuted in the Top 10 table.
Several previously unranked preschools have debuted in the Top 20 league table — Little Laureates, Salt Lake (#13), Divyayan Montessori, Hazra Road (15), Little Gems, Lake Road (16), Little Step, Garden Reach (17) and Apollo Angels, Bangur Avenue (19).
"We are pleased to learn that Little Scholars has risen to #6 in your rankings this year. The credit for this achievement is due to our teachers, support staff and management who have created a joyful learning environment for our children. We pride ourselves for providing individual attention to students — our teacher-pupil ratio is 2:10 — and involving parents and grandparents in school activities, and this is reflected in your ratings. We also have an in-house counselor who advises us on managing children with special needs," says Hema Madhok, an alumna of Calcutta University who has over 23 years of ECCE experience (Harvard House, Mothers Care) and was appointed principal of Little Scholars (estb.2007) last year.
Franchised preschools
As in 2015 when segregated proprietary and franchised categories were introduced in the EW India Preschool Rankings 2016, the league table of Kolkata's best franchised preschools is dominated by franchisees of national chains such as EuroKids International, Kangaroo Kids, The Tree House, Kidzee and Little Millennium. And as in 2015, Kolkata's #1 franchised preschool is a franchisee of the Mumbai-based EuroKids International, a chain of over 900 franchised preschools countrywide. But this year, EuroKids, BJ Block, Salt Lake has displaced EuroKids, BB Block, Salt Lake (ranked #4 this year) to be ranked Kolkata's #1 franchised preschool. The second rank is retained by Kangaroo Kids, New Alipore while the Tree House, New Alipore has been promoted to #3 from #8 in 2015.
Sanchari Mukherji, promoter and centre head of the newly-crowned EuroKids, BJ Block (estb.2014), is delighted this two-year-old preschool is ranked #1 on eight of the ten parameters of early childhood education excellence — teacher welfare, individual attention to students, value for money, parental involvement, innovative teaching, safety and hygiene, leadership and special needs education. "It is a huge honour to be ranked #1 in Kolkata in just our second year of operations — it's an endorsement of the pedagogies and systems we practice in our preschool. We have adapted the best features of the Montessori and Playway methods and customise our teaching to suit the learning style of every child. I believe it's this ability of our teachers to tailor instruction to meet the learning capability of each pupil which gives us an edge over others," says Mukherji, an alumna of Delhi University and ICFAI, Gurgaon, who worked with the Hongkong Bank for seven years before promoting EuroKids, BJ Block in 2014. Currently, this preschool has an enrolment of 40 students aged 1.8-5 years instructed by four Montessori-trained teachers.
Further down the 11-strong league table of Kolkata's most admired franchised preschools is the previously unranked Shemrock Sparrow Preschool, Rajdanga Road at #6 followed by Kangaroo Kids, Bangur Avenue at #7 (#5 in 2015) and Kidzee Tulips, Dover Lane which is ranked #8 (7). Kangaroo Kids, Salt Lake, ranked #9 (6) and Little Millennium, Girish Park at #10 (12) have also lost rank. The league table is completed by the previously unranked T.I.M.E. Kids, BD Block, Salt Lake.
Madhumita Ray, principal of Shemrock Sparrow, Rajdanga Road (estb.2013), a franchisee of the Delhi-based Shemrock chain comprising over 525 preschools across the country, is thrilled about the entry of this three-year-old pre-primary into Kolkata's Top 10 league table. "This is great news and we are grateful to our teachers, support staff and parents who have helped to make this happen. I would also like to thank the Shemrock head office for their continuous support, aid and advice. Our motto is 'looking from the eyes of children'. Everything we do in our school is centred on children and their needs. This child-centred approach and emphasis on high parent involvement distinguishes us from others," says Ray.
To read the EW Kolkata Preschool Rankings 2016 please visit: http://www.educationworld.in/rank-preschool/kolkata/2016.html