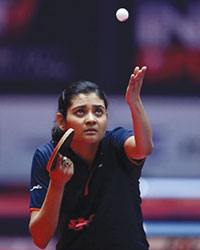 2019 ended on a more than cheerful note for Kolkata-based rising table tennis star Krittwika Sinha Roy (26), currently ranked India #4. In December, at the 13th South Asian Games staged in Kathmandu (Nepal), she won the singles final besting Sri Lanka's Erandi Waruswithana in straight games. Earlier in July (2019), Krittwika teamed up with Pooja Sahasrabuddhe to win gold in the women's doubles tournament of the Commonwealth championship staged in Cuttack (Odisha). For her achievements she was conferred the Khelasree award 2019 by West Bengal chief minister Mamata Banerjee in January.
The younger child of Deputy Superintendent of Police Sandip Kr. Sinha Roy and homemaker Anindita, and an English graduate of Calcutta University employed with the public sector Indian Oil Corporation, Krittwika started playing table tennis at age six at the Children's Little Theatre Academy, Kolkata, under the tutelage of coach Rabi Chatterjee. To date, her medals tally is 151 of which five gold and two bronze have been won abroad.
Over the past two decades as she moved up the West Bengal and national rankings, Krittwika has been trained and mentored by some of the state's most respected coaches including Arup Basak, Souvik Basu Roy and Indranath Bhattacharya. Currently, she trains at the Jadavpur Sanskriti Sandhya mentored by Soumyadip Roy and Poulomi Ghatak, both Arjuna awardees and former national table tennis players turned coaches.
Unsurprisingly, her professional coaches have prescribed a stringent training and practice regimen for her to develop agility and stamina. Krittwika's daily schedule includes an hour's outdoor fitness exercises in the morning followed by 2-3 hours of practice and an hour in the gym, with the practice session resuming in the evening for 2-3 hours. "Part of my routine includes watching match recordings of my idol and world #1 woman player Ding Ning," she says.
Like most aspirational athletes, Krittwika's dream is to represent India at this year's Tokyo Olympic Games. "I know how tough the competition is and appreciate the problem of the selectors. Meanwhile, I am preparing intensively for a world tour which includes participation in the ITTF Challenge Plus, Portugal Open and ITTF Hungary Open tournaments," she says.
Wind beneath your wings!
Baishali Mukherjee (Kolkata)