Little Aryans Pre-K students were up for a surprise when they received a Learning Resource kit full of goodies on the occasion of Christmas. This along with an online celebration ensured that students got an opportunity to share their joy with their classmates and teachers.
The whole online session had a festive look as the children donned Santa caps given as part of the Learning Resource kit, which was handed over to them by Santa in a goodies bag. It included several hands-on learning materials – pattern block shapes, tweezers, droppers, foam alphabets, play currency notes, Math counter and dice, button shapes lacing and a clock.
Snehal Arora, a parent whose daughter Arshika Arora studies in Sr Kg at Little Aryan Pre-K says it was not just about having fun but was a learning experience as well. "Prior to this, children were not aware of the Christmas concept. They came to know what Christmas is all about and why is it celebrated. They participated in various handcraft activities like they were taught how to make stockings and the concept and purpose of it during Christmas. All were part of the learning process. Worksheets were provided subject wise," Snehal says.
During the online celebrations, a story on the significance of Christmas was read out to the students and the students participated in many activities related to Christmas such as making decorative paper socks, a snowman from the socks as well as a Santa face by sticking cotton balls. They also built a snowman with banana and strawberry pieces and concluded the event by dancing to the beats of "Jingle Bells".
Bharat Malik, director, Little Aryans shares, "It was our earnest hope to see children celebrate Christmas at school. However, since schools are forbidden to restart, we ensured that children get the same joy and feel of the beautiful festival of Christmas from their homes. We took many steps to reach out to them, such as by gifting them a wonderful learning resource kit and holding an online celebration that they will remember for a long time. We wish everyone a joyous and merry Christmas!"
He adds, "The whole online session had a festive look as the children were wearing Santa caps given from school in the learning Resource kit. The significance of this festival was told to the students through a story. The tiny tots also participated in many activities related to Christmas."
"Such celebrations bring happiness and togetherness among the students and also inculcate the spirit of sharing and giving in them," says Shilpa Shah, centre head, Little Aryan Pre-K.
Rajshri Desai, parent of Shivam Desai, a Sr kg student, says, "We had already received a lot of gifts in the first term only. This time, surprisingly, there was teacher dressed as a Santa, who was giving a bag full of goodies to the children. We as parents are really happy and so is our child to see the gifts."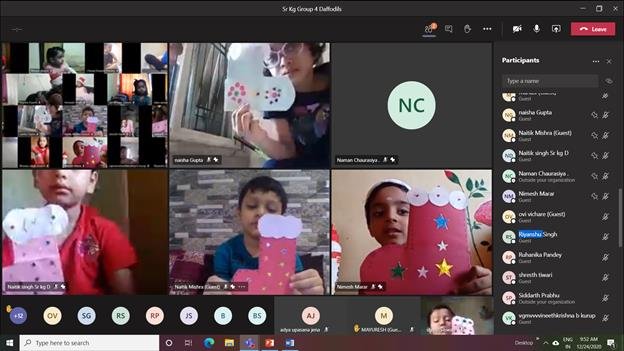 Campus
,
News