Currently celebrating its quartoseptcentennial, over the past 175 years
Madras Christian College, Chennai
has been carefully nurtured into one of south India's top arts, science and commerce colleges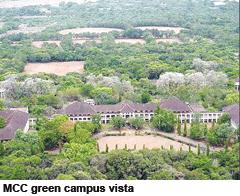 A festive air pervades the green wooded, eco-friendly 365-acre main campus in Tambaram of
Madras Christian College, Chennai
(MCC), which is celebrating its quartoseptcentennial (175 years) this year. The year-long celebrations based on the theme 'Celebrating history, serving humanity' began on January 7 with a worship programme presided by Robert Willis, Dean of Canterbury, UK and inauguration of a photo exhibition tracing the rich history and heritage of the college by Chennai-born Rev. Canon Ivor Smith-Cameron, former chaplain to Queen Elizabeth, and Madras Christian College, Chennai alumnus. Currently the campus is abuzz with hectic preparations by the students' union, staff and alumni to host two events every month including a national conference on Indian higher education in July.
Founded in 1837 as the General Assembly School by the Rev. John Anderson, a missionary of the Church of Scotland, it was upgraded into a college in 1865 by Dr. William Miller who affiliated the college with the University of Madras (estb. 1857). Miller's charismatic leadership persuaded fellow missionaries in Madras to partner with the new college and their combined zeal transformed it into an ecumenical institution renamed Madras Christian College on January 1, 1877.
In 1937 the college relocated from George Town to the 365-acre lush green Tambaram campus, a rare scrub jungle. The baton of leadership passed on to Indian hands when Chandran Devanesan, an alumnus of Harvard and Cambridge universities, was appointed the first Indian principal of MCC in 1962. Since then, eight highly qualified principals and faculty have built on the solid foundation of their predecessors to transform Madras Christian College, Chennai into one of peninsular India's most respected liberal arts, science and commerce colleges.
Today this autonomous Christian minority college boasts 5,904 students mentored by 300 faculty on its rolls with its 16 departments each in the aided and self-financing streams offering 33 under-graduate and postgraduate courses, and 17 diploma, vocational and doctoral programmes. Initially a men's college,
Madras Christian College, Chennai
began admitting women students in 1939 and currently the student body includes 2,362 women, 520 foreign students and 150 research scholars. After MCC was granted academic autonomy in 1978 by the University Grants Commission (UGC), it made rapid strides in research, publication, introduction of new courses, curricular innovation and examination reforms. In 2004, the National Assessment and Accreditation Council (NAAC) best-owed an A+ grade on MCC.
"We strive to fulfil the mission of our founding fathers by expanding infrastructure facilities and admitting differently-abled students and youth from socio-economically backward groups. Our unique Hall (hostel) culture, cosmopolitan mix and shared goals and bonds of students and faculty set us apart from other institutions," says Dr. R.W. Alexander Jesudasan, an Madras Christian College, Chennai alumnus who signed up with the college as faculty in 1986 and rose to head the zoology department in 2008 before he was appointed principal in 2009. In 2010, he was conferred with a Doctor of Science (D.Sc) degree by Madras University for his extensive research in entomology.
Unsurprisingly, given its vintage and consistently excellent academic reputation, MCC boasts a galaxy of illustrious alumni including Dr. S. Radhakrishnan (former President of India), economist K.N. Raj, pioneer physicist Dr. Raja Ramanna, T.N. Seshan (former chief election commissioner), industrialist Pratap C. Reddy (Apollo Hospitals), Indra Nooyi (CEO PepsiCo) and politician Prakash Karat among others. The college alumni association founded in 1891 has 40 chapters in India and abroad and takes active interest in the growth and development of MCC.
Jesudasan and the MCC faculty derive considerable satisfaction that the college has moved with the times to provide contemporary, industry-attuned education and exposure to students, and has signed collaboration agreements with 30 foreign universities for student and faculty exchange programmes, joint research projects and sharing of online resources.
MCC's reputation for providing contemporary education in a democratic environment is supported by excellent institutional infrastructure. The central Miller Memorial Library is stocked with over 100,000 book titles and subscribes to online databases, journals and e-resources. Moreover, departmental libraries house over 70,000 books. Other facilities include a 100-acre farm and preview theatres.
Sports facilities include the cricket oval, hockey field, three football grounds, a lawn tennis and two basket-ball courts and a 400-metre athletics track. A host of extra-curricular activities and competitions are organised by the College Union Society (CUS). Yet, the pride of MCC is its 365-acre campus, the biodiversity of which students and teachers are actively involved in protecting. The campus boasts 150 bird and 75 butterfly species, small mammals and more than 150 tree varieties.
Given the impressively holistic education the college dispenses, it's unsurprising that over 25 companies descend on the Madras Christian College, Chennai campus every year to recruit graduates, offering starting pay packets ranging from Rs.80,000-500,000 per annum.
Looking ahead, the Madras Christian College, Chennai management has drawn up ambitious plans for expanding the college's infrastructure and introducing new study programmes. Top priority infrastructure projects include a new multipurpose auditorium at a projected cost of Rs.12 crore and construction of an indoor sports stadium for which the Delhi-based University Grants Commission has sanctioned Rs.70 lakh. "We also plan to introduce an international MBA programme in collaboration with leading US and UK universities; start a community college in Tambaram to offer vocational courses; and introduce a Korean language diploma programme. Through these endeavours, we hope to attain academic excellence without losing sight of our social commitments," says Jesudasan.
Admission and fees
Students can apply online for undergraduate courses after publication of class XII results in May and for postgraduate courses during the first week of June 2012. Admission is merit-based with lower admission benchmarks for Christian, SC, ST and OBC students.
Aided stream programmes. BA & MA: history (archeology and museology), political science, economics, philosophy, Tamil, English, Masters in public administration.
B.Sc & M.Sc: mathematics, statistics, physics, chemistry, plant biology & biotechnology, zoology, zoology. B.Com (advertising, sales promotion)
Full-fee programmes. B.Com, BBA, BCA. B.Sc: mathematics, physics, microbiology, viscom, physical education, geography, tourism and travel.
BA: journalism, social work.
MA: commmunication, MSW (human resource management), M.Sc: marine studies, chemistry, applied microbiology, M.Com & MCA
Fees. Aided stream programmes: Rs.9,388-12,305 per annum
Full-fee (self-financed programmes): Rs.21,500-81,500 per year
Hemalatha Raghupathi (Chennai)