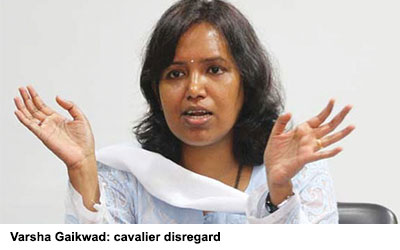 Maharashtra's five-months-old three-party (Shiv Sena, Congress and Nationalist Congress) Maha Vikas Aaghadi (MVA) government is under fire for having pressed ahead to complete the school-leaving exams of the Maharashtra State Board of Secondary and Higher Secondary Education (MSBSHSE) until March 21, despite
the state government itself having issued 'work from home' orders to industry and ordering shutdown of all educational institutions on March 14 to contain the Covid-19 pandemic raging across the state. In this connection it's pertinent to note that Maharashtra (pop.112 million) has reported the highest number of Covid-19 positive cases (1,018) and 45 deaths (April 8) of all states of the Indian Union.
According to a political opponent, failure of Education Minister Varsha Gaikwad to direct MSBSHSE to
call-off the exam has raised the spectre of a large number of the 1.7 million students who wrote the exam
until March 21, having been infected by the virus. In particular, the question being asked is why the education ministry and MSBSHSE didn't call off the SSC exam on March 14 after Chief Minister Uddhav Thackeray,
invoking the Epidemic Diseases Act, 1897 and s.144 of the Criminal Procedure Code, banned all public
events and gatherings in Nagpur and Nashik.
During the period March 3-20, 1.7 million class X students of the 21,000 schools affiliated with the state exam board had written exam papers prescribed by the board with only the geography paper scheduled for March 23 (Monday) remaining to be written. However, following widespread criticism from teachers and parents, the exam was called off over the weekend. "Looking at the current situation in the state, it has been decided to postpone Monday's SSC exam. Fresh dates for the exam will be announced after March 31," said Gaikwad in a press statement issued on March 21.
The contradictory directives being issued by the MVA coalition government during this national emergency — and particularly at a time when the state is reporting the country's largest number of Covid-19 positive cases and death toll — has aroused widespread anger and exposed cracks in the hastily cobbled opportunistic coalition government comprising three political parties with long records of mutual hostility. "It's quite evident that education minister Gaikwad — a four-term Congress MLA — is taking decisions independently without any accountability to the cabinet," says a Shiv Sena leader who preferred to remain anonymous.
Politicians apart, academics are also flummoxed by Gaikwad's cavalier disregard of the cabinet decision to shut down schools — and by implication — examination halls which by definition are public gatherings.