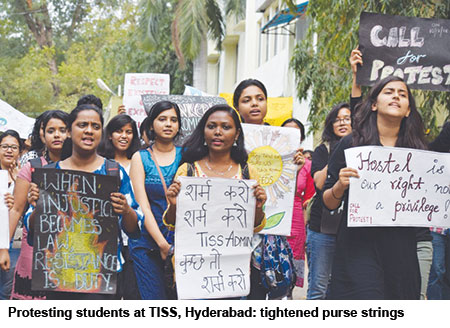 The tata institute of social Sciences (TISS, estb.1936) is floundering in a sea of mainly financial troubles. A protest by students at its Hyderabad campus (the institute also has campuses in Mumbai, Tuljapur and Guwahati with an aggregate 4,297 undergrad to doctorate students) which began on July 8 has struck a resonant chord in all TISS campuses. At TISS' Mumbai campus which hosts 2,500 students, inadequate hostel facilities and "unaffordable fees" were hot campaign issues in the student union elections held on July 26.
The latest student-management conflict in the Central government-funded TISS flared up when the management agreed to a private service provider's demand for one-time upfront annual payment for hostel (Rs.43,400) and dining hall fees (Rs.44,000) at TISS, Hyderabad while abolishing the option of quarterly and monthly payments. According to student union spokespersons, the TISS management's notice to students to pay hostel fees upfront was issued a mere three weeks before the commencement of the new academic year in July. This peremptory decision has forced several scheduled caste and scheduled tribe students from low-income households to drop out of their study programmes.
In protest against the abrupt increase in hostel fees, students at the Hyderabad campus staged daily protests. Matters took an ugly turn when students blocked faculty from entering the campus prompting its management to suspend all academic activity from July 15 until further notice.
Although the mainstream national media has typically ignored this agitation, the closure of TISS' Hyderabad campus has attracted widespread condemnation in academia. A statement dated July 17 signed by close to 500 intellectuals and students demanded the immediate revocation of the order of closure and resumption of academic activity. According to signatories of the statement, "…at a time when the state is withdrawing from higher education, it is appalling that an institute which has a long cherished history of working towards social justice has chosen to absolve itself of the responsibility of providing equitable access to education."
Although the TISS management is in the eye of the storm and is being widely condemned for tightening the 82-year-old institute's purse strings, the truth is that in a society in which social sciences education is accorded less importance — the IITs and NITs continue to receive heavy subsidies from the Central government — TISS' annual grants from the University Grants Commission to meet its non-plan (salaries, maintenance and overheads) and plan (capital) expenditure has been reducing year on year.
UGC reduced its non-salary grant from Rs.11.5 crore in 2014-15 to Rs.7 crore, even as the TISS management's capital expenditure outlays to improve infrastructure including hostels has risen steadily. Income from the annual hostel-cum-tuition fees of Rs.90,000-1 lakh is insufficient to meet the institute's annual non-salary expenditure budget of Rs.19 crore.
Quite clearly, apart from the Central government/UGC increasing its annual grants, the solution is to increase the rock-bottom annual tuition-cum-hostel fee payable by general category students to cross-subsidise SC and ST students. However, tuition fee increases in heavily subsidised higher education institutions is a political hot-button issue certain to be fiercely resisted by the country's subsidies-addicted middle class.
The predicament of TISS' large number of SC & ST students (18 percent of the student body) is compounded by the failure of their state governments to honour the obligation to pay part of their fees under the Central government's post-matric scholarship (GOI-PMS) scheme. Under an agreement between the Centre and the states, the latter are obliged to partly subsidise the fees of TISS students domiciled in them. Inevitably, state governments, which are profligate with their establishment and administrative expenses, are notoriously laggard in paying TISS the contracted scholarship amounts. Data available with TISS Mumbai indicates that several state governments owe TISS large amounts under the GOI-PMS scheme — Gujarat Rs.20.73 lakh, Bihar Rs.57 lakh and Uttar Pradesh Rs.1 crore.
"In 2018-19, despite being under no legal obligation to award scholarships, we mobilised Rs.35 lakh to provide interim aid to GOI-PMS and other deserving students at the Hyderabad campus. However, with implementation of reservations for the economically weaker sections, the number of students admitted has increased by 12.5 percent even as non-salary government grants are declining and our dependence on donors has increased. We need larger UGC funding," says a TISS official, speaking on condition of anonymity.
The last time the TISS management was permitted to raise tuition fees was four years ago. Since then with requests to UGC to fund infrastructure development across its campuses falling on deaf ears, and the prospect of social science studies likely to be a low priority for the recently elected BJP/NDA government at the Centre, the outlook for India's premier social science studies university is bleak.
NB: As we go to the press, the TISS, Hyderabad campus has reopened and resumed classes.
Dipta Joshi (Mumbai)