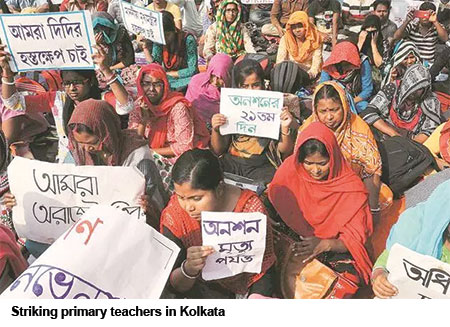 After general election 2019 in which Bharatiya Janata Party (BJP) unexpectedly won 18 of the 42 seats allotted to West Bengal in the Lok Sabha, and the number of seats of Bengal's ruling Trinamool Congress (TMC) Party dropped from 34 to 22, a no-holds-barred war has broken out between TMC and a resurgent BJP in the run-up to the state legislative assembly elections scheduled for 2021.
But even as chief minister Mamata Banerjee is struggling to boost the sagging morale of the TMC party cadres, protests and agitations have erupted in two major sectors — health and education. These are sectors in which Mamata Banerjee promised to introduce radical reforms in 2011 when she dramatically ended 34 years of continuous rule of the CPM (Communist Party of India-Marxist)-led Left Front government. Shortly after the end of a seven-day strike called by junior doctors (medical students) of the state government-run Nil Ratan Sircar Medical College and Hospital, Kolkata in June protesting against the state government's continuous failure to provide security to medical practitioners and personnel, the education sector is again experiencing severe buffeting.
On July 25, an indefinite hunger-strike called by a section of primary teachers of West Bengal's 92,000 state government and aided schools demanding a pay hike, entered its 13th day. The protesting teachers under the banner of Usthi United Primary Teachers' Welfare Association have also demanded revocation of a state government order transferring 14 of their office-bearers to distant villages. According to Pritha Biswas, the spokesperson of the association, while primary teachers' pay scales are in the range of Rs.9,300-34,800 per month in other states of the Indian Union, in West Bengal the pay scale is Rs.5,400-25,200.
Teacher unrest has become a recurrent affair in the state ever since Banerjee routed the Left Front government in the 2011 assembly elections and again in 2016. Five months ago in February, around 450 youth had staged a hunger-strike in the heart of Kolkata, the admin capital of this eastern seaboard state (pop. 91 million). They are on the waiting list of the School Service Commission (SSC) after having qualified for the post of assistant teachers, and demanded immediate filling of vacancies in West Bengal's 92,000 government and aided schools. Their 29-day relay hunger-strike was called off on March 29, a day after Banerjee assured them that the TMC government would fill the teacher vacancies after the Lok Sabha election.
In this connection, it's important to note that the recruitment and appointment of teachers who cleared the Teacher Eligibility Test (TET) in 2005-06 — when the Left Front government was in power — has been hanging fire for the past 13 years with the TMC government which had promised to remedy the situation, able to fulfill its promise only partially last year. Against this backdrop, fresh unrest among government school teachers has once again put the TMC government in a tight spot.
The issue of filling teacher vacancies in government schools is a sensitive and critical matter in West Bengal, as teachers are relatively better paid in a state where unemployment is pervasive with 7.6 million registered unemployed youth and small and medium-scale industry salaries are low. During 34 years of CPM-Left Front government (1977-2011) rule when labour militancy and violence were officially encouraged, there was a continuous flight of capital and industry from the state. As a result, overt and disguised unemployment is rife and government — including teachers — jobs are highly prized.
As political violence and protests mount in West Bengal, the ground is discernibly slipping under chief minister Banerjee's feet. Not a few political pundits and academics, who had welcomed the rout of the CPM eight years ago, are beginning to voice opinions that Banerjee is replicating the intimidatory tactics of the CPM. This is deterring the flow of private investments in industry in the state. With prices rising, state government employees are also demanding an increase in dearness allowance. Murmurs that Central government employees' DA is 23 percent higher than of state government employees are getting louder. According to pundits and academics, disillusionment with Banerjee and TMC is the prime factor behind the emergence of the BJP as a force to reckon with in West Bengal.
Sensing a change in the popular mood, Banerjee has started reaching out to the Left parties and Congress to fight the BJP in the 2021 assembly elections. She has begun to warn that the BJP is hell-bent on destroying the state's sanskriti ar sabhyata (culture and civilisation). The Left drew a blank in the state in General Election 2019. But it's pertinent to note that in the last state assembly elections of 2016, the CPM-led Left Front had entered into a seat-sharing deal with the Congress, as a result of which Left parties won 32 seats and the Congress 44. Given the rising anti-incumbency sentiment against the TMC and Banerjee, these two parties may unite again in 2021 and cut deep into the TMC vote bank.
Baishali Mukherjee (Kolkata)