My name is Kalkyn Ashok Thapa, and I am a Grade 5 student at Sharanya Narayani International School in Bangalore. My birthday is coming up in a few days on 27th January, and before I hit double digits, my final year as a single digit aged kid has been truly an adventure as I have completed trekking of two base camps and one summit.
It all started when I was 5 years old.I had gone for a weekend trek to Jebel Jais hiking trail in UAE with my family. I quickly took to the idea of hiking, enjoying the outdoors. After this, hiking was a regular activity during the weekends, sometimes with family, and sometimes with friends. As my interest and ability to endure longer trekking hours grew, my parents thought of taking me for a base camp trek, similar to the one they had previously completed. Research was done and we decided to go for Everest Base Camp trek in March 2022 after I turned 9.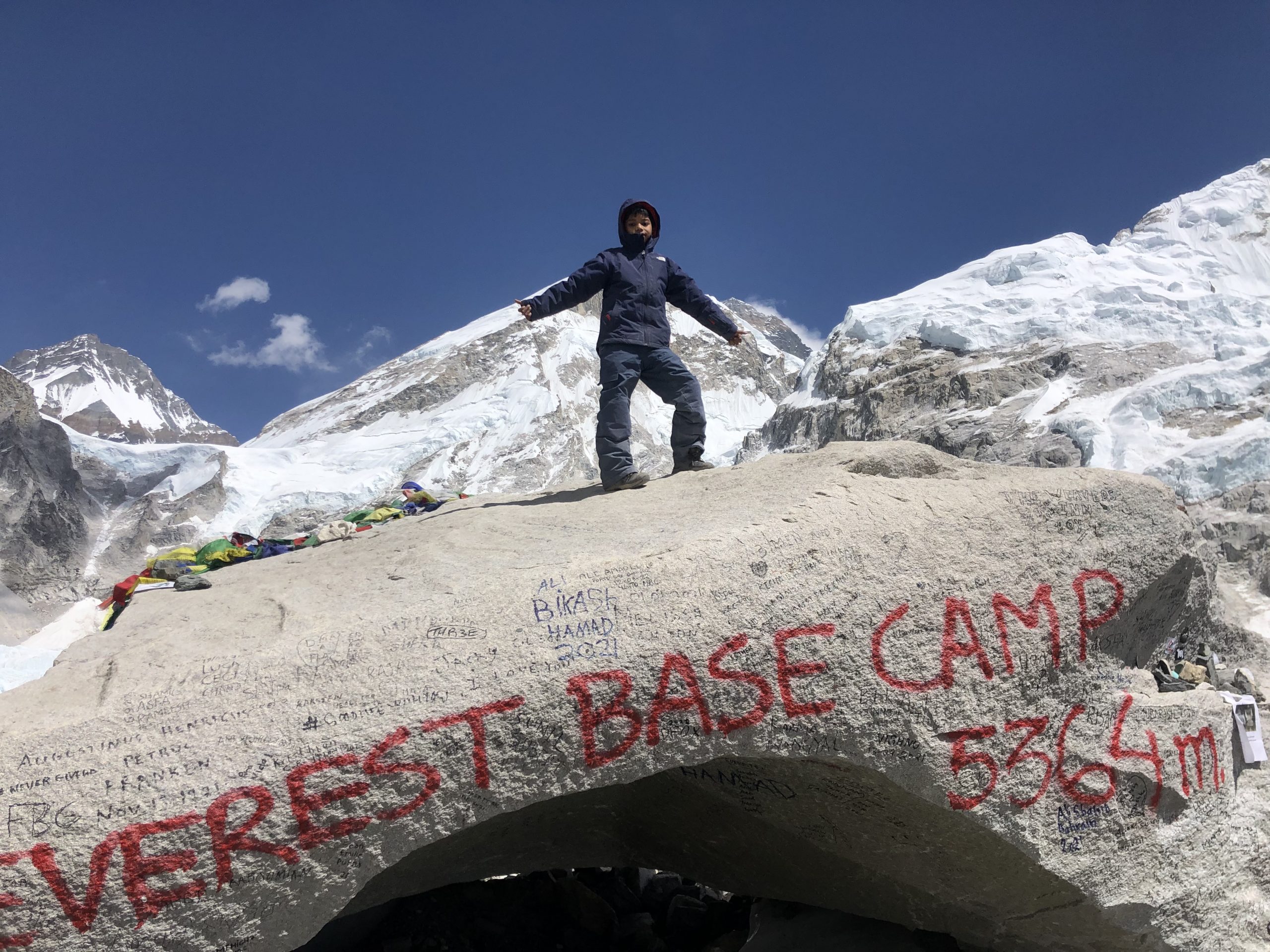 We regularly hiked every week; my parents did research as to the gear required and emergency procedures for hiking at high altitudes with kids. With all preparations completed, my dad and I set for Everest Base Camp (EBC) during the Easter break. Flight from Kathmandu to Lukla was interesting and scary as it was one of the smallest roof top airports with an inclined runway – we landed with a heavy thud during touchdown. The next few days saw the trek passing by different campsites at different altitudes. Two full days were used for acclimatization. We finally reached EBC, and looking up to the highest mountain on this planet was an unforgettable moment. While climbing the rock to take photos some people appreciated my effort as a kid, cheering and applauding me as I climbed to take a photo.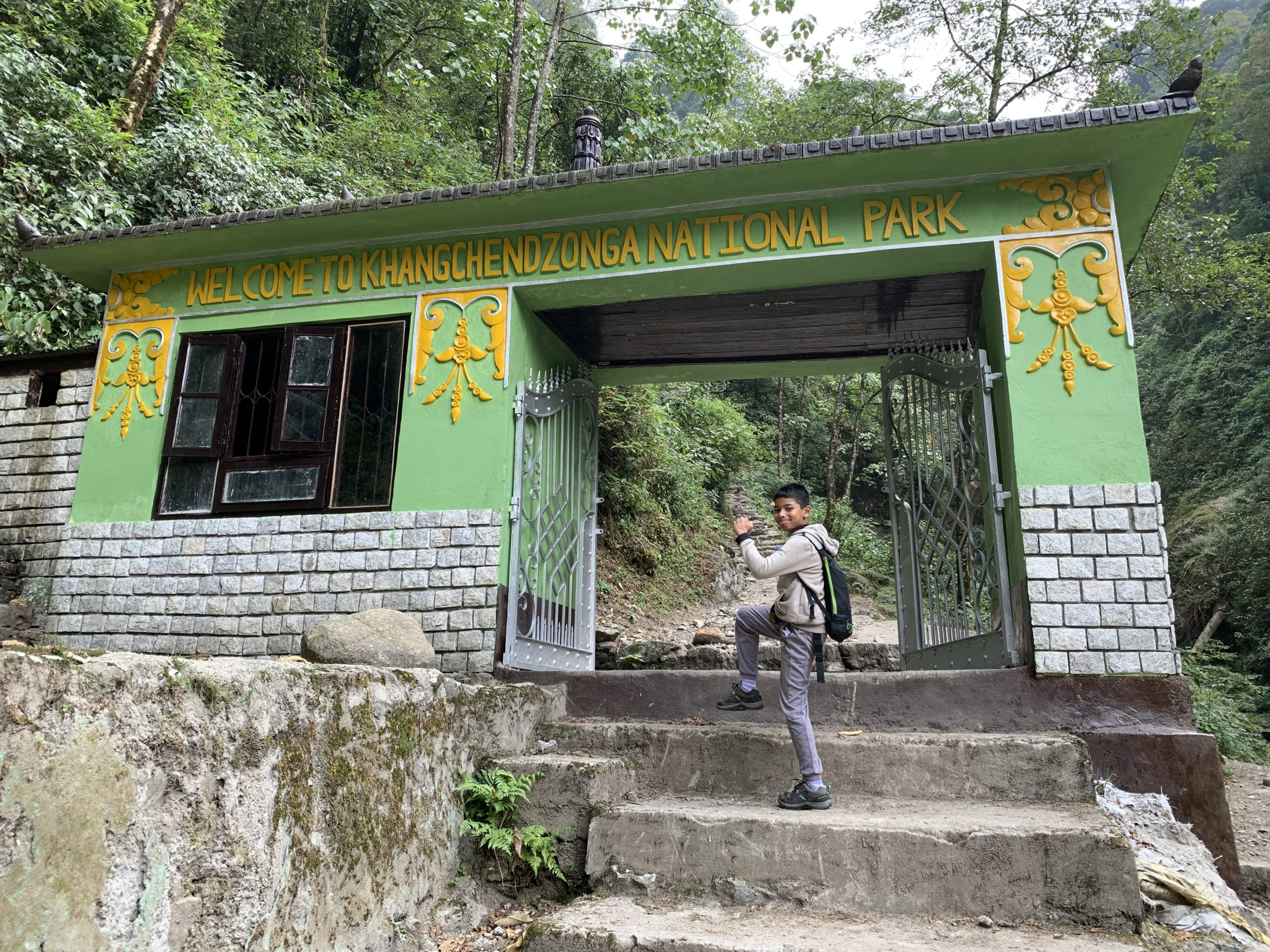 Having completed the EBC trek, the focus was on utilizing my Diwali school break for another trekking adventure. This time my dad and I decided to hike in India, and Kanchenjunga, the third highest mountain in the world, was the next challenge. After having spent two quality days in Gangtok with my cousin, Aviral, my dad and I headed to a small town, Yuksom, in West Sikkim to start the trek. The trek was supposed to be completed in 8 days, out of which two days were for acclimatization. But my recent trek had boosted my confidence for high-altitude terrain. With the promise of pizza and spending time with Aviral, I wanted to complete the trek earlier. We completed the trek in 5 days, where 30 kms alone were covered on the last day of descent. One thing I want to mention is that on the final ascent day, I had an unpleasant incident. The trek started at 1 am, and we had to cross a couple of streams. Our team overlooked the fact that on a cold morning, a thin layer of ice crust forms on the stones used to cross the streams. After having taken a few steps on the stones, disaster struck! The guide and I slipped on the ice and fell into the freezing water. Everything was soaked in ice cold water. My dad quickly removed some of his clothes and changed my clothes, and used some spare clothes and shoes from the camp. Though the quick change gave relief, the chill and the fear of ice water was with me until we reached base camp around 5:30am. The sun slowly rose bringing warmth and changing the dark mountains into a beautiful golden vista. After spending few minutes at the base camp, we started our trip downhill. On reaching back to Yuksom, a Summiteer Certificate was given by the Kanchenjunga National Park Office.
After having completed two successful treks in the Himalayas, I wanted to trek in a different country and tackle a different range. After some research, my dad and I decided to summit Mt. Kilimanjaro in Tanzania, which is Africa's highest, and the world's highest free-standing mountain. On Christmas day 2022, we reached Moshi in Tanzania, where a 6-day trek to summit Kilimanjaro began. The topography of this trek was different to the Himalayan treks as it included rain forest, moorland, alpine desert and glacier. The mountain looked very distinct, even from the town as it towered alone high up, above the horizon, covered in snow. The trek started unpleasantly with heavy downpours, completely drenching our clothes and the ones in our bags. To trek with wet clothes was not easy as the cold pierced through the bones. We managed to dry a few essential clothes in the fireplace of the kitchen tent. The crew sang songs to encourage and energize the hikers. On the way, we were met with hailstorms, zero visibility, slippery rocks and snow. Final day of the ascent started at 1 am. It was a starlit night with views of Moshi, Arusha and the Kenyan border below. It was very cold, and even resting for a minute was chilling to the bones. It was an extremely tough climb for the next six hours, but we were constantly reminded to take things "Pole, Pole" which in Swahili means slowly, slowly. So, pole, pole, we reached Uhuru peak, 5895m, at 7:30am. But as the pressure of the high altitude caught up to me, I experienced extreme heaviness in my chest and head. The guides immediately took me downhill around 100 m from the summit to relieve the pressure. On returning to Moshi, the sense of accomplishment of having reached the top of Africa dawned on me.
I was promised pizza again by my dad and we reminisced about our trips and memories while chomping on my favorite food. Overall, I am happy to say that I have had amazing and adventurous experiences before I turned 10!