Observed on January 25 every year in India, the National Tourism Day was incepted by the Indian government to spread awareness about the importance of tourism in fueling the country's economic growth. Approximately 93,67,424 foreign tourists visited India in 2018 as compared to over 88,67,963 in 2017. According to the World Travel and Tourism Council, India is the seventh largest travel and tourism economy in the world and will add around 10 million jobs in the travel and tourism sector by 2028. On this occasion, we have rounded up some of the most popular states in India that draw international tourists in flocks every year.
Uttar Pradesh
Uttar Pradesh, with its enviable number of historical monuments and places of religious significance, attracts a large number of foreign tourists. Infact Uttar Pradesh is said to be the birthplace of Lord Rama and Krishna. The Ganges River, Ayodhya, Mathura, and Kumbh Mela are some of the popular tourism destinations in Uttar Pradesh.
International travellers also look forward to visit The Taj Mahal – one of the even Wonders of the World based in Agra. The other attractions in Agra include the Agra Fort, Akbar's Tomb, and Tomb of Itimad-ud-Daulah, Mehtab Bagh, Jama Masjid, and Fatehpur Sikri.
Also foreign tourists are drawn to the country's famous pilgrim destination Varanasi for several reasons that include its beautiful yet unique ghats, awe-inspiring evening aartis, boat rides in the holy waters of the Ganges, and the sights of Indian mystics and sadhus seen in meditation.
Goa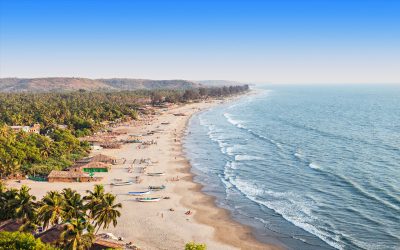 Goa is one of the most visited by foreign nationals almost every year especially during the month of December. The foreign travellers look forward to the night beach parties, pristine beaches, water sports, and finger-licking Goan cuisine.
Some of the popular tourist spots in Goa include the capital city Panjim for its Fontainhas neighbourhood and colorful old Portuguese homes, belonging to the last surviving Portuguese families of Goa. In Old Goa, the popular attractions include the Convent and Church of Saint Francis of Assisi, Church and Monastery of Augustin, The Se Cathedral, Basilica of Bom Jesus. Apart from the famous beaches, tourists also wander into the two main sanctuaries that are Bhagwan Mahavir of which Mollem National Park is a part and Cotigao.
Rajasthan
International tourists are attracted to the royal state of Rajasthan for its well-known Rajput style architecture. The state is popular globally for its beautiful hill forts, palaces, castles, chhatri, stepwells, mahals, and Havelis. The 'Blue City' of India, Jodhpur is a popular tourist attraction. Tourists are drawn to ancient Clock Tower, Jaswant Thada and Umaid Bhawan Palace, aside from the gorgeous Rajasthani handcrafted art jewellery, ethnic clothing and specialty souvenir items. The 'Blue' homes of Jodhpur are a visual delight.
The other popular attraction of Rajasthan is the 'Pink City' of Jaipur that charms the foreign tourists with the pink sand-stoned Hawa Mahal, Amer Fort, Jaigarh Fort, city Palace and the astronomical designs of Jantar Mantar.
Other popular destinations include monuments such as Mehrangarh Fort, Rambagh Palace, Laxmi Niwas Palace, Junagarh Fort Bikaner, Kumbhalgarh, Jaisalmer and Chittorgarh Fort.
Himachal Pradesh
Shimla has been a tourism hot-spot of north India since countless decades. The quaint hill station houses several colonial buildings such as the Christ Church, George Castle, and Wildflower Hall that is now a heritage hotel; Jakhoo Temple and Tara Devi Temple. Manali is yet another great place and has great trek options such as The Beas Kund Trek, Bhrigu Lake Trek, Malana Trek and Chandra Tal Trek.
The seat of Buddhism in India, Dharamshala is one of the most loved foreign tourist spots in India. Spiritual seekers and regular foreign tourists throng this place to study about Buddhism. In Dharamshala tourists also get to view spectacular mountain landscapes, and adventure activities. Foreign visitors are especially interested in Norbulingka Monastery, Triund Hill trek, and the Dalai Lama Temple Complex.
Uttarakhand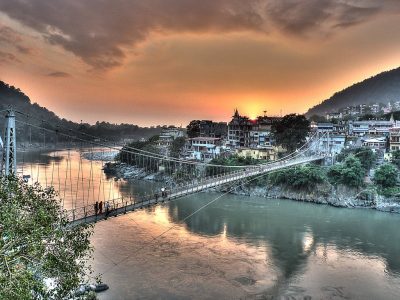 Foreign tourists throng to Uttarakhand for its very popular hill stations that include Dehradun and Mussoorie. A popular getaway for couples and families is Nainital that offers panoramic vistas of the mountains.
Another favorite tourist destination is Rishikesh – famed for its spiritual aura. Apart from a range of exciting water sports, Rishikesh offers some well acclaimed yoga and meditation courses. Tourists come here to enjoy the meditative ambience of the town set against the backdrop of the Ganges and indulge in Ayurvedic spa treatments. Also, there are plenty of bohemian cafes where tourists can chill.
Karnataka
This South Indian state's much celebrated UNESCO Heritage site, group of monuments at Hampi is a popular tourist attraction and is high on the foreign tourist radar. Virupaksha Temple, Vijaya Vittala Temple, Stone Chariot, Krishna Temple, Royal Enclosure, Zenana Enclosure and Hazara Rama Temple are the most visited and highly revered by the foreign tourists and the history aficionados.
Coorg and Chikmaglur are famous for their coffee plantations and two of the most popular hill stations in Karnataka. Coastal Karnataka also attracts a lot of foreign tourists. In fact beaches at Gokarna and Karwar are two of the most wonderful beaches in Karnataka, known for their scenic beauty with the Rocky Mountains and the Arabian Sea.
Kerala
Though Kerala, popularly known as God's Own Country offers a unique slice of India to international travellers, last year (2018) was a disaster for the state's tourism industry due to the devastating floods that took hundreds of lives. Infact most of the regions in this state were submerged in water and more than 80 percent of tourists cancelled their bookings.
Though the state's tourism sector is gradually reviving, it will still take some time for things to get back to what it was. The healing and rejuvenating Ayurvedic spa treatments of Kochi and Trivandrum are very popular among tourists. Alleppey with its calm and serene backwaters, the tea estates of Munnar, beaches of Kollam, the lush green forests of Wayanad, and Thekkady's beautiful natural sites are some of the major tourism hotspots of the state.
Posted in
National