The NEP identifies that over 85 percent of a child's brain develops by the age of 6 and emphasises on providing critical importance to appropriate care and stimulation of the brain in a child's early years for healthy brain development and growth. It states that it is, therefore of the utmost importance that every child has access to quality early childhood care and education (ECCE).
The overall aim of Early childhood care and education (ECCE) will be to attain optimal outcomes in the domains of physical and motor development, cognitive development, socio-emotional-ethical development, cultural/artistic development, and the development of communication and early language, literacy, and numeracy.
Change in academic structure
1. ECCE shall be delivered through a significantly expanded and strengthened system of early childhood educational institutions consisting of (a) stand-alone Anganwadis; (b) Anganwadis co-located with primary schools; (c) pre-primary schools/sections covering at least age 5 to 6 years co-located with existing primary schools; and (d) stand-alone preschools – all of which would employ workers/teachers specially trained in the curriculum and pedagogy of ECCE.
2. On completion of education up to the age of 5 in Anganwadi, every child shall move to a "Preparatory Class" (that is, before Class 1) in the primary school which has an ECE qualified teacher, deployed by rationalising existing human resources, or specially appointed for this purpose.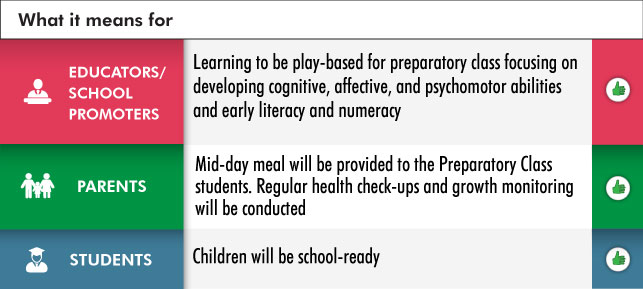 Read: NEP 2020: SCHOOL EDUCATION | ECCE: Teacher Training
Also read: NEP 2020: SCHOOL EDUCATION | ECCE: Infrastructure
Also read: NEP 2020: SCHOOL EDUCATION | ECCE: Curriculum and Pedagogy
Also read: NEP 2020: SCHOOL EDUCATION | ECCE: Change in governance
National
,
News