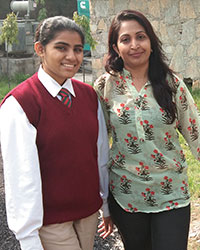 Udaipur-based recycled waste proponent Nidhi Kalal (17) could well revolutionise road construction countrywide with her innovative solution. Nidhi is a class XII student of Udaipur's CBSE and Cambridge International (UK)-affiliated Heritage Girls School (HGS) — ranked among the country's Top 10 girls boarding schools in the latest EW India School Rankings 2019-20.
Last October (2019) Nidhi supervised the building of a 1-metre stretch of road within the HGS campus using a layer of marble slurry, plastic and fly ash among other waste material, found in abundance in Rajasthan. Recently the Union ministry of road transport and highways acknowledged her solution as valuable and is investigating further.
The elder of two children of businessman Suresh Chandra Kalal and government school teacher Susheela, Nidhi became interested in waste recycling when she was a class III student eight years ago. "Observing road construction activity near the school when I was in class III, I conceived the idea of building roads with underlying layers of abundant plastic waste, when my class teacher raised the subject of plastic pollution worldwide," she recalls.
At a later stage Nidhi's attention was drawn to the 'white hills' surrounding Udaipur, which she discovered was a white film of non-biodegradable marble slurry waste — 5-6 million tonnes of which are generated annually from 4,000 marble mines statewide — and the idea of using waste materials in road building projects took shape. "I owe
immense gratitude to our principal Tulsi Bhatia and my father for funding my trial project which cost Rs.17,000," acknowledges Nidhi.
Set on a career in the IAS, Nidhi is currently in her native Dungarpur village after completing her class XII CBSE exams, and is waiting for the nationwide Covid-19 lockdown to end. "Although I am among the lucky ones to finish board exams, it's difficult to tell when education institutions will reopen in these uncertain times. Meanwhile, I am in the process of filing a patent for my low-cost process invention which will help clear our dumping yards and keep
the environment clean. Next on my agenda is a river-cleaning project," enthuses Nidhi.
Way to go, Sis!
Akhila Damodaran (Bangalore)