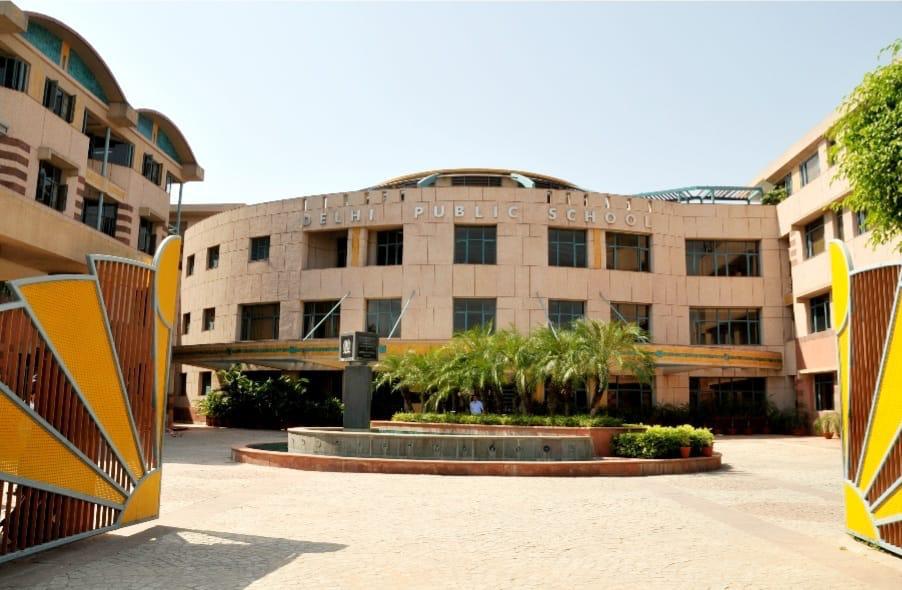 Sited on a consolidated 6.5-acre campus, Delhi Public School, Sector 45, Gurgaon (estb.2002) has built a formidable reputation in the millennium city for providing enabling holistic education rooted in Indian values and community service. In the latest EW India School Rankings 2023-24, the CBSE-affiliated DPS, Sector 45 is ranked among the Top 20 nationally, #11 in Delhi NCR and #4 in Gurugram among coed day schools. Currently the school has 6,045 students mentored by over 450 teachers on its muster rolls.
A licensed member institution of the highly respected Delhi Public Schools Society (estb.1937), DPS, Sector 45 was promoted over two decades ago by industrialist-philanthropist couple Ravi and Dhara Jaipuria — also co-promoters of DPS, Jaipur and the IB (Geneva)-affiliated DPS International, Gurgaon — with the objective of establishing an "exceptional school committed to the cause of quality education for all". Committed to achieving UN's Sustainable Development Goal #4 — "eliminating all discrimination in education" — the school management has also promoted an on-campus afternoon school christened Shiksha Kendra for 1,700 children of economically weaker sections.
The incumbent pro vice-chairperson of DPS, Sector 45, Gurgaon is Devyani Jaipuria, industrialist-philanthropist who is also chairperson of Dharav High School, Jaipur, executive director of Devyani Food Industries Ltd and founder of Aliya Charitable Trust.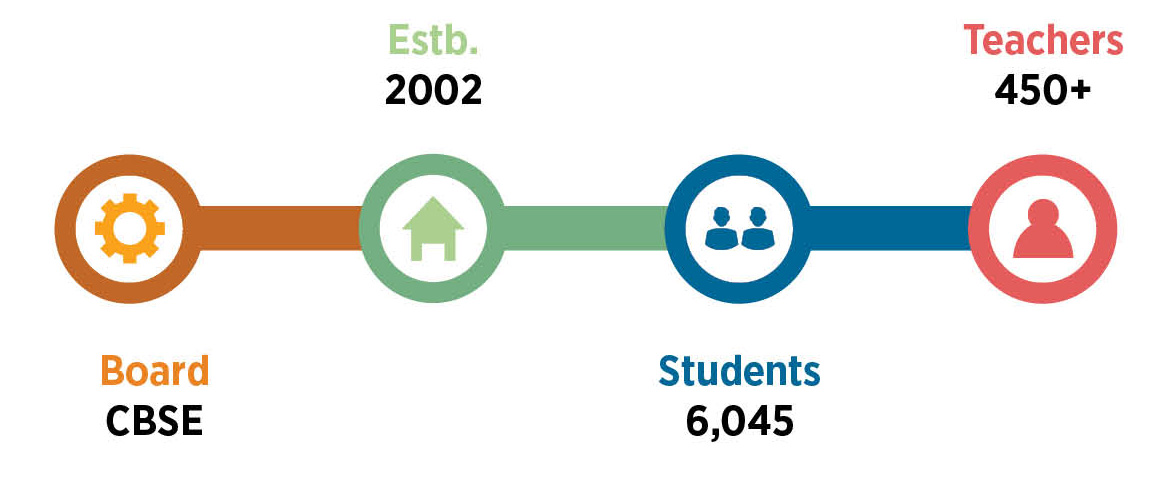 Teaching & Assessment A+
The primary and secondary school curriculums are aligned with the National Education Policy (NEP) 2020 and carefully designed to develop children's critical thinking and problem-solving capabilities. In addition, there's strong emphasis on developing students' cultural understanding, empathy, teamwork, leadership and communication skills.
DPS, Sector 45's experiential, inter-disciplinary and student-centric pedagogies equip children for 21st century skills.
An Inclusion Team comprising four special educators, two occupational therapists, and four counsellors enable children with special needs to realize their full potential. They have the option of writing the NIOS exam in class X/XII.
Teachers are provided continuous professional development (CPD) opportunities through the year and attend workshops conducted by CBSE. Moreover, they are encouraged to participate in international teacher exchange programmes with schools in France, Germany, Poland, and Denmark.
Four counsellors address the mental and socio-emotional needs of students.
The school routinely organises career exploration programmes, seminars, and workshops to expose students to an array of careers and professions.
A comprehensive student evaluation system combining formative and summative assessments enhances student learning outcomes.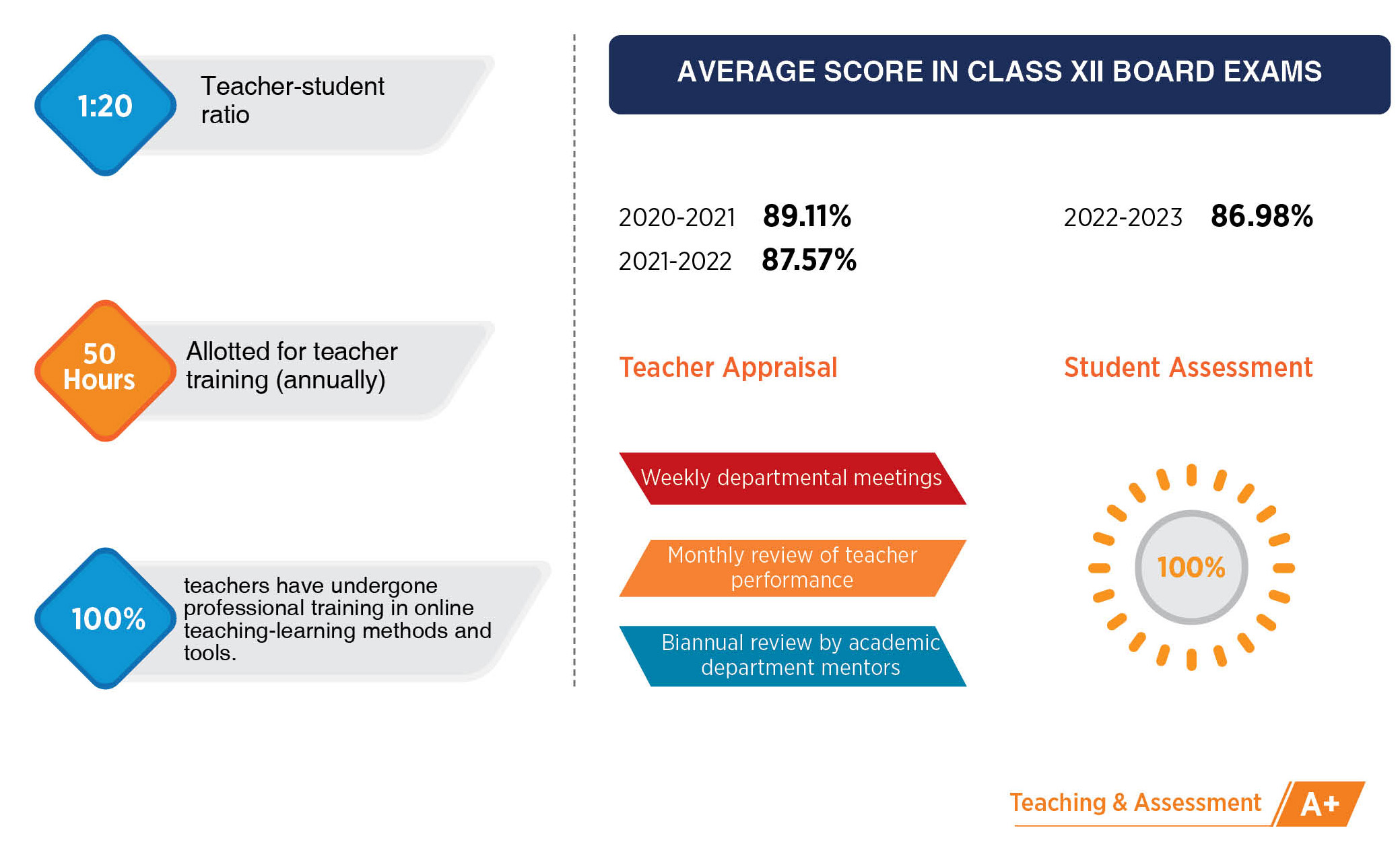 Enabling Infrastructure A
The school's consolidated 6.5-acre campus comprises the pre-primary school sited at Sector 40, primary school (till class III) campus in Sector 47 and main campus at Sector 45. The pre-primary and primary campuses are within 1 km of the main Sector 45 campus.
The school's contemporary campus provides state-of-the-art academic facilities including 171 ICT-enabled classrooms, five libraries, 13 well-equipped science and language labs, a 650-seat auditorium, audio-visual rooms and modern sports facilities.
Among the school's green initiatives are a solar power plant and waste composting and recycling units.
An inclusive school, DPS, Sector 45 provides a barrier-free campus with ramp and wheelchair facilities, accessible toilets, ergonomic furniture designed to suit children with special needs, and smart boards to facilitate multi-sensory learning.
The 80-seat canteen offers healthy meals planned by qualified nutritionists.
The school's three infirmaries are well-equipped to provide first aid services to children.
sports and co-curricular Education A+
Sports infrastructure includes a gymnasium, football/cricket field, a 200 m athletic track, two basketball, one volleyball, two badminton, and one lawn tennis court, and facilities for table tennis, roller skating, taekwondo, gymnastics, yoga and chess.
The school's team of 25 professional coaches provide training five days a week to develop school teams for sports tournaments.
The school's 17 student-led hobby clubs organize events through the year.
Annual events and festivals with 100% participation from students including Scholar Badge, Founders' Day, Carnival Sahyog, Science Fest, Tarang — a language festival, among others, provide opportunities to showcase their talents.
The school is affiliated with INTACH (Indian National Trust for Art and Cultural Heritage), ITIHAAS, SPICMACAY to spread awareness about the country's cultural heritage. The school also collaborates with RWYC Japan.
Technology Integration A+
A learning management system (LMS) for managing and delivering educational content is used widely by teachers and students. Google Classroom assists teaching-learning for senior classes (IX to XII) while Microsoft Teams is used for classes III-VIII. The school portal is supported by Entab.
Video conferencing tools enable real-time communication and collaboration between teachers and students.
Teachers use content creation tools to generate and share interactive educational content.
Online assessments, quizzes, and surveys are conducted using enabling technologies such as Google Forms, Kahoot!, Quizlet, and Mentimeter.
Google Workspace (formerly G Suite), Microsoft Office 365, and collaborative document editing tools allow for teamwork, document sharing, and real-time collaboration.
Virtual reality tools are deployed to provide interactive and engaging learning experiences in science and history.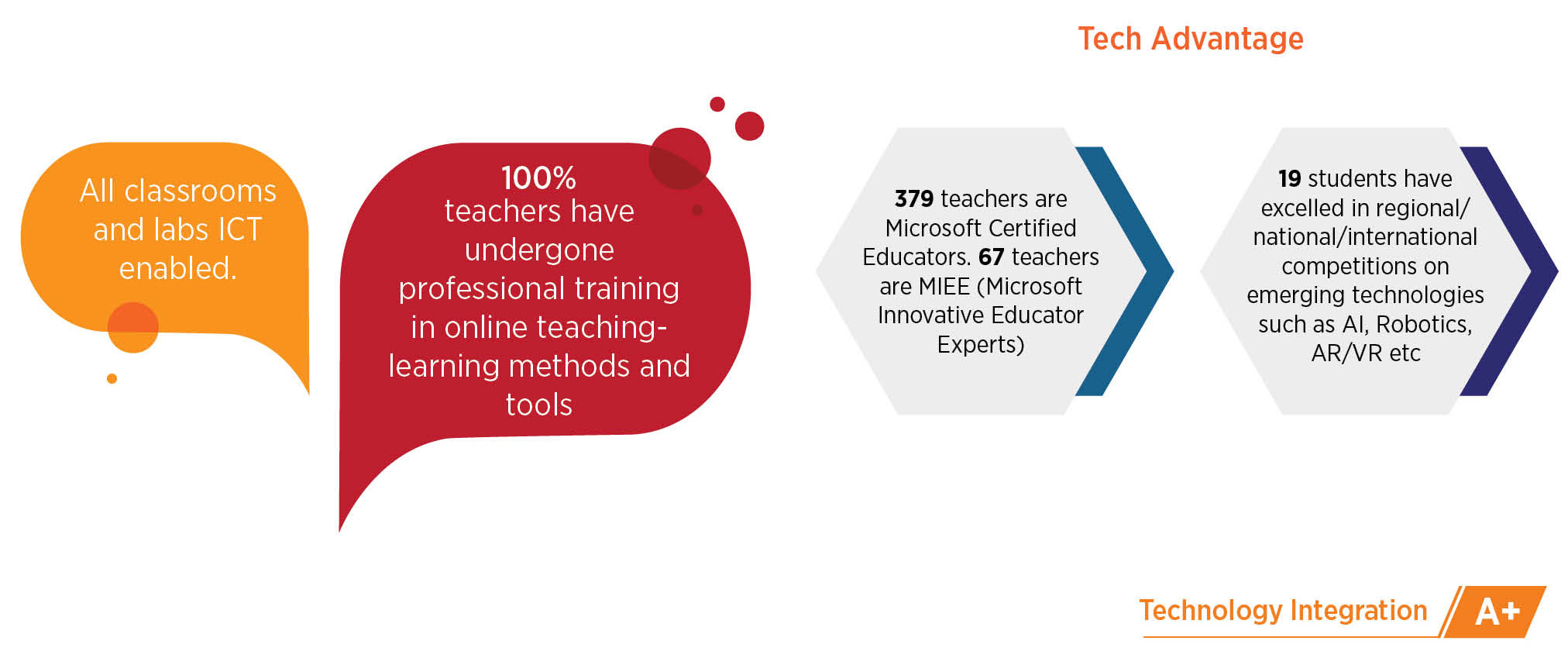 Facts File
Estb: 2002
Board: CBSE
Infant to Class XII
Campus size: 6.5 acres
Students: 6,045
Teacher: 450+
Teacher: student ratio: 1:20
Special needs education: Yes
Admission deadline: May
Admission age: 3+
Registration process: Offline and online
Seats-application ratio: 1:8
Annual tuition fees: Rs.156,948
School meals: Yes
Fee payment schedule: Quarterly
Medical care centre: Yes
Transport: Yes
Encomiums
In 2021-2022, class X students Akshara Singh, Kushagra Mittal and Samar Jain were awarded by NITI Ayog for their project titled AgriPredict which predicts the future quantity, quality and price of agricultural crops through the integration of various technologies including AI, Geographic Information System (GIS), remote sensing and drone imaging
In June 2023, Mehak Kaur, a class XI student, won a bronze medal at the TTF Para Table Tennis Championship at Amman Al Hussein Sports City, Jordan
In October 2023, the school team qualified for the 'Tournament of Champions round' (scheduled at Yale University) with a rank of 106 (Silver Medal) at the Global Round of World Scholar's Cup, staged in Bangkok (Thailand)
In May 2023, the school's junior football team won the Inter-School Football Tournament organised by British Council in Thyagaraj Sports Complex, Delhi
Class V student Divyanshi Singhal won a special jury award (2022) for her Doodle for Google competition submission
In 2022, DPS, Sector 45 was designated as an EDUCO Premium Partner School by Goethe-Institut / Max Muller Bhavan
In 2018, the school was featured among Great Indian Schools in Forbes India Marquee
Over the past three years, nine students have cleared the NEET and ten the JEE Advanced entrance examinations. Moreover 260 students have won various Olympiad competitions.
Student Achievement & Support A+
The school has signed up international cultural and academic exchange programmes with schools in Germany, France, Poland, and Denmark. 60 students participate in in-person student exchange programmes annually.
The annual Garage Sale supporting the 5 Rs (Refuse, Reduce, Reuse, Recycle, Repurpose) encourages students to contribute reusable articles such as clothing, quilts, bags, woollens, water bottles, furnishings, lunch boxes, for sale. All sale proceeds are donated to the Shiksha Kendra.
DPS, Sector 45 in association with the Indian Cancer Society conducts a cancer awareness workshop for staff and parents of Shiksha Kendra students in addition to a free cancer check-up camp.
Selected students attend summer programmes at universities in the US, Europe and Singapore.
DPS, SECTOR 45 Gurgaon | Leader
Aditi Misra
Director – Principal
A postgrad in history and education of Delhi and Annamalai universities with four decades of teaching and admin experience in pedagogy design, curriculum development, and instructional leadership, Aditi Misra is also Director of DPS International Gurgaon, DPS, Jaipur, and Dharav High School, Jaipur.
Misra has introduced several innovative education programmes to boost student engagement and achievement including the Global Education & Leadership Foundation (t.GELF) programme, Duke of Edinburgh's International Award, and collaborations with the Indian National Trust for Art and Cultural Heritage (INTACH) and Reconnecting with Your Roots and Culture (RWYC). Moreover Misra also offers support and advice to the Shiksha Kendra, an on-campus afternoon school for 1,700 underprivileged children. Under her leadership, DPS, Sector 45 was conferred the EW Grand Jury Award for Extraordinary Leadership 2022-23.
Also read: DPS International, Gurgaon, Dharav High School & DPS, Jaipur: Devyani Jaipuria Sports Academy Partners With DaOne Sports