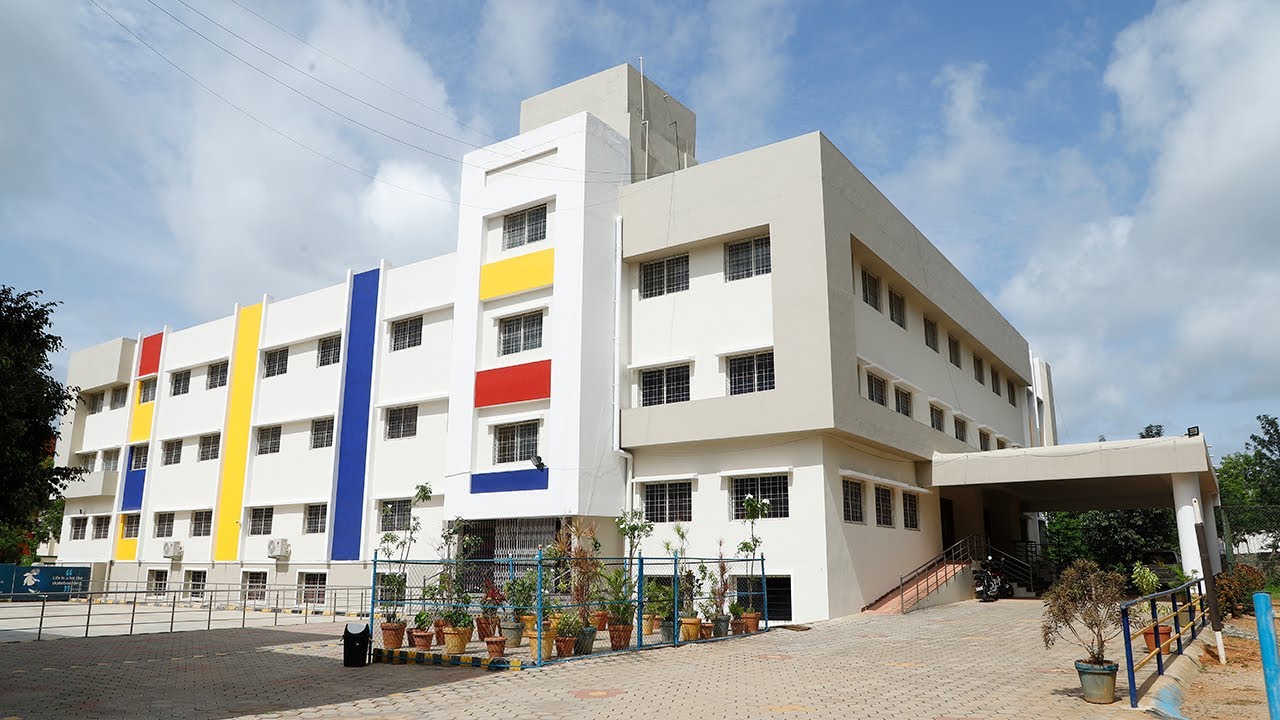 Sited in Hyderabad's bustling tech suburb of Gachibowli, Vista International School (VIS, estb. 2011) has built an excellent reputation for providing well-balanced academic, sports, co-curricular and values education to its 1,500 students mentored by 110 well-qualified teachers. In the latest EducationWorld India School Rankings 2022-23, VIS is ranked among the Top 5 day schools in Telangana and Hyderabad. Moreover in the EW Grand Jury India School Rankings 2022-23, VIS is ranked India #4 in the Design Thinking Leaders category.
The promoters of VIS, which admitted its first batch of 40 students in 2011, are well-known educationists Velanki and Vijaya Rao who founded the school with the objective to "provide a safe and stimulating environment to nurture future-ready confident, empathetic global learners". Affiliated with the Delhi-based CBSE and an IB PYP Candidate School, VIS is distinguished by its enabling infrastructure, innovative curriculum and pedagogies, well-qualified teachers and excellent governance and management systems.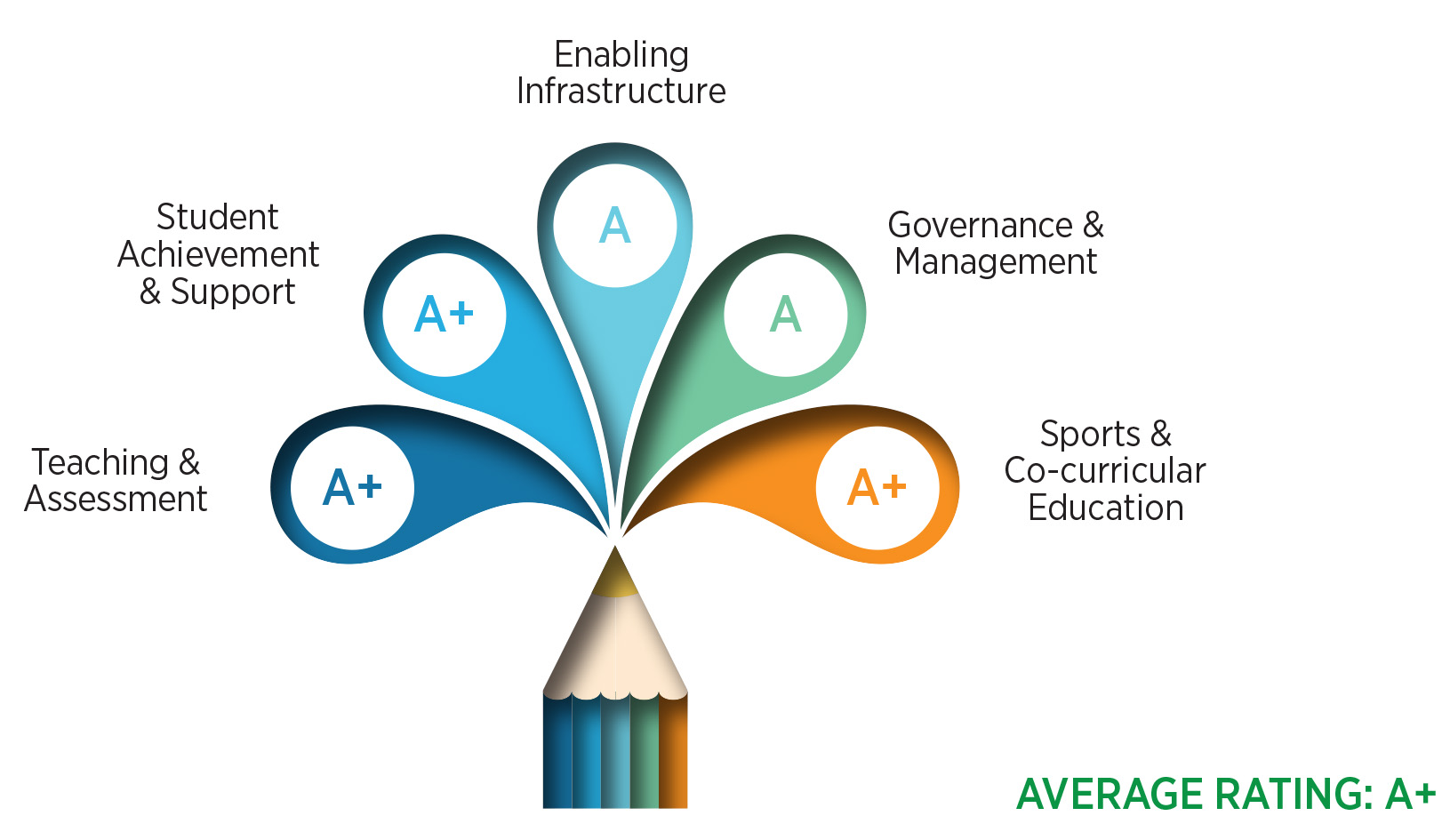 Teaching & Assessment A+
The school's curriculum and teaching practices are carefully designed to enable experiential learning and develop students' design thinking and higher order thinking skills (HOTS).
VIS has received several awards for curriculum and academic excellence (see Encomiums).
VIS' Early Years Program is a blend of Waldorf and Montessori pedagogies and promotes a spirit of inquiry and exploration within young learners.
The school's rigorous curriculum and experiential pedagogies are focused on STEM (science, technology, engineering and mathematics) learning. The state-of-the-art Makers Space studio provides students opportunities to learn-by-doing and practice design thinking with a focus on developing their critical and creative thinking, collaboration and problem-solving skills.
The school has earmarked 48-50 hours annually for the professional development and training of its teachers. Biannual teacher appraisals are based on the Framework for Teaching by US educator Charlotte Danielson with all teachers encouraged to focus on improving learning outcomes of students.
Aligned with the NEP 2020 vision, VIS is the first school to introduce Work Education in collaboration with Maulana Azad National Urdu University, Hyderabad and the first to start an inclusive Summer Camp.

Student Achievement & Support A+
VIS has consistently achieved 100 percent pass percentage in the class X CBSE board exams with the class average of 80 percent.
After-school classes are conducted to prepare and mentor students writing school-leaving board and other national and international competitive exams.
The school has signed an agreement with the Colorado (US)-based non-profit JDO Foundation which facilitates global collaboration among partner schools to inspire online creative and innovative learning.
VIS subscribes to CIALFO, a comprehensive college and career platform, to enable students to make informed career choices. Moreover, guest lectures are delivered by successful professionals from diverse fields.
Remedial classes are conducted six days a week for students who need additional academic mentoring.
VIS accords high importance to values education, life skills, and personality development of its 1,500 students.
To ensure the safety and security of its students, the VIS campus is under 24×7 CCTV surveillance and its fleet of buses are equipped with GPS tracking systems.
A fully equipped infirmary ensures students' physical wellbeing while two counselors provide social and emotional support.
Enabling Infrastructure A
The school's three-acre campus provides excellent state-of-the-art academic, sports and co-curricular facilities.
All classrooms are well-ventilated and equipped with age-appropriate ergonomic furniture and interactive smart boards to provide engaging teaching-learning experiences.
The school's modern science labs and Makers Space studio enable hands-on, practical learning.
VIS houses two well-stocked libraries with 8,000 print volumes. Moreover every classroom has a reading corner to promote the reading habit among children.
Parent Orientation, Teacher Orientation, and career counselling programs among other events are held in a spacious 300-seats Multipurpose Hall.
Governance & Management A
A three-member advisory committee comprising directors and principal ensures all school policies are followed and implemented. All policies and SOPs are reviewed and updated annually.
A working committee which comprises academic heads, vice principal, administrator and admin manager oversees day-to day functioning of the school and reports to the principal.
Appraisal of school leaders is conducted bi-annually.
Special task forces for Makers Space Lab and Metamorphosis (entrepreneurship skills training) ensure delivery of high-quality innovative education to children.
Rigorous annual appraisal of school staff ensures high accountability and transparency.
Awards
Class X students — Abhinav M, Akhileshwar S, Anirudh T, Anirudh A. and Vamsy K. — bagged the first prize (team) at the IIIT-Hyderabad Hackathon 2023
Mridhini Ravishankar (class IX) bagged first place in the 1,500 m Under-17 event in the CBSE Nationals Athletic Meet 2023 held in Varanasi. She also won gold at the Telangana 8th Junior Athletics Meet held in Guwahati in 2022
VIS was conferred the 'Innovative Practices for Academic Excellence' & 'Excellence in Co-curricular Activities' awards at the 24th World Education Awards 2022 organised by ELETS Technomedia
The school received the 'Eminence in Global and Technological Exposure' award at the Global K- 12 Summit 2022 organised by Global Business Reconnect
VIS was presented the 'Excellence in Implementing Learner Centered Curriculum' award by Eldrok in 2022
Class IX student Vedant Gundu won a gold medal at the International Tennis Meet 2022 of UTR Tournament in Barcelona, Spain
Sports & Co-curricular Education A+
VIS offers excellent facilities for students to excel in a range of sports and co-curricular activities. They include two basketball and a badminton court, a football ground, cricket pitch, skating rink, athletics tracks, indoor table tennis, carrom and chess rooms and separate studios for music, dance and yoga. The campus also hosts dedicated rooms for activity clubs including literary, theatre, creative writing, culinary, art and craft among others.
The school has well-equipped sports facilities to implement a structured and holistic sports curriculum. Specially designed after-school sports programmes are also provided by professional coaches.
Life skills training at VIS includes financial literacy and entrepreneurship programs, skills education, art integration (Rhapsody — Education through music program), nurturing scientific temper (Yardstick Educational Initiatives), among others.
Students are provided abundant opportunities to showcase their cultural and sports talents in inter-school, intra-school, national and international events and competitions.
Facts File
Estb. 2011
Board: CBSE, Candidate School for IB PYP
Co-ed, K-12
Campus size: 3 acres
Students: 1,500
Teachers: 110
Teacher-student ratio: 1:18
Special needs education: Yes
Admission deadline: May
Admission age: 3.5 to 4 years
Registration process: Offline & 0nline
Seats-application ratio: 1:50
Annual tuition fees: Rs.1.5 lakh
Fee payment schedule: Quarterly
Transport: Yes
Medical care centre: Yes
School meals: Yes
VIS Leader
Mary Shanti Priya
Principal
A postgrad in mathematics and business management of Osmania, Hyderabad and Symbiosis International, Pune universities with two decades of rich teaching and admin experience in Chirec International School, DRS International School and Andrews School — all in Hyderabad, Mary Shanti Priya was appointed principal of Vista International School, Hyderabad in 2018. A well-respected educationist, Priya is a recipient of several awards including 'Most Promising Education Leader of India Award' in 2023 presented by Time2Grow Media in association with the Telangana state government, 'Top 10 Best Women in Education 2023' by Women Entrepreneur India magazine, '10 most Influential Women in Education 2020' by CEO INSIGHT magazine, and 'Best Global Principal Award 2020-21' of Gurugram-based AKS Education among others. Moreover, she is also credited with curating content for CBSE class VI-VIII math textbooks.