At Scindia Kanya Vidyalaya (SKV), education is not limited to the classroom or a teacher. There is always a balance maintained between classroom activities and their relevance in real life. We have seen a direct correlation between participation in sports and co-curricular activities and academic excellence among students.
With an enviable teacher-student ratio of 1:10, SKV offers student-centred curriculums to enable children to explore and pursue their passions and interests. Experiential learning curriculum offered in the primary years enables children to learn through exploration and drive their academic progress.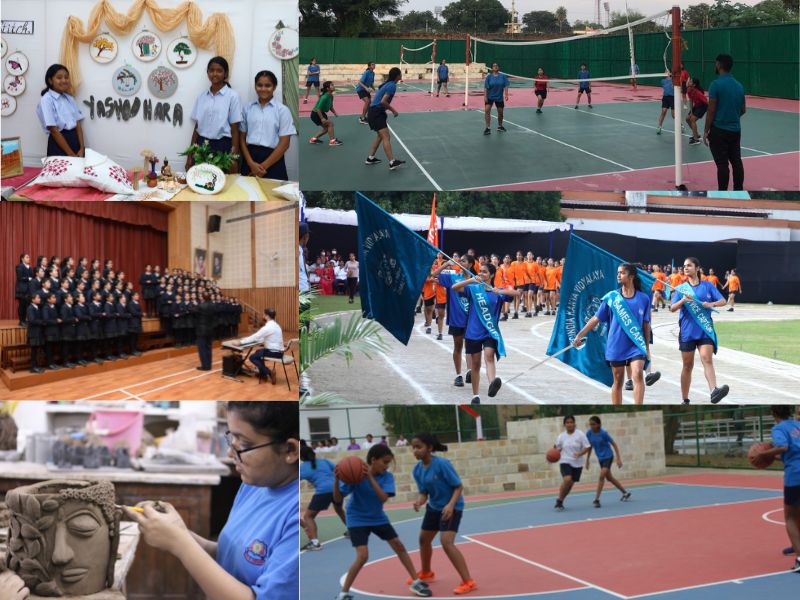 Sports education
SKV believes "leaders are born on the sporting ground." Fitness and sports loom large in the horizon for the SKV girls. Inter-class, inter-house, as well as inter-school competitions give them opportunity to showcase their talent with gusto and enthusiasm. The compulsory sports hour fosters team dynamics, cooperation, integrity and sportsmanship. Even in the area of sports and games, our teachers teach students to value the pain of setback and to savor the sweetness of success. Here, learning to be a dignified winner and a gracious loser on the games field is given as much importance as a lesson learnt in class. Emphasis is placed on participation, skill development and fitness.
Students get to choose from an assortment of sports and games – from Taekwondo to cricket. Swimming is compulsory for all the students. Volleyball, lawn tennis, badminton, basketball, football, skating, and table tennis are some other options. Track and field events are an integral part of physical training. The school has globally comparable facilities for football, basketball, volleyball, lawn tennis, and table tennis apart from a skating rink, well-equipped gym, 25 mt swimming pool, 200 mt athletic track, and cricket practice pitch. Being an IPSC school, our teams regularly participate in the IPSC events, state and national level tournaments.
Co-curricular education
The arts are a medium of self-expression that engender creativity and sensitize a person to the finer aspects of life. At SKV, students are encouraged not only to polish their flair for music and arts but also to gain the technical knowledge to become meticulous performers. Excellent training in various musical instruments, both Indian and Western, viz. guitar, violin, tabla, sitar, drums, xylophone, synthesizer, among others, is offered.
The students are encouraged to appreciate all forms of music – classical, light, folk and Western. The school choir routinely earns accolades for its Western numbers. Training is imparted in varied Indian classical dance forms – Manipuri, Bharatnatyam, and Kathak. Western dance workshops are also organised from time to time. Exposure to a wide variety of art forms allows students to discover their own personal strengths and preferences.
At SKV, we nurture the aesthetic sense and creativity of students through fine arts. Our pupils are encouraged to express their emotions through an impressive range of media. Different schools of art and traditional art forms such as paper-mache, Madhubani and Warli are popular with the students. Needlework, flower making, candle making, clay modeling, puppet and doll making are some other domains where students exhibit their creative abilities.
SKV offers flexible multidimensional learning by blending Indian traditions with modern technology. Our competent teachers help students hone their skills in photography, web page designing, video and film making, and digital presentations.
For more information click: https://beta.edumarshal.com/ScindiaRegistration?guid=08b92ca0-a9bf-4250-b9e1-cfa21d366adb
Also read: Scindia Kanya Vidyalaya: Impressive blend of novelty and heritage