Over the past 36 years since this CBSE-affiliated K-12 co-ed day school was promoted, it has risen high in the estimation of the public and is ranked #1 in Kanpur in EWISR 2018-19 – Paromita Sengupta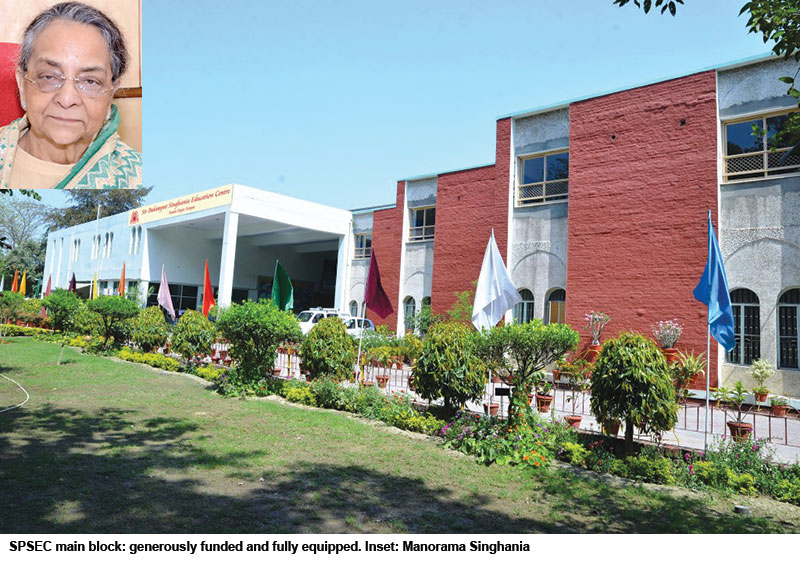 Occupying pride of place in the Kamla Nagar township of the bustling city of Kanpur, Uttar Pradesh — purpose-built for employees of the well-known JK Group of companies which has interests in cement, tyres, paper and computer software industries — is the verdant 11-acre campus of the Sir Padampat Singhania Education Centre (SPSEC). Promoted by the late Govind Hari Ji Singhania (1937-2014) to commemorate the extraordinary contributions of his industrialist-philanthropist father Sir Padampat Singhania (1905-1979) to Indian society, SPSEC admitted its first batch of 250 students mentored by 11 teachers in 1982.
Since then, this CBSE-affiliated K-12 co-ed day school has earned an excellent reputation in Kanpur (pop. 2.9 million) and in Uttar Pradesh — India's most populous (215 million) state — for providing hard-to-get 21st century school education to its 2,900 students including 1,000 girl children tutored by 153 teachers. In the latest EW India School Rankings 2018-19, SPSEC is ranked Kanpur's #1 co-ed day school and #4 in Uttar Pradesh.
"The objective of SPSEC is to provide a safe, secure and stimulating learning environment for children to develop competencies and skills essential for success and leadership in the emerging globalised economy. Our curriculum which balances academics with sports and co-curricular education, enables nurturing outward looking school-leavers who are physically strong, mentally alert, intellectually sharp, emotionally stable and spiritually enlightened to serve and give back to society with determination, dedication and discipline," says Manorama Govind Hari Singhania, who took over as chairperson of SPSEC after her husband's demise five years ago.
Among the first modern private schools promoted in Kanpur after independence, SPSEC has been generously funded by the Singhania clan and is fully equipped to provide contemporary academic and sports education to all students. With a built-up area of 6,500 sq. metres, the school's wi-fi enabled campus hosts separate junior, primary, secondary and senior secondary buildings which house 81 air-conditioned Smart classrooms, five state-of-the-art science and five well-equipped computer laboratories, a hi-tech English language lab apart from multimedia rooms, teachers' resource centre, music and art rooms. Together the junior and senior libraries house 32,570 volumes and subscribe to 35 magazines and e-journals.
Moreover, the school's carefully landscaped Navgrah Vatika, Buddha Vatika and Lady Anusiya botanical gardens (dedicated to the memory of Govind Hari Singhania's mother) and a bio-technology museum provide students excellent outdoor and experiential learning opportunities.
"Our focus in SPSEC is to provide superior, well-rounded education which integrates academic rigour with sports, co-curricular and community service activities with special emphasis on values and life skills education. Therefore, our expertly designed pedagogies and curriculums are way ahead of the prescribed syllabus. For instance, recently we've introduced a new computer coding curriculum for classes I-VIII; a 'speakers corner-expression unrestricted' to develop children's public speaking skills, and outdoor classes to explore new ideas and stimulate logical thinking, communication and collaborative learning skills," says Bhawna Gupta, an English literature postgraduate of Kanpur University and recipient of the British Council's Global Teacher Accreditation Award. Gupta signed up with SPSEC in 1996 as a secondary school teacher, was promoted to vice principal in 2015 and to the principal's office two years ago.
Gupta takes pains to stress that sports education is a high priority of the SPSEC management. Fifteen well-qualified coaches mentor students in several sports. Games facilities include two large sports grounds, 13 cricket pitches, a synthetic tennis court and state-of-the-art sports academy with facilities for professionally-administered training in cricket, football, tennis, taekwondo, badminton, volleyball, basketball, archery, gymnastics and roller-skating. Indoor games facilities include table-tennis, carom and chess rooms. Co-curricular education is given equal importance by the school's administration. Debates, quizzes, moot courts, Model United Nations, NCC, aero-modelling, animation, community service and a wide range of visual and performing arts are integrated into the curriculum.
The school's commitment to holistic education has positively impacted academic outcomes. In 2019, of the 207 SPSEC students who wrote CBSE's class XII school-leaving exam, 26 averaged over 95 percent with the toppers Harsukh Singh Sagri and Vishwarup De averaging 98.4 percent. In the 2019 class XII CBSE exam, of the 252 students who wrote the exam, 27 averaged 95 percent-plus with Suhani Aggarwal topping with 98.8 percent.
"Though I am pleased that SPSEC is ranked Kanpur's #1 school in the latest EducationWorld India School Rankings, our goal is to become the top-ranked school of Uttar Pradesh. To this end, our thrust areas are improving pedagogies and equipping our teachers with the skill-sets to nurture and prepare children for a successful future. Moreover, a blueprint has already been drawn up to introduce iPads and virtual classroom lectures," says Manorama Govind Hari Singhania.
ADMISSION & FEES
The Sir Padampat Singhania Education Centre, Kanpur is a K-12 co-ed day school affiliated with the Central Board of Secondary Education, Delhi. Registration forms are available at the school office in November.
Admissions are based on a written test followed by an interview and medical exam.
Tuition fee (annual): Rs.56,000-100,600
For further details contact Ph: (0512) 2218222; email: [email protected]; [email protected]