Established by Royal Charter in 1784, Royal College of Surgeons has pioneered numerous medical breakthroughs including Ireland's first anaesthesia surgery and Britain's first women graduates in medicine and surgery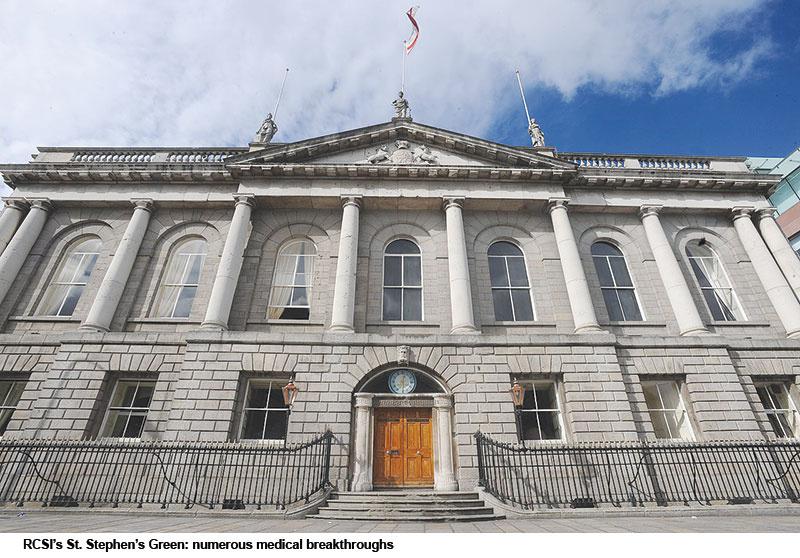 Sited in the heart of Dublin's fair city, the Royal College of Surgeons, Eire/Ireland (RCSI, estb.1784) is one of the world's oldest and most-respected medical and health sciences education and research universities. The London-based rating agencies Quacquarelli Symonds (QS) and Times Higher Education (THE) rank RCSI among the world's Top 250 universities and Top 175 higher ed institutions for clinical, pre-clinical and health sciences education.
Established by Royal Charter 235 years ago, RCSI has pioneered numerous medical breakthroughs including Ireland's first surgery under anaesthesia (1847). Among its 18,000 alumni from 97 countries are Britain's first women graduates in medicine and surgery. Currently, RCSI provides undergraduate and postgrad programmes in medicine, pharmacy, physiotherapy, nursing and mid-wifery to 3,781 students, including 2,259 undergraduates from 60 countries. A private independent medical higher ed institution, RCSI has four campuses overseas in Bahrain, Dubai and Malaysia.
Dublin. The administrative capital of Eire, Dublin (pop. 1.6 million) is 50 minutes by air from London. Its widely advertised charm is that while it offers all amenities of a national capital, it retains its distinctive small town ambience and has been voted among the world's Top 10 safe cities in the Global Peace Index 2018 of the Sydney-based Institute for Economics and Peace. The epicentre of Irish literature and culture, it offers students a wide option of art galleries, museums, theatres, shops, restaurants, nightclubs and zoological gardens.
A coastal city, Dublin is also a university town with a fine tradition of learning and scholarship. With its student population of 75,000, it was ranked among the Top 10 cities for international student satisfaction by the online Study Portals in 2016-17. Dublin has a mild, oceanic climate. The average winter temperature is 8°C which rises to 18°C in summer.
Campus facilities. Located in downtown Dublin, RCSI's campuses in St. Stephen's Green, York Street, and Beaumont Hospital, house state-of-the-art medical education facilities and labs cheek-by-jowl with historic heritage buildings. In particular, the RCSI campus on St. Stephen's Green is an impressive heritage landmark hosting life-sized marble statues and paintings by famous artists, including Irish portraitist William Orpen. The university's historic anatomy room has hosted students since 1812.
The York Street campus hosts Europe's largest and most advanced clinical healthcare simulation facility — a 12,000 sq. ft multi-disciplinary National Surgical and Clinical Skills Centre. This first-of-its-genre (outside the United States) medical care centre designed to mirror a full-fledged hospital, is equipped with surgical and training suites, clinical skills labs, a mock operating theatre and clinical training wards. It also hosts a specialist health sciences library.
Beaumont hospital, 5 km north of city centre, is RCSI's 820-bed teaching hospital with 54 medical specialities units and 3,000 students and employees. It also hosts a Clinical Research Centre, the first to be established on a hospital site in Ireland. RCSI has recently added another 30,000 sq. ft, three-storey extension with a student concourse, fully-catered café, multi-functional tutorial rooms, state-of-the-art AV facilities, open-plan faculty offices and new laboratory and research facilities with a price tag of €11 million (Rs.86.41 crore).
Unlike most other higher ed institutions, the RCSI library collection is available online facilitating quick and easy access. However, all three campuses also offer physical libraries providing spacious areas for group study, and an amphitheatre with tiered seating. The reading room provides access to over 10,000 reference volumes.
Moreover, RCSI offers students membership of 41 societies and clubs, ranging from the career-focused cardiovascular Society to art and music clubs.
Admission. The minimum eligibility criterion for admission into RCSI's five-year undergraduate programme (exempt from foundation year) in medicine is a 90 percent average in four subjects including chemistry, biology and physics/mathematics and minimum 85 percent in each subject in the CBSE/CISCE class XII exam. For the six-year programme, which includes a 12-months foundation course, class XII students must have a minimum 80 percent in chemistry, biology and physics/mathematics, with a minimum score of 75 percent in other subjects.
Applicants are also required to submit proof of English language proficiency (minimum score of 6.5 in IELTS). Application forms together with certified copies of academic transcripts, proof of extra-curricular activities participation, academic and non-academic references, a personal statement and non-refundable fee of $75, should be submitted online through rcsi.com/Dublin before February 1. Applicants are also required to attend a personal or online interview.
Eligibility requirements for postgraduate medical programmes vary with specialities. For further details, contact: RCSI, 123 St. Stephen's Green, Dublin 2, Ireland. Ph: +353 1 402 2100; email: [email protected]; website: www.rcsi.com
Accommodation. RCSI provides on-campus accommodation for all freshers from abroad. Mercer Court offers single and twin sharing rooms with Internet access, fully-equipped kitchens, en-suite bathrooms, laundry facilities, and games/recreation rooms as well as choice of self-catered apartments. New Mill, another on-campus residence, provides en-suite single rooms in a furnished shared apartment (shared kitchen and lounge area), and self-contained en-suite studio rooms (kitchen). Private rented accommodation is also easily available in Dublin.
Degree programmes. RCSI's five schools offer undergrad, postgrad and doctoral study programmes.
SCHOLASTIC OPTIONS AT RCSI
Faculty of Medicine & Health Sciences. School of Medicine; School of Pharmacy; School of Physiotherapy; School of Nursing and Midwifery; Postgraduate studies; Institute of Leadership. The faculties of radiologists; dentistry and sports & exercise medicine, offer dedicated study programmes of three-six years.
Clinical science. Anaesthetics and critical care, clinical microbiology, clinical neurological sciences, general practice, international health & tropical medicine, medicine, molecular medicine, geriatric and stroke medicine, obstetrics & gynaecology, ophthalmology, otolaryngology, paediatrics, pathology, psychiatry, radiology, surgery, trauma & orthopaedic surgery
Health sciences. Anatomy molecular & cellular therapeutics, pharmaceutical & medicinal chemistry, physiology & medical physics, population health sciences
Tuition fees (annual)
Undergraduate medicine €55,000
Graduate medicine €56,500
Pharmacy and physiotherapy €25,000
Living expenses €12,000
NB: €= Rs.79