Four months after it admitted its first batch of undergrad students, the wholly residential private Krea University in Sri City (Andhra Pradesh), with its unique School of Interwoven Arts and Sciences and IFMR-Graduate School of Business, is poised to reshape the contours of the country's higher education landscape – Dilip Thakore
70 km from the port city of Chennai (formerly Madras), administrative capital of the southern state of Tamil Nadu (pop. 72 million), down the crowded National Highway 16 — currently experiencing extensive expansion repairs and traffic jams — across the TN-Andhra Pradesh border, an academic enterprise of great pith and moment is assuming shape and form in Sri City, a special economic zone established in the Chittoor district. The first batch of 113 students of the sui generis, mint new School of Interwoven Arts & Sciences (SIAS) of Krea University (KU, estb. 2018) — peninsular India's first globally benchmarked liberal arts university — is finding its bearings and has settled down on the varsity's clean and green campus.
Four months after it admitted its first batch of undergrad students into SIAS, this wholly residential private university is poised to reshape the contours of the higher education landscape of southern India which hosts one-third of India's 1.30 billion population. Its students (60 percent women) from 22 states across the country are well- settled into the leafy green, well-designed 40-acre campus with a built-up area of 344,000 sq.ft comprising a main academic block and three residential buildings to house male and women students and faculty residences — designed by Chennai's reputed C.N. Rao Architects. Classes are running smoothly according to prescribed time tables.
The blossoming of Krea (derived from the Sanskrit kriya, meaning intelligent action) University is a development of great significance in Indian higher education because it is the first Amercian Ivy League-style, liberal arts-focused university in peninsular India. Although it is well established that the southern states — Tamil Nadu, Kerala, Karnataka, Andhra Pradesh, Telangana — are better educated and more advanced on most parameters of socio-economic development than the more populous Hindi heartland states of north India, governments and edupreneurs in these states have a history of promoting excellent institutions of professional education — engineering, medical, hospitality, pharmacy — which attract students from across the country and even from abroad. For instance 25 percent of all medical practitioners in Malaysia are graduates of the privately-promoted and managed Manipal Academy of Higher Education (MAHE, estb. 1953).
But curiously, until 2018, no southern education entrepreneur had stepped forward to promote a liberal arts institution of higher learning in the tradition of American Ivy League colleges and universities, down south. In this respect, the northern states, notably Delhi, Uttar Pradesh and Haryana have stolen a march over peninsular India. During the past decade, the globally benchmarked Flame University, Pune (estb. 2007), Ashoka University (estb. 2014) and O.P. Jindal Global University (2009) have quickly established reputations as excellent liberal arts varsities arguably superior to the best (St. Stephen's, JNU etc) countrywide. In the latest EducationWorld India Private University Rankings 2019-20, Ashoka is ranked #2, JGU #6 and Flame #23.
Even if somewhat belated, Krea University is the southern response to Ashoka and Jindal Global University. And although it is a mint new enterprise, it has rapidly established a national reputation and is all set to give the entire crop of newly promoted liberal arts and multi-disciplinary universities a run for their money. Astonishingly in response to its marketing campaign — the varsity's top management and marketing personnel reached out to 400 higher secondary schools countrywide last year to induct 113 higher secondary and junior college-leavers — KU received over 1300 applications for admission into the three-year undergraduate programme of SIAS despite its high (by Indian standards) tuition-cum-residence fees (Rs.8 lakh per year) — telling testimony of rising demand for high-quality tertiary education within contemporary India's 60 million aspirational middle class households. Simultaneously, it's also a reflection of the excellent institution development, faculty recruitment and targeted marketing of the KU management that this young university has hit the ground running.
Although Krea University was established and registered as a full-fledged private university by a gazette notification under the Andhra Pradesh Private Universities (Establishment and Regulation) (Amendment) Act, 2018 as recently as April 30 last year (2018), it has become operational in quick time because it is the outcome of a unique, perhaps unprecedented, merger of the Institute for Financial Management & Research (IFMR, estb.1970) — a highly respected Chennai B-school established by the Mumbai-based Industrial Credit and Investment Corporation India (ICICI, now ICICI Bank Ltd) and its chairman the late H. Parekh (1911-1994), a great institution builder. Parekh was pioneer of retail housing development finance and first chairman of the Housing Development Finance Corporation Ltd (HDFC).
ICICI was the sponsor of IFMR which started as a finance research institute and transformed into a fully-fledged B-school authorised by AICTE (All India Council for Technical Education, Delhi) to conduct a two-year programme in business management in 1970. In 2012, IFMR which was based in Chennai, was awarded a 40-acre parcel of land in Sri City, an integrated business city which includes a special economic zone for multinational companies, by the
Andhra Pradesh government and invited to establish a campus there. We accepted the offer and ICICI invested Rs.16 crore to construct several buildings on the campus. Subsequently, some three years ago when some promoters of the proposed Krea University approached me for investment in their project, I suggested they take over IFMR and establish the new university on our under-utilised campus. This offer was enthusiastically accepted by them and IFMR became the sponsoring body of Krea and settled the land and property in favour of the new university. This merger of the two institutions under the umbrella of Krea University has proved to be a win-win situation for both institutions. Krea has got off to a smooth start in introducing its unique residential undergraduate degree programme and IFMR, which was obliged to issue a diploma in business management, is now a fully-fledged B-school with MBA degrees awarding power," says Narayanan Vaghul, the highly venerated former chairman of ICICI (1985-2009) and now founder chancellor of Krea University.
Dr. Sunder Ramaswamy, a highly qualified economist (St. Stephen's, Delhi School of Economics and Purdue, USA), experienced teacher-researcher (Middlebury College, Vermont, and former director Madras School of Economics) and founder vice chancellor of Krea University, is quick to acknowledge the magnanimity and institution building brilliance of ICICI, Vaghul and the IFMR faculty which has enabled the quasi-greenfield Krea University to spring out of the starting blocks. "To establish a university, promoters need land, money and regulatory approvals. Thanks to the generosity of the trustees and governing council of IFMR, two of our needs — land and regulatory approvals — were fulfilled immediately following Krea University's merger agreement with this highly respected 49-year-old B-school. We are also fortunate that some of the most respected leaders of India Inc unhesitatingly stepped forward to subscribe the capital required for establishing south India's first liberal arts university," says Ramaswamy.
Presumably somewhat narked that post-liberalisation India's new genre private liberal arts universities — Ashoka, Jindal Global — inspired by America's premier, privately promoted Ivy league universities have sprung up in academically less developed north India, several heavyweight business leaders of peninsular India have readily stepped forward to fund Krea University under what Ramaswamy describes as the university's "collective philanthropy model," i.e, there is a cap on the shareholding of any one subscriber to forestall undue influence.
Among them: Kiran Mazumdar Shaw (Biocon); R. Seshasayee (chairman, Infosys Technologies); Kapil Vishwanathan (Stanford, Harvard and co-founder Lumina Datamatics); Anand Mahindra (Mahindra & Mahindra); former RBI governor Raghuram Rajan; Sajjan Jindal (Jindal Steel Works); former TCS CEO S. Ramadorai; Aditya Mittal (Mittal Arcellor); P.R. Venkata Rama Raja (Ramco Systems); C. Srinivasa Raju (Peepul Capital, Hyderabad) and merger and acquisitions legal eagle Cyril Shroff (Amarchand Mangaldas & Shroff).
Although Ramaswamy and KU faculty are tight-lipped about disclosing numbers, all these high net worth industry leaders have reportedly subscribed Rs.10-15 crore (with several others reportedly queuing up to contribute) towards Krea University's endowment corpus which has swollen to an estimated Rs.750 crore. This massive corpus has inspired the new university's governing council (comprising these subscribers) to greenlight KU's second state-of-the-art campus on a 100-acre plot in Sri City, at a distance of 5 km from its present premises, with alacrity.
Krea's high-powered Governing Council chaired by Vaghul and comprising the investor-trustees mentioned above is supplemented by an Academic Council chaired by vice chancellor Ramaswamy and comprising a formidable collection of nationally and globally renowned academics. Among them: Manjul Bhargava (professor of maths, Princeton); Vihshaka Desai (global affairs, Columbia); John Ecthemendy (humanities, Stanford); Akash Kapoor (writer, journalist, senior fellow NYU); Srinath Raghavan (Centre for Policy Research, Delhi); Gaurav Raina (faculty IIT-Madras); Raghuram Rajan (Chicago Booth School of Management); Jessica Seddon (urban strategy, World Resources Institute, Washington) and Tara Thiagarajan (chairman, Madura Microfinance and chief scientist Sapien Labs).
This galaxy of academics from around the world has drawn a framework and provided well-defined guidelines for the high-quality faculty of the School of Interwoven Arts and Sciences (SIAS) to design its syllabus and detailed curriculum which may well set new benchmarks in multi-disciplinary undergraduate education — highly recommended by the National Education Policy 2019 draft of the Kasturirangan Committee receiving its final touches in Shastri Bhavan, Delhi, headquarters of the Union HRD ministry.
The third leg of the tripod administrative structure which executes the directives of the governing and academic councils is KU's powerful Board of Management which comprises vice chancellor Sunder Ramaswamy; mission director Anita Arjundass; Kapil Vishwanathan; Sandeep Gokhale (Jindal World Steel); Vivek Khemka (Egon Zendher); Ramesh Mangaleshwaran (McKinsey & Co); Paula Marwala (Hinditron Group) and Rajeev Mecheri (Mecheri Smart Capital) among others. This three-tier structure provides highest quality financial, curriculum development and management support to KU's academics and administrative managers, and has ensured this nascent university has begun humming like a well-engineered power station in quick time.
That the mint new KU has smoothly glided down the slipway and quickly made its way to open waters, is most evident in this new university's parent organisation — the Institute for Financial Management & Research (IFMR), now the IFMR Graduate School of Business of KU. There is no trace of anger or resentment that the independent identity of this well-established and nationally respected school of business management (ranked #13 among private B-schools in the EducationWorld India Private B-School Rankings 2019-20) has been subsumed into the newly-promoted university. On the contrary, your correspondent discerned a pervasive sense of satisfaction within the well-qualified and experienced faculty of this hitherto geographically isolated and low-profile B-school which has become involved with a larger national project of great promise and potential.
"Although IFMR has a low public profile because the tradition of this institute has been to focus on deep research and content development rather than image projection and rankings, we have an excellent reputation in the BFSI (banking, financial services and insurance) industry as a full-fledged B-school with a rich legacy of finance research and deep connect with industry. Our annual applications to admissions ratio is 10:1 and for several decades, we have
maintained a 100 percent placement record for our 180 graduates with the average annual starting remuneration in 2018-19 topping Rs.10 lakh, and the highest Rs.18 lakh. The evolution of IFMR into the larger national development project of Krea University is very welcome because it will raise our public profile and enable both schools to expand and broad-base their academic programmes by drawing upon each other's strengths and resources," says Dr. Shobha Das, an alumna of Lady Shri Ram College, Delhi, IIM-Calcutta and the Carlson School of Business, University of Minnesota, with wide experience of industry (TCS) and academics (Nanyang Business School, 1994-2009) and Qatar University's College of Business & Economics (2009-19) who signed up with IFMR last June and was promoted to the dean's office on January 1.
With a full complement of 360 graduate students instructed by 34 faculty, IFMR-GBS, which has a track record of having contributed 17 batches of thoroughly prepared business professionals to Indian industry, is all set to blossom under the Krea umbrella with a huge push into executive education. "With our long tradition of deep research in finance, economics, information systems, marketing and organisational behaviour, and human resource development, IFMR has an established history of designing and delivering high-quality executive education programmes. We accord prime importance to executive education not only because it is critical for business professionals to constantly upskill themselves to meet the challenges of an ever-changing business environment, but also because our faculty keeps abreast with latest developments and practices of the business world. Our new three-year online and campus attendance executive MBA degree programme delivered on the Webex platform has got off to a great start with 45 managers of Larsen and Toubro enrolled in it," says Dr. Vijaylakshmi Balasubramaniam, an alumna of IRMA, Anand (Gujarat) and MDI, Gurgaon and chairperson of IFMR's E-MBA programme.
The excellent reputation IFMR-GSB has acquired despite its low public profile is evidenced by its stringent admission norms. Admission requires high scores in one or more public exams such as CAT, XAT, CMAT, GRE and GMAT. Moreover applicants with scores above the duly advertised cut-offs, are obliged to submit detailed school and undergrad performance documentation and report cards to qualify to write the institute's test followed by an interview. "Over the past almost half century, IFMR has built a sound reputation as a full-fledged B-school, and is undoubtedly the best countrywide for aspiring banking and finance professionals. Last year, we received over 1,800 admission applications against our admission capacity of 180 per year," says Dr. Satya Samindan, an alumnus of Madras University and IFMR with a Ph D from SCSVMV University, Kanchipuram (Tamil Nadu) and currently admissions officer of the IFMR-GSB.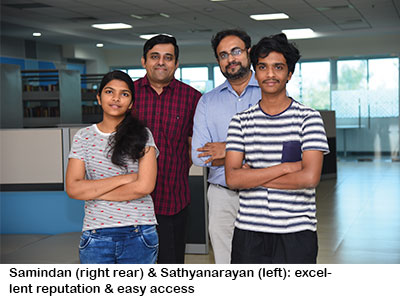 Prof. Sathyanarayan R, an alum of Madras, SCSVMV (Kanchipuram) and Central University, Pondicherry who teaches marketing at IFMR-GSB, believes this B-school's location within the Sri City economic zone which hosts over 200 corporates including several blue-chip multinationals, has facilitated valuable industry connect for the faculty and students. "We have the advantage of being able to easily access high-quality professionals who often address our students and faculty and participate in our workshops. Easy interaction with neighbouring corporates facilitates internships and practical industry experience for our students and faculty," adds Sathyanarayanan.
With KU's houseful (360 students) B-school going great guns in its golden jubilee year even as a cell within the Board of Management led by vice president Kapil Vishwanathan is actively engaged in fund-raising to augment peninsular India's first liberal arts university's corpus under the collective philanthropy model. Simultaneously, KU's governing and academic councils and management team are focusing their full attention on shaping the varsity's sui generis School of Interwoven Arts and Sciences (SIAS), which admitted its first batch of undergrads last August, and boosting the infrastructure and administrative systems of this new university which in the words of vice chancellor Ramaswamy is being built to last "for over 500 years".
Certainly no pains or expense have been spared to formulate the syllabus, design the curriculum and recruit the best faculty from top-ranked universities around the world (average annual remuneration: Rs.27 lakh) for SIAS. The excellent qualifications and academic experience of the school's faculty reflect the painstaking national and global search efforts of the governance and academic councils and the institutional management.
The SIAS faculty includes Dr. Hema Ramakrishna, an economics alumna of Madras University and former professor at the Madras School of Economics (2001-18); Dr. Shiva Kumar, alum of IIT-Madras who served with the Department of Atomic Energy (1997-2015) and the Chennai Mathematics Institute (2015-17); Dr. John Matthew, an ecology and history alum of Harvard and Chicago universities; Dr. Prithvi Datta Chandra Shobhi, a history alum of San Francisco State University; Dr. Naina Manjreker, history alumna of the School of African and Oriental Studies, London and the Greenwich Maritime Museum; and Dr. Rishi Vyas, a mathematics alum of Cambridge University (UK) with several years of research experience in Israel.
The 36-strong faculty of SIAS is headed by dean Dr. Bishnu Mohapatra, a political science alum of Delhi, JNU and Oxford universities with teaching and admin experience in JNU, Ford Foundation, NUS (Singapore) and Azim Premji University (Bangalore).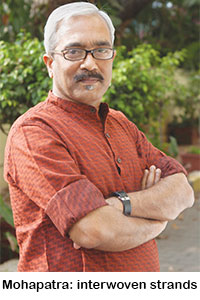 "Unlike most progressive universities which offer inter-disciplinary arts and science programmes of two-three subjects, the SIAS undergraduate curriculum has several subject strands interwoven into a common first-year programme, compulsory for all admitted undergraduates. The idea is not to teach one or more subjects but to provide students with a holistic overview of several arts and science disciplines by teaching their history, ethical dimensions and assessment of quantitative and qualitative evidence to engage in an informed way with issues and problems. I believe our undergrad curriculum carefully designed in consultation with our Academic Council will stimulate students to learn the liberal arts and sciences from Western and Eastern perspectives, encourage curiosity and develop their critical-thinking skills. Our prime objective is to teach our students how to learn and mature into life-long learners," explains Mohapatra.
Thus in the first year of the SIAS undergrad programme, students read/study a common core skills programme which includes scientific and maths reasoning, data analytics, written and oral communication, introduction to literature and ethical reasoning. In the second year, they select an arts major (from economics, history, literature, political science, social studies and art) or science major (computer science, biological science, environmental studies, mathematics, physics, chemistry and psychology). In addition to their major, all undergrads study seven science and six humanities subjects and choose one of them as their minor. In the third year, they focus on their major and minor and research and write their Capstone thesis, i.e, dissertation. Moreover, after completion of the three-year BA (Hons) or B.Sc (Hons) study programme, graduates have the option to continue an additional fourth year of advanced studies.
"My expectation of a SIAS graduate is that she will have deep knowledge of her major, a well-informed, flexible mind, multidisciplinary problem-solving skills supported by the virtues of empathy and ethical values. She will be invested with the knowledge and life skills to contribute to the betterment of society," adds Mohapatra.
To enable SIAS undergrads to fulfil these great expectations, the KU management has pulled out all the stops to fashion a conducive environment in this wholly residential university's campus situated in the somewhat remote special economic zone carved out in rural Andhra Pradesh. Although Sri City spread over 10,000 well-maintained acres of the Chittoor district also houses the manufacturing and warehousing facilities of over 200 blue-chip multinational corporates including Mondelez (formerly Cadbury), the Taiwan-based Foxconn, Colgate Palmolive, Alstom (France) among others, Krea University is somewhat isolated academically with IIIT, Sri City being the only other academic institution in the neighbourhood.
Therefore, great pains have been taken to ensure that the KU campus spread over 40 acres with a 3.44 lakh sq.ft built-up area comprising the main academic block, dining hall and recreation centre, and three halls of residence plus a faculty and guests block are well-furbished and provide a hospitable learning environment supported by the spacious HT Parekh Library housing 42,000 volumes with 48 journal subscriptions.
Sports facilities include floodlit football, cricket and futsal (seven-a-side football) grounds, indoor badminton and volleyball courts. Co-curricular education is provided by 18 student clubs for music, dance, painting and art and an inter-varsity outreach programme. Moreover, sexually segregated halls of residence provide air-conditioned twin sharing well-furnished rooms with separate
Krea student voices
Aman Sharma, commerce grad of Barkatullah University, Bhopal, second year finance student at IFMR-Graduate School of Business and president Students Council. "Excellent mix of subjects. Students Council supervises 18 clubs. Lively social scene. I also played basketball for the India Under-19." Placed with Societe Generale Bank.
Sumeet Pandey, commerce graduate, Agra University, second year finance at IFMR-GSB. "Great mix of students from across the country. Wonderful to study in a green belt zone with zero carbon emissions. I also head the Model United Nations Club." Placed with J.P Morgan Chase.
Swati Duggal, commerce grad, Panjab University, first year at IFMR-GSB. "Nationally reputed B-school with enabling and accessible faculty, diverse but cohesive students body."
Vishaka Rustogi, commerce grad, Calcutta University, first year at IFMR-GSB. "Much better B-school than I expected with superior residential accommodation. Excellent faculty keeps us busy with challenging assignments. Liberal campus environment with numerous social activities and cultural events."
Arnav Jalan, alumnus of B.D. Somani International School, Mumbai, first year student, School for Interwoven Arts & Sciences (SIAS). "Life at Krea is happening and very inclusive. I never imagined I would have the opportunity to learn jazz and sing acapella. Very welcoming institution with motivating peers. I'm learning something new every day!"
Subhadeep Chakravarty, mechanical engineering graduate of UEM, Jaipur, first year at IFMR-GSB. "Great two weeks induction programme helped us settle in smoothly. Excellent and accessible faculty."
Svetya Nair, alumna of Camford International School, Tamil Nadu, first year student at SIAS. "By extraordinary chance I discovered KU, the type of university I was looking for. I am proud to be in the founding batch. After a trimester and half, I am certain and happy I made the right choice."
"Satisfactory first steps of long journey"
Dilip Thakore interviewed Dr. Sunder Ramaswamy, the erudite and purpose-driven founder vice chancellor of the greenfield Krea University, in his office. Excerpts:
What is the history behind the promotion and establishment of Krea University?
Despite the many changes in the economy and society over the decades, curriculums in higher education are structured as when I was a student in India decades ago.
Against this backdrop, a few years ago, I met Chennai-based entrepreneur Kapil Viswanathan, who expressed interest in bringing like-minded individuals to establish a globally benchmarked liberal arts university which would 'reimagine learning' and prepare students for the rapidly changing, dynamically diverse, and interconnected world. At that time I also met Narayanan Vaghul, former chairman of ICICI Bank, among others. In fact it was Mr. Vaghul, enthused by our dreams for Krea University, who proposed that the well-respected Chennai-based Institute for Financial Management and Research (IFMR, estb.1970) of which he was the chairman, could become the sponsoring body of Krea University.
IFMR had recently moved to a new 40-acre campus in Sri City, Andhra Pradesh. We enthusiastically accepted this suggestion which gave Krea University a quick start and attracted stellar academics and industry leaders who now serve on the governance board and academic council of Krea.
What are the major institutional objectives of Krea University?
In Sanskrit, the word kriya translates into 'action'. Drawing on that, we have conceptualised Krea University as an institution of higher learning committed to creativity in action. In addition to our two schools — SIAS (School of Interwoven Arts and Sciences) and IFMR-GSB (IFMR-Graduate School of Business) — we have also established cutting-edge social science research centres in Delhi and Chennai under the auspices of IFMR, which are researching issues of national importance such as poverty alleviation, financial inclusion, women's empowerment and small business. We intend to continue to build on our collective philanthropy model, attract the best talent and invest in innovation and quality while maintaining high ethical standards.
How satisfied are you with the progress and development of Krea University?
I am fairly satisfied. A vision without resources is hallucination. Therefore since Krea was inaugurated in November 2018, we have designed a unique two-stage, comprehensive merit-based admission process that assesses SIAS applicants on more than just class XII exam scores. Moreover nearly 50 percent of our undergraduates are on varying — including full — scholarships. I am also very pleased about our success in recruiting over 50 faculty and scholars with advanced degrees from the best Indian and foreign universities across a range of disciplines for SIAS and IFMR-GSB. Thus far, this ambitious project has lived up to our expectations and goals, but I am fully cognizant that we have taken the first steps of a journey of many miles.
The USP of Krea University is its 'interwoven' arts & science undergrad programme. What are its distinctive features?
We believe our philosophy of interwoven learning — teaching, learning, research, and life — will prepare students for the testing challenges that will inevitably confront them in the rapidly changing global environment. They will have to negotiate relationships with people, machines and nature in ways that will transform the world. Krea will develop learners to think, reflect, communicate, create, collaborate, and take purposive action in a host of different contexts and challenging situations. This liberal approach to curriculum development is also applicable to our IFMR-GSB.
How satisfied are you with the KR Committee's draft NEP 2019 recommendations for higher education?
The draft NEP 2019 is well-written and makes long overdue recommendations for the reform of higher education in India. Under the existing system, students prematurely slot themselves into arts, science, and commerce silos in higher secondary school and undergrad education.
This is not advisable given that we know that they will not only change five to six jobs but also perhaps as many careers. Therefore, the draft NEP by focusing on a liberal approach to curricular development, research, choice-based electives and strong industry-university connect is the right prescription for India in its current stage of socio-economic development.
There's considerable civil strife & student unrest in India currently. How optimistic are you that India can close the gap between China and the West in higher education?
Successive governments at the Centre and in the states of post-independence India made the grievous error of under-investing in education and human capital development. The current unrest and frustration within the student community is to a great extent the outcome of low per capita investment in education during the past several decades.
Moreover not enough jobs are being created in the economy. Unemployed and unemployable educated youths is a combustible combination in a fragile democracy like ours. There's urgent national need for substantially higher investment in education at all levels to develop the nation's abundant human capital study desks and clothes cupboard and exceptionally, all rooms have attached bathrooms and toilets (Ashoka and Jindal Global universities provide community bathrooms). Students' interaction rules and dress codes are liberal, but this new genre varsity prescribes an elaborate anti-sexual harassment code published on its website, which is recommended to all high schools and institutions of higher learning as a model.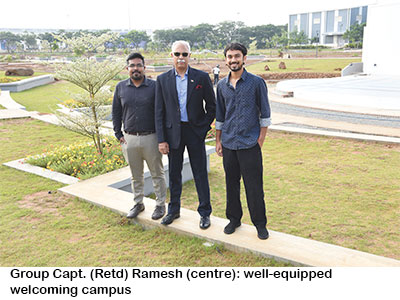 "Although we are continuously improving the present campus in which the management has already invested Rs.30 crore towards furbishing and infrastructure improvement, a new second campus is under construction on a 100-acre site 5 km from here. Meanwhile, I am fairly satisfied that we have built a well-equipped welcoming campus for our 499 undergrad and IFMR students. Right from the start, we have adopted a culture fully responsive to the infrastructure, living and dining improvement suggestions of our elected Students Council. Our undergraduate students — some of them minors away from home for the first time — are well settled and we have professional counsellors to advise them if they have psychological or emotional adjustment problems. Obviously, our high schools outreach programme which details the excellent academic programmes and residential accommodation Krea University offers has been very successful. Our first batch of 113 undergrad students chosen from 13,000 admission applicants comprises students from 22 states of India and one from Nepal," says Group Captain (Retd) P. Ramesh, an alumnus of Lucknow University and the Indian Air Force (IAF) Academy, Hyderabad who served with the IAF for 28 years (1988-2016), and is KU's CAO (chief admin officer) who runs the spick-n-span KU campus with clockwork precision.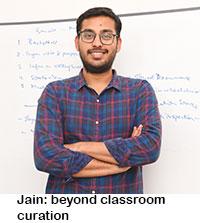 The high priority accorded to engineering a conducive learning and personality development environment within the co-ed residential university is also evidenced by the appointment of Akshay Jain, an economics and international education alum of the National University of Singapore and Harvard University, as the full-time associate director of students life. "There's absolute unanimity within our faculty that there's more to education than academic achievement. Therefore in Krea University, we are committed to curating students' beyond classroom experiences and developing their life skills. The first batch of SIAS students have an onerous responsibility to build a strong tradition of participation in governance of this unique university. Therefore, we have strongly encouraged them to hold town hall meetings, convene a constituent assembly and draft a students governance constitution. Moreover, they have established 18 clubs and societies, organise inter-mural and inter-institutional sports tournaments and have started a voluntary outreach social programme to provide education and surplus food distribution services to neighbouring village communities. These activities are an integral part of our interwoven curriculum and enable students to develop valuable skills such as teamwork, communications and art of negotiation," says Jain.
With both its schools having successfully coalesced, Krea University seems to have navigated its way into smooth waters in record time. Therefore vice chancellor Sunder Ramaswamy foresees clear weather and wide blue horizons for peninsular India's first blue-blooded liberal arts university.
"The magnanimity of our trustees/shareholders — some of the most respected leaders of Indian industry — has ensured that we have a substantial corpus. Nevertheless, we intend to be careful about not pushing too hard and matching our people resources with the goals we set for Krea. In the contemporary world, there are only 82 operational institutions which are more than 500 years old. Of them, 71 are universities such as Oxford and Cambridge which have withstood cataclysmic changes in the national and global world order. Krea University is being built and nurtured to contribute to national and global development for the next 500 years," says Ramaswamy.
While only time will tell whether the long-term vision and goals of this pioneer liberal arts university will come to fruition in the fullness of time, judging by the clamour for admission into its two schools, Krea University is set to change South India's higher education landscape — hitherto renowned for its institutions of professional education — in the near future.