Category: Education Integrated Services
Sodexo is a French multinational corporation in the business of food services and facilities management with 420,000 employees and presence in 64 countries with revenues of ∈ 9.3 billion & serving 100 million consumers each day.
Sodexo Onsite Services in India serving 60 schools & universities, has completed more than two decades of comprehensive progress to provide 100+ different professional services including student dining, hi-street campus food retail, housekeeping solutions, technical engineering, building maintenance, & much more. Sodexo is also the first IFM organisation to initiate services for the fast growing student housing segment in India.
Sodexo India Leader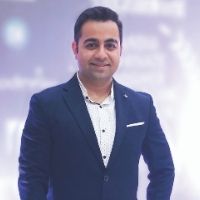 Nitin Trikha
Country Segment Director, Education
An Institute of Hotel Management graduate & Delhi University alumnus, Nitin Trikha is Country Segment Director-Education, Sodexo India, since 2015. With 2 decades of experience in IT & Hospitality sector, Nitin is responsible for leading the growth & deployment of Sodexo's mission of improving quality of life across education campuses in India.
Parameters
Innovation
Embracing new ways to operate and care, EduCARE is a highly process-driven scientific & innovative solution to restart & ensure continuity of campus life:
EduCARE is backed with global expertise of supporting varied businesses through pandemic & fully compliant with MOHFW, India guidelines.
360° solution covering all aspects of campus safety, hygiene & related protocols from entry to exit.
Deploying Sodexo SOPs has helped organisations to gain highest safety rating from Bureau Veritas.
Tiffinease, a nutritious hygienically packed meal solution which helps in maintaining social distancing on campus.
Impact assessment
EduCARE supports education campuses with 3Ps: Preparation, Precaution and Prevention.
Preparation – Helps to formulate protocols and implement solutions for Preventive Preopening Disinfection, heightened hygiene and wellness, for regularly maintaining the entire campus and facilities.
Precaution – Restart offline classes safely, through critically assessing & implementing changes across physical infrastructure, staffing, transportation, food services, health and behavioural policies, etc.
Prevention – Preventing exposure on the campuses by supporting & enforcing protocols such as staggered cafeteria timings, blending in-cafeteria dinning & packed meal solutions to encourage social distancing for flexible & evolving operations.
Concept Ideation
EduCARE has been backed by following pillars of support:
The Sodexo Medical Advisory Council — an expert body from the areas of infection prevention, epidemiology and clinical operations, ensuring rapid adoption of best practices that are in line with the India centric requirements to operate educational campuses.
New Cleaning Technologies — Integrated enhanced technologies with highest classification of disinfectants recommended by the CDC and WHO for sanitisation & disinfection of the campuses.
Cleaning Regimen Changes — A systematic & comprehensive approach designed to set an even higher standard of cleanliness protocols, prioritising safety, wellbeing and learning productivity.
Technical/training support
Over 4,000-strong on-site support team employed for schools & universities in India with expertise to deliver 100+ services.
Extensively trained & well informed staff with updated COVID-19 SOPs & protocols.
All site managers are FOSTAC (food safety training & certification) certified from FSSAI.
Thorough background checks of all employees and mandatory familiarisation with POCSO Act, 2012.
Customer Satisfaction
"We are working with the leadership team of Sodexo to build safe & trusted environments by deploying EduCARE to bring back normalcy & reopen our campuses with confidence. We are also sharing details with our parents community & inviting them to our facilities to see how we are operating the campus in the new era. We are very confident that with the structure & processes offered by Sodexo in compliance with government guidelines, we can built a very trusted & safe learning environment for students." — Vishal Chenraj, Director of Jain Group of Institutions.
"One step ahead! Not just Corona, we are getting future-ready. I had a detailed meeting with our facility management partners Sodexo, who are the world's leading facility management company, about the impact of COVID-19 on schools' functioning. Sodexo has recently worked on reopening of schools in China, Hong Kong and other countries, now closely working with the Academy School in planning 360 degree standard operating procedures to ensure complete safety of our TAS family." — Dr. Maithili Tambe Patil, CEO, The Academy School, Pune.
Product quality
Products and services driven by a global charter on health, wellness and safety.
Highly mechanised facility management solution for effective and efficient cleaning with high ROI.
Customised meals to meet students' specific dietary and nutrition requirements.
Best in-class hygiene and safety practices.
Design & build support for creation of specialised & flameless kitchens.
Value for money
Sodexo has the ability to provide bespoke solutions at highly competitive local market aligned prices incorporating global best practices from learnings across 5000+ education campuses worldwide.
We deliver services with highest standard of compliances to the statutory government norms.
Legacy Sodexo brand value adds tremendous impetus to associated education campuses, as our services are highly client & consumer-centric.
Contact details
www.sodexo.in
[email protected]
+91 9886500142
Also read: Life Educare | EWIER 2020 Series