Fascinated by the world of computers, Isha Dhumal, a third-year student at Dr. Vishwanath Karad's MIT – World Peace University (MIT-WPU), Pune, is pursuing her degree in computer science engineering.
While the lockdown-induced closures didn't allow her the opportunity to showcase her other skills at college, "It taught me to work with the available resources at hand," says the classical dancer and Krav Maga (Israeli martial art) enthusiast.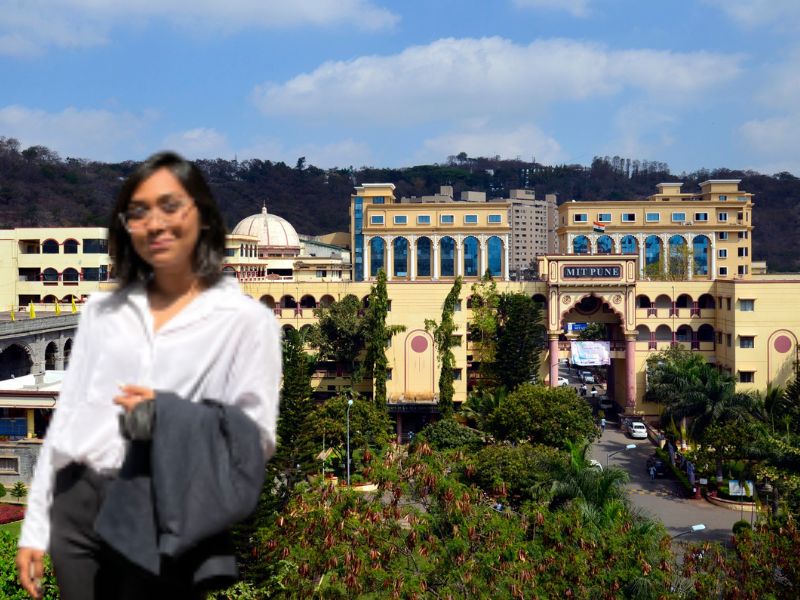 What has been the general mood amongst students regarding attending offline classes and a possible re-shutting of institutions amidst the recent surge in COVID cases?
COVID-19 has been hard on everybody but once the government of Maharashtra decided to open colleges and start offline classes, my peers were overjoyed as they would be meeting the faculty and the other students face-to-face after such a long time. However, there was some anxiety too about getting out of one's comfort zone after two years of the pandemic. While the possibility of closures is obviously disappointing, we students understand why that is needed. We are responsible and understand that staying at home and following all the social distancing protocols is necessary to fight rising cases of COVID and stop its spread.
Do you think online administering of your duty as a student council representative restricted your scope of the work during the COVID pandemic as against the work being done during pre-COVID times?
Administering my duty online was a difficult task for sure, but it did not in any way hinder my ability to complete the tasks before me. While the scope of work during COVID was impacted, it was during these unprecedented times that we learned to work around things. We learned to keep moving forward and complete the things at hand.
Given the disruptions due to the lockdowns, do you think students are ready for offline exams?
Thanks to our faculty who planned our online class and learning schedules, we faced minimal disruption per se. Everything was carried out smoothly without hassle. With regards to offline exams, the thought was daunting at first because everybody had gotten used to the online exams from the comfort of their homes but it is not so any more. Returning to offline college and getting back to doing all the pre-COVID activities has helped assuage our worries about writing offline exams.
How according to you could your institution bridge the learning gap caused by the closures?
The sudden closure of schools and colleges has definitely resulted in certain gaps but we quickly adapted to the online teaching and learning platforms were able to minimise the learning gap.
MIT-WPU has a mentoring system wherein a specifically assigned mentor is responsible for four students. The weekly meeting with our mentors allowed us to discuss our problems with regards to learning online, exam stress, etc. This has helped us work our way through the closures.
What do you remember of the two years of the pandemic (March 2020)? What changes did you and your friends have to incorporate to continue studying during the pandemic?
These two years have been difficult both mentally as well as physically. I remember getting anxious when the media reports about COVID cases in China appeared. I started wearing a mask in January itself even though my friends thought I was worrying unnecessarily.
Before COVID, my friends and I used to spent time in the library or in the gardens to revise the lessons taught during the day. However, technology sure got our back during that difficult time.
How were your practical classes (lab sessions) managed during the pandemic?
Most of our lab sessions needed nothing more than our system. The little bit of hardware required was taken care of by the online simulators that were made available to us.
Did you have to deal with last-minute changes in exam patterns, evaluation criteria etc. that most students had to suffer?
At MIT-WPU, there were no last-minute changes in the exam patterns. We were always informed about any changes that were to take place, well in advance.
Do you think the state and central government did enough to support education and children during the pandemic?
The pandemic was new for us all, including the state and the central governments. Adapting to these new changes in the world has been difficult for all. Personally, I feel the government could have given a little more resources to support education during the pandemic. Some schools were completely non-functioning, which should have been looked into. Facilities should have been made available to ensure uninterrupted education for underprivileged children who could not attend online schools.
Did you miss out on knowing the latest career advancement options or higher education prospects in the absence of personal interaction with your teachers?
Our institute ensures we are always in the know about our career choices through research, competitions, or seminars to enlighten us. However, I would have loved to hear about the same from my teachers in person.
How are you preparing for competitive exams?
I devote an hour of my time every night to preparing for competitive exams. I also attended a three-month online course for the same. It has been a little difficult to manage regular studies with my exam preparations, but in today's competitive world it is important to remain upskilled and on your toes.
Have you understood the National Education Policy 2020's takeaways? What is your opinion about it?
I have read a gist of the NEP-2020 and according to me one of the major changes implemented is the reformation of the pedagogical structure- no separation between the major streams and transdisciplinary education being encouraged. I think this is a great advancement because we can now study according to our liking. Another important reform is the availability of the multiple exit options. I know of friends who regret choosing a specific major but continue studying because they have spent so much time studying it.
Also Read: Students Corner: Mugdha Thanawala, Symbiosis Institute of Technology