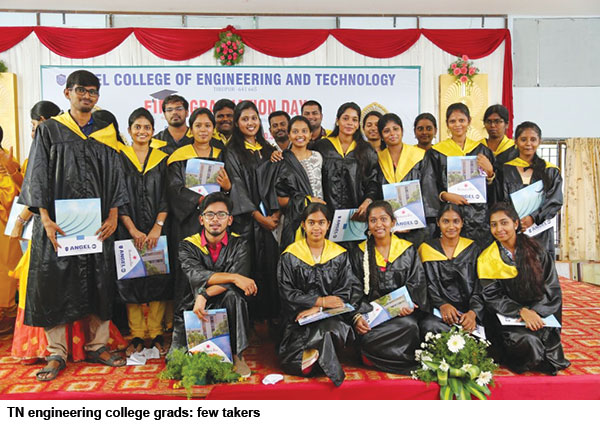 Rising disenchantment with engineering qualifications has prompted a surge in demand for admission into arts, science and commerce study programmes in Tamil Nadu's 634 arts, science and commerce colleges affiliated with nine universities across the state.
This year's admission season (May-July) witnessed a huge rush of applicants for undergraduate commerce, computer science, mathematics, English, physics, chemistry and visual communications (in that order) study programmes. Responding to this rush, on August 15, the state's AIADMK government increased capacity in 45 government arts and science colleges by 4,500 seats and extended the admission process to August 31. It also sanctioned 69 new undergrad and 12 postgrad courses in arts, science and commerce (ASC) colleges.
Monitors of the higher education system connect the surge in demand for ASC courses with the steeply falling demand for engineering degree programmes. At the close of the admission season for the academic year 2019-20, there were no takers for 52 percent of the government quota of 167,652 engineering seats in 527 engineering colleges statewide. Only six of the 16 engineering colleges of Chennai's premier Anna University were able to fill 90 percent-plus of their intake capacity. Only the Top 100 private engineering colleges have filled their government and management quota seats.
"The major attraction of engineering education all these years was that it guaranteed decent employment at good salaries. However, the slowdown of the IT industry especially during the past seven years, has punctured this dream. The prohibitive cost of engineering education combined with poor job prospects has driven school-leavers to arts, science and commerce colleges which charge a third of engineering tuition fees and prepare students for careers in diverse fields including banking, civil services and other government jobs," says Dr. Ajeet Kumar Lal Mohan, secretary of the Association of Self-financing Arts, Science and Management Colleges of Tamil Nadu.
With falling enrolment and poor admission intake threatening the survival of dozens of Tamil Nadu's 497 private engineering colleges, the Delhi-based All India Council for Technical Education (AICTE) — the apex regulatory body for licensing technical education institutions countrywide — has permitted private engineering colleges to introduce ASC programmes from the academic year 2020-21. However, permission is conditional upon their fulfilling AICTE's faculty and infrastructure norms and obtaining approvals from the state government and affiliating universities.
But academics in engineering and ASC colleges are vehemently opposed to this arrangement. They argue that it was AICTE which recklessly licensed private engineering colleges in Tamil Nadu for over a decade, causing a demand-supply disequilibrium crisis in engineering education. "Engineering colleges that cannot attract a sufficient number of students, should give up their affiliation with Anna University and transform into ASC colleges, instead of being allowed to run both disciplines concurrently. The proposed arrangement will lead to misuse of resources and fraudulent practices. Engineering colleges which have failed to provide quality education to students should not be allowed to offer ASC programmes and churn out equally sub-standard ASC graduates. Moreover, since most engineering colleges have invested heavily in infrastructure, their managements will levy exorbitant tuition fees for ASC programmes," warns Arul Aram, president of the Tamil Nadu Federation of University Faculty Associations.
However, spokespersons of engineering colleges are quick to point out that IIT-Madras has been offering arts, science and humanities degree programmes for several decades. "The draft National Education Policy 2019 report of the Kasturirangan Committee has proposed that all higher education institutions should transform into multi-disciplinary universities. AICTE's proposal to permit engineering colleges to offer arts, science and commerce programmes should be welcomed as a step in this direction," says the director of a Coimbatore engineering college who preferred to remain anonymous.
There is some merit in this argument. With large installed capacities of Tamil Nadu's capital intensive engineering colleges lying unutilised, AICTE's conditional proposal to permit them to introduce ASC programmes is a better option than expanding capacity and over-crowding existing ASC colleges. Whether such multidisciplinary institutions will succeed or not and the tuition fees they levy should be left to the market to decide. In the new era of liberalisation and deregulation, mollycoddling of institutions and adult students is best avoided.
Hemalatha Raghupathi (Chennai)