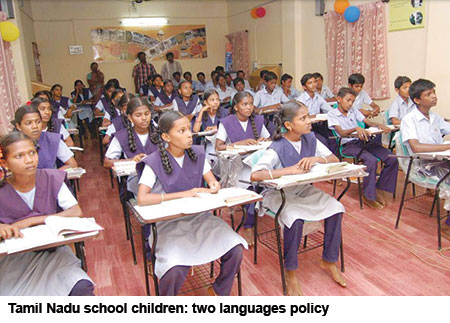 The draft national education Policy (NEP) 2019 released by the Union ministry of human resource development in New Delhi on May 30 — a week after the BJP-led NDA coalition was returned to power at the Centre with a thumping majority — has stirred up a major controversy in Tamil Nadu (pop.72 million) for recommending resurrection of the long-buried three language formula (TLF) in schools.
The TLF makes Hindi a compulsory language in non-Hindi speaking states. Following loud protests from all political parties in Tamil Nadu, the nine-member drafting committee chaired by Dr. K. Kasturirangan, former chairman of ISRO (Indian Space Research Organisation), hastily revised this contentious proposal and allowed students flexibility in choice of languages under TLF.
However, this revision which eliminates compulsory learning of Hindi has failed to pacify political parties in Tamil Nadu as the state has been adhering to a two-language policy (Tamil and English) since 1968. They believe that under TLF students will have no option but to choose Hindi as the third language because of lack of qualified teachers in other languages. "You are attempting to throw a stone at a beehive called the two-language policy by trying to impose the three-language formula. The result can only prove disastrous as Tamil youth will respond appropriately," warned M.K. Stalin, president of the opposition DMK party who alleges that the BJP/NDA government at the Centre is trying to sneak in Hindi disguised as a recommendation of the KR Committee.
Curiously, the KR Committee comprising eminent academics seemed to be unaware that Tamil Nadu has a long history of anti-Hindi protests. There's virtual unanimity among political leaders in the state that adoption of Hindi as the national language will place Tamils and South Indians, who have their own rich languages, at a disadvantage in bagging Central government and public sector jobs.
Therefore, TN's anti-Hindi agitations began in 1937 and acquired momentum immediately after independence when Periyar E.V. Ramaswamy opposed initiatives of the Congress government at the Centre to make Hindi compulsory in schools from the academic year 1948-49. Continuous efforts by Congress governments dominated by north Indian politicians to make Hindi the national language after 1965 as mandated by the Constitution were also fiercely resisted by Tamil Nadu and other southern states.
Consequently, in 1963 the Central government led by prime minister Jawaharlal Nehru enacted the Official Languages Act, 1963, to ensure continued use of English as an associate national language beyond 1965. However, widespread apprehension that Nehru's pledge would not be honoured after his death in 1964, prompted rioting by students in 1965 in Madurai which spread all over Tamil Nadu and continued unabated for two months, subsiding only after prime minister Lal Bahadur Shastri announced in Parliament that English would continue to be indefinitely used as the associate official language of India.
Nevertheless, the anti-Hindi agitation of the mid-sixties completely transformed Tamil Nadu politics with the sub-nationalist Dravida Munnetra Kazhagam (DMK) trouncing the ruling Congress party in the legislative assembly election of 1967. Since then, the Congress has never been voted to power in Tamil Nadu.
Moreover, in 1968 the obligation of school-going children to learn three languages was eliminated from the syllabus of schools affiliated with the Tamil Nadu State Board of Secondary Education (TNSBSE) and children are obliged to learn only two languages — English and Tamil. Additionally to guard against the incursion of Hindi and protect the state's distinct Tamil identity, in 2006, the DMK government enacted the Tamil Nadu Tamil Learning Act, 2006 which made Tamil the compulsory first language in the state's 52,303 government and 10,000 unaided private matriculation schools affiliated with the TNSBSE.
However, despite Tamil Nadu's avowed two-languages policy, Hindi is compulsory in the state's 565 CBSE-affiliated schools and in 42 Kendriya Vidyalaya schools promoted for children of transferable Central government employees. It is also being taught as a third language in several private matriculation schools affiliated with TNSBSE. "We offer Hindi as a third language because we want students to learn an extra language and believe it will be beneficial to those who pursue higher education or work outside the state. It will also help in communicating with Hindi speaking citizens living in Tamil Nadu," says R. Visalakshi, president of the Tamil Nadu Matriculation Schools' Association. Moreover, since there's no official opposition to voluntary learning of Hindi, over the past 10 years more than 2 million students have signed up with the Dakshina Bharat Hindi Prachar Sabha (estb.1918) in Chennai to write its Hindi language exams.
Academics in Chennai tend to dismiss the latest TLF row as much ado about nothing — the TLF adopted in 1968 and reiterated in National Policy on Education 1986, 1992 and National Curriculum Framework, 2005, has never been uniformly implemented in the country. Some southern states exclude Hindi and most Hindi-speaking states ignore languages of peninsular India in their state curriculums. "Resurrecting TLF in the draft NEP 2019 was a careless error. The committee should have known it would arouse a huge outcry in Tamil Nadu and neighbouring states. The two language formula is working perfectly well in Tamil Nadu. The KR Committee should have let sleeping dogs lie," says a senior educationist, speaking on condition of anonymity.
Hemalatha Raghupathi (Chennai)