"Taurian World School's vision is to become a globally respected scholastic institution by providing holistic education and focusing on Overall Development. We wish to bequeath two things to our children; the first one is roots, the other one is wings." – Amith Bajla, Founder-Chairman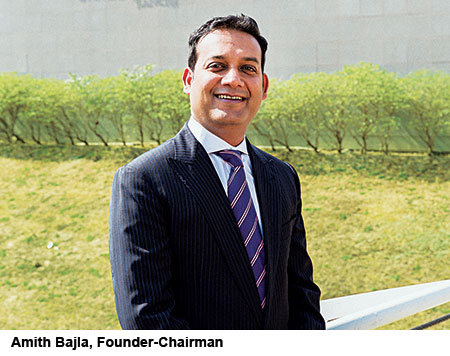 Since it admitted its first batch of 56 students in 2008, The Taurian World School (TWS) has set new benchmarks in school education in the educationally backward state of Jharkhand (pop.33 million).
Affiliated with the Delhi-based Central Board of Secondary Education (CBSE), TWS has quickly risen in public esteem to be ranked Jharkhand's #1 co-ed boarding school for the eighth consecutive year in the EducationWorld India School Rankings 2018. Conceptualised and promoted by Amith Bajla, an international business law postgraduate of the London School of Economics, the school provides its 400 boy and girl students international pedagogies blended with latest digital technologies and high quality co-curricular education on a nature friendly, ultra-modern 64-acre campus in Ranchi, the state's administrative capital.
The school's green, pollution-free campus designed by the globally-acclaimed Studio Arcohm, Delhi, with a built-up area of 400,000 sq. ft includes 30 ICT-enabled classrooms, four science laboratories, a 5,600 sq. ft library housing 14,000-plus volumes, separate hostels for boys and girls, 30 acres of playing fields, 5,000-seat amphitheatre, a 15-plus bed infirmary and ambulance service, 12-acre organic farm, dairy with 55 cattle and 15-plus horses and stables. The distinctive academic architecture and landscaping of TWS has been featured in several internationally reputed architecture publications.
The TWS trustees are fully committed to the holistic development of students. The school offers excellent sports facilities including international standard grounds for field games — cricket, football – and lawn tennis and badminton courts, besides equestrian instruction and training, and archery. Indoor games facilities include table tennis, pool, chess, squash, badminton and board games.
Moreover as a member of British Council's Generation UK-India initiative, TWS has faculty exchange agreements with top-ranked private schools in Ivory Coast, Egypt, Ukraine, Indonesia, Italy, Tunisia, Russia and the UK.
Further information: www.tws.edu.in / [email protected], [email protected]