Disappointed with the poor quality of K-12 education provided to children in small town India, in 2010 IIT-Kharagpur and IIM-Ahmedabad alum Arghya Banerjee promoted a model greenfield school named The Levelfield School, in the tier-III town of Suri, West Bengal – Baishali Mukherjee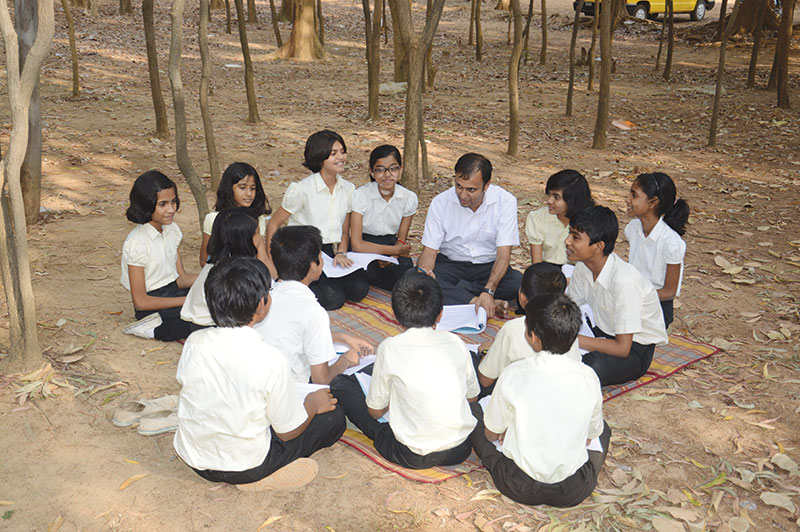 Sited in Suri (pop. 67,864), a small tier-III town 200 km from the bustling megapolis of Kolkata, The Levelfield School, Suri (TLS, estb. 2010) is a promising young K-12 co-ed day school affiliated with the UK-based Cambridge Assessment International Education (CAIE) board. Promoted eight years ago by Arghya Banerjee, an IIT-Kharagpur and IIM-Ahmedabad alum, within a short span of time The Levelfield School, Suri has won encomiums for providing internationally benchmarked, child-centric, stress-free education to its 480 students mentored by ten teachers.
A role model greenfield K-12 school for small-town India, The Levelfield School, Suri has been conferred the Sankalp Award (2011) of Intellecap — the advisory division of the Aavishkaar-Intellecap Group, which funds social enterprises in Asia and Africa — for being "the most innovative social enterprise" and was ranked among the Top 50 social businesses by Outlook magazine in 2012.
A strong believer in the transformative power of high-quality K-12 education, Banerjee forsook a promising career with Irevna Pvt. Ltd — an equity research company promoted by New York-based Standard and Poor's Financial Services LLC — and sited his model school in Suri because he believes "children in small towns have the same potential and ability to shine, but want for opportunity". Hence, the name of the school. Moreover, while working as CEO of Irevna, Banerjee was disappointed with the quality of job applicants, forcing the company to invest time in teaching them logical thinking, succinct writing, and effective communication skills — competencies they should have learnt in school. Therefore in 2008, he resigned from his office in Irevna and promoted The Levelfield School, Suri by investing his life savings in the new venture.
"As indicated by its name, The Levelfield School is committed to providing a level playing field to children of small towns vis-a-vis their metropolitan counterparts. In Levelfield, we have completely rejected the rote learning examination-oriented system. We are strongly focused on developing love of reading, logical thinking and social awareness of our children. To this end, we harness the power of unconventional learning media: classic literature, insightful non-fiction, great movies, puzzles and board games to help children learn experientially and develop into lifelong learners," says Banerjee.
To implement this alternative pedagogy Banerjee has designed innovative teaching materials. For instance, the school has created its own library of reading material by simplifying classics such as The Prince and the Pauper and Gulliver's Travels. The school's curriculum mandates that every child reads 1,500 pages per year from TLS' 3,000-volume library.
Similarly, critical thinking skills are nurtured through Japanese puzzles such as Nonogram and Shikaku, and social awareness through cinema, documentaries and literature. Moreover, the school has digitised its print books to make them accessible through web browsers and Android/iOS apps. Currently, 12 The Levelfield School teaching-learning apps are available on Google Playstore.
Unsurprisingly, the school's concerted efforts towards developing children's higher order thinking skills through experiential pedagogies has paid off handsomely by way of boosting students' learning outcomes. The first batch of TLS students who wrote CAIE's class X IGCSE exam in June 2018 has fared brilliantly with 76 percent of students scoring A or A* grades. Moreover in October 2018, five class XI students who wrote the SAT (Scholastic Assessment Test) for admission into US universities, scored 1500+ (out of a max 1,600) — a score that qualifies them for admission into America's Top 50 universities.
Another distinguishing feature of The Levelfield School, Suri is its sharp focus on teacher training and development. However, the management has made a conscious decision not to recruit teachers with the B.Ed qualification. "We prefer fresh graduates/postgrads with open minds who are not trained in the culture of memorisation. All our lesson plans are meticulously designed and teachers are intensively trained to integrate debates, discussions and role play into the curriculum," says Banerjee.
Built on a compact green, 2.4-acre wi-fi-enabled campus with a built-up area of 40,000 sq. ft, The Levelfield School, Suri combines earth architecture-based ashram principles with state-of-the-art learning infrastructure. Six of the school's 14 classrooms are cottage-style, and blend with the local rural ambience. However, every classroom is air-conditioned and fitted with a projector, white board and laptop. Other academic facilities include three science and two computer labs and three 100-seat lecture halls. Sports education is integral to the curriculum with the school providing three badminton and a tennis court, cricket/football ground, and numerous indoor games.
With The Levelfield School, Suri having quickly established itself as an innovative alternative school committed to delivering contemporary, affordable (Rs.4,200 per month) schooling to children living in small town West Bengal, Banerjee has made it his mission to propagate the school's affordable, child-centric education philosophy across the country. "India needs to switch from the assembly-line education system to flexible, experiential curriculums which develop students' critical thinking and problem-solving skills. Over the next year, we plan to market our Android and iOS learning apps including our Delta graded reading programme to schools and parents worldwide. My request to school principals is to jettison the rote learning system and adopt our tried and tested pedagogies to prepare children for 21st century workplaces," says Banerjee.
ADMISSION & FEES
The Levelfield School, Suri is a co-ed K-12 day school affiliated with the Cambridge Assessment International Education (UK) board. Application forms for admission into kindergarten are issued in mid-November.
Tuition fee: Rs.4,200 per month
For further information, contact The Levelfield School, Suri. Tel: +91 9083597136; e-mail: [email protected]