A publicly-funded university, University of British Columbia, Canada boasts three former prime ministers of Canada, incumbent PM Justin Trudeau, 71 Rhodes scholars, 256 Royal Society of Canada members and 65 Olympic Games medal winners among its alumni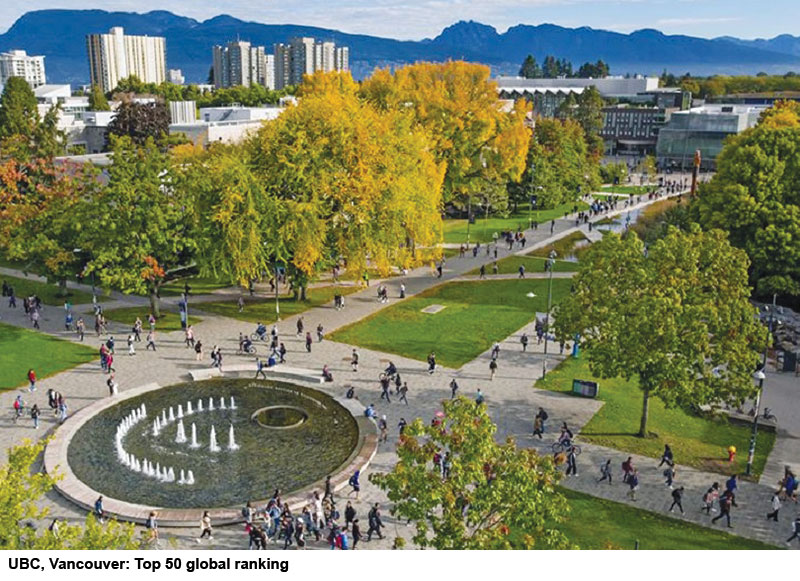 Spread across two campuses — Vancouver and Okanagan Valley — in Canada, the University of British Columbia, Canada (UBC, estb. 1915) is consistently ranked among the world's Top 50 institutions of higher education. The London-based Times Higher Education (THE) ranks UBC #37 in its latest World University Rankings 2019, while in the Academic Ranking of World Universities of the Shanghai Jio Tong University, it's ranked #43.
A publicly-funded university, UBC (annual budget: $2.6 billion or Rs.13,579 crore) boasts a host of impressive alumni. Among them three former prime ministers of Canada, incumbent PM Justin Trudeau, 71 Rhodes scholars, 256 Royal Society of Canada members and 65 Olympic Games medal winners. UBC's eight faculties provide a wide range of undergraduate and postgrad programmes to its 65,012 students, including 16,188 international scholars from 156 countries, mentored by 16,089 faculty. The university's departments of life sciences (#26), clinical, pre-clinical and health (30), social sciences (29) and business and economics (25) are ranked among the Top 30 worldwide by THE/ QS.
Also a respected beehive of research and development, UBC (annual R&D budget: $658 million) has signed 1,109 agreements with government and non-profit organisations, and 1,375 research projects are being implemented with industry partners and 207 companies.
Vancouver. The most populous city (2 million) of British Columbia, Canada's western province, Vancouver is widely admired as one of the world's most scenic port cities and consistently ranked among the Top 5 cities worldwide for livability and quality of life. Also ranked #17 in the league table of the world's best student cities by QS rankings 2019, Vancouver hosts art galleries, theatres, a wide array of restaurants and sporting hubs (the city hosted the 2010 Winter Olympics and 2010 Winter Paralympics).
Vancouver has a moderate, oceanic climate. Protected by mountains and warmed by Pacific ocean currents, it's one of the warmest cities in Canada with temperatures in summer averaging 22°-14° C and 14°-8° C in winter. Vancouver also has a reputation for rain — it's the 9th rainiest urban habitation of Canada.
Campus facilities. A half-hour bus ride from downtown, UBC's 400-hectare Vancouver campus is surrounded by dense forest on three sides and ocean on the fourth. This century-old campus, which has experienced a $1.5 billion (Rs.10,329 crore) infrastructure upgrade in recent years, hosts state-of-art facilities for academic, sports and co-curricular education. Campus landmarks include Triumf, a world-renowned laboratory for subatomic physics; Museum of Anthropology, the country's largest teaching museum; the Chan Centre for Performing Arts; Beaty Biodiversity Museum, which houses Canada's largest blue whale skeleton; a world-class UBC Botanical Garden; Centre for Plant Research and Centre for Interactive Research in Sustainability. The Vancouver campus hosts 44,000 undergraduate and 10,000 postgraduate students.
UBC's Okanagan campus inaugurated in 2005, is purpose-built for the 21st century and also provides its 9,120 students contemporary classrooms, laboratories, sports, recreational and residential facilities. The UBC library is among Canada's largest academic libraries, housing 6 million volumes with 21 branches spread across both campuses.
Unsurprisingly, UBC has a rich tradition of sports education. Among its notable facilities are the UBC acquatic centre; boathouse for rowing; Doug Mitchell Thunderbird Sports Centre with three ice rinks; triple court gymnasium; fitness centre; one outdoor and eight indoor tennis courts; Thunderbird Park with two new FieldTurf soccer pitches; a mint new baseball stadium; an eight-lane 400 m synthetic polyurethane running track; four full-size Rugby pitches; artificial turf surface for field hockey; four indoor baseball batting cages; pitching area; HitTrax technology for baseball; Thunderbird Stadium, a 3,500-seats open-air, artificial turf stadium which hosts soccer, American football, and rugby matches.
The theatre and music scene in UBC is invariably buzzing with world-class student productions regularly staged at the university's Frederic Wood Theatre, Chan Centre for the Performing Arts, Dorothy Somerset Theatre, Roy Barnett Recital Hall and Old Auditorium and Okanagan's UBC Theatre. Moreover, there are over 370 student clubs on campus.
Admission. The minimum eligibility requirements for admission into UBC undergraduate programmes are an 85 percent-plus average in the class XII exam and overall score of 6.5 in IELTS, 90 in TOEFL or 75 percent in English in the class XII CBSE/ISC exams. However admission requirements vary according to subject disciplines. Applications should be submitted online together with a personal profile and non-refundable fee of CAD116.25 (Rs.6,071). Deadline for receiving applications is January 15.
For postgraduate admissions, minimum eligibility criteria vary in different faculties. Applications should be submitted online with a non-refundable fee of $168.25 together with transcripts of post-secondary exams, letters of reference, proof of English language proficiency, GRE (Graduate Record Examination) scores and statement of interest.
For further details, contact University of British Columbia, 2329 West Mall, Vancouver, BC Canada V6T 1Z4; Ph. 604 822 2211; e-mail: [email protected]; website: www.ubc.ca.
Accommodation. UBC provides on-campus housing for 9,000 students in 12 residences. Housing options include single/shared accommodation in mixed or single gender floors with Internet access, in-room bike hooks and meal plans. Private rental apartments are also available off-campus.
Degree programmes. UBC's eight faculties offer 62 undergraduate and 19 graduate programmes.
SCHOLASTIC OPTIONS AT UBC
The University of British Columbia offers a wide range of undergraduate, postgraduate and research programmes through its eight faculties, 18 schools and two colleges. They include:
Faculties. Applied science; arts; dentistry; education; forestry; land and food systems; medicine; pharmaceutical sciences; science; management; health and social development; creative and critical studies
Schools. Architecture and landscape architecture; audiology and speech sciences; Sauder School of Business; community and regional planning; extended learning; journalism; kinesiology; Peter A. Allard School of Law; library, archival and information studies; music; nursing; population and public health; social work; Vancouver School of Economics; engineering; Irving K Barber School of Arts and Sciences; Okanagan School of Education
Graduate and Postdoctoral Studies; College of Graduate Studies; UBC Vantage College
Tuition fee (annual): CAD 38,000-52,000
Housing (with meal plan): CAD 9,000-$13,300
NB: CAD = Rs.52
SRUTHY SUSAN ULLAS