Sited on a state-of-the-art three-acre campus in the upscale Gachibowli neighborhood of Hyderabad is the new-age Vista International School (VIS, estb. 2011). Promoted by Venkateswara Rao Vellanki (founder-cum-chairman) and Suresh Challa (founder-director), VIS, is driven by the mission statement "to achieve the highest academic standards by nurturing analytical and critical thinkers who are also compassionate and sensitive leaders of tomorrow."
Affiliated with the Central Board of Secondary Education (CBSE), New Delhi, Vista International School offers an optimal blend of academics, life skills, sports and co-curricular education. Also an IB candidate school, VIS is committed to providing its 1500 students holistic 21st century education that enables them to succeed in a rapidly changing world.
Unsurprisingly, the school is ranked among the top 5 international day schools in Hyderabad and Telangana in the latest EducationWorld India School Rankings 2022-23. Vista is also ranked #1 Design Thinking Leader in Hyderabad and Telangana and #4 countrywide in the EducationWorld Grand Jury India School Rankings 2022-23.
"In the present times, when 'quality education' has almost become synonymous with the phrase 'outrageously costly', the founding members of VIS understood the desire of hardworking parents. They wanted the best for their children. Yet, they had to make compromises to keep up with the cost of sending their children to a school providing quality education. For innumerable parents, sending their children to an 'International School' was a distant dream. Therefore, the management of Vista International School wished to become a beacon of hope for such parents and dedicated their resources and their capabilities to build an institution that would ensure the best quality of education at an affordable cost. Living up to the commitment, the school has, over the past decade, ensured that it not only achieves the goal set by its founders but also scales up to climb the ladder of success," says Mary Shanti Priya, principal of Vista International School.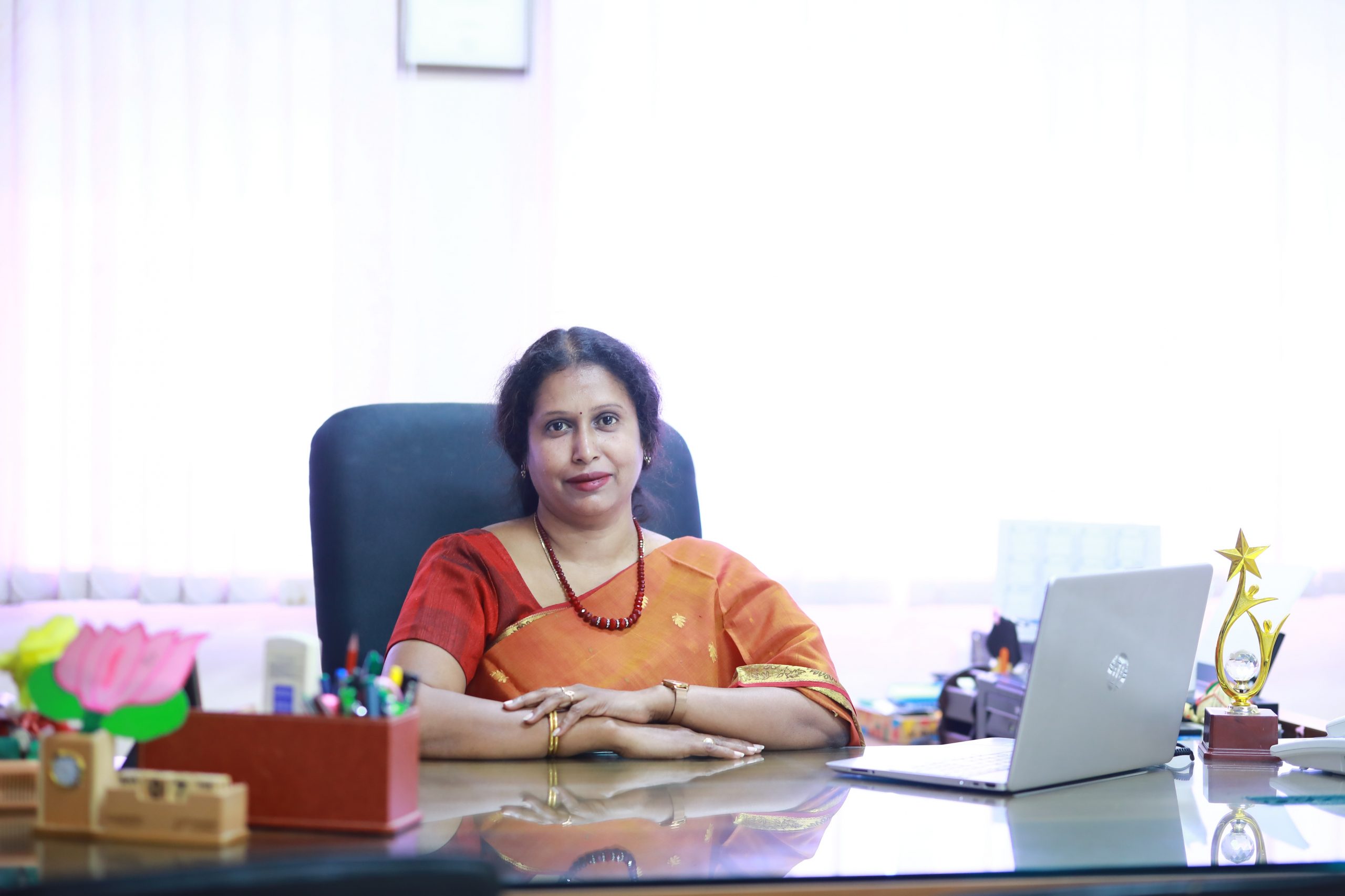 A renowned educationist with a rich experience of 20 years in teaching and institutional administration, Mary Shanti Priya is a leader par excellence, whose passion for excellence and commitment to Vista's vision has led the institution to secure a place for itself among the leading K-12 institutions in Hyderabad.
With two postgraduate degrees in Mathematics, she pressed on for a Bachelor's degree in education and completed her MBA in Human Resources with top honours. She started her career in 1999 as a counsellor but eventually switched tracks by signing up as a Mathematics teacher with Auxilium School, Secunderabad in 2001. Prior to taking charge as the principal of VIS in 2018, she had been serving as a Head Mistress and Mathematics HOD at CHIREC International School, Kondapur.
At VIS, she is an impactful inspiration to her staff members, colleagues and students. Everyone at VIS derives strength and motivation from her energetic and powerful persona. Right from taking responsibility for the daily operations of the school, to training and developing excellent teachers and building a strong school community; she has contributed immensely to the success for VIS school in all the spheres.
During the course of her distinguished career in education, Mary Shanti Priya has won several awards and accolades. Among them: Principal of the Year 2023 at the 5th EduLeader Summit, Top 10 Best Women in Education 2023 of Women Entrepreneur Magazine, 10 Most Influential Women in Education 2020 of CEO Insights magazine, Avantika Atal Bihari Vajpayee Samman 2020 of AVANTIKA, among others.
Contemporary infrastructure crafted at VIS to enable holistic education
Spread over three acres with a built-up area of 1,00,000 square feet, the VIS campus houses 60 ICT-enabled classrooms, well-equipped chemistry, biology and physics labs, two ICT labs, two computer labs, a mathematics lab and a makerspace lab. The campus also hosts an open-air auditorium, impressive facilities for sports, music, dance, skating, and yoga, and well designated spaces for 'Student Interest Clubs' (Literature Club, Arts Club, Creative Writing Club, Culinary Club, Art Club and Craft Club). The school's well-stocked library is stocked with age-appropriate books that enable the young learners to harness the benefits of reading from a wealth of learning resources.
VIS' expansive sports field hosts a cricket pitch, football ground, two basketball grounds, a badminton court, skating rink and running tracks. Well-trained coaches ensure that students make physical activity a regular part of their life. They train students in the sporting disciplines of cricket, basketball, volleyball, badminton, kho-kho, skating, yoga, taekwondo, and athletics with gusto. Well-equipped indoor facilities for table-tennis, carrom and chess, among others, encourage learners to find their calling and pursue the same with fervour.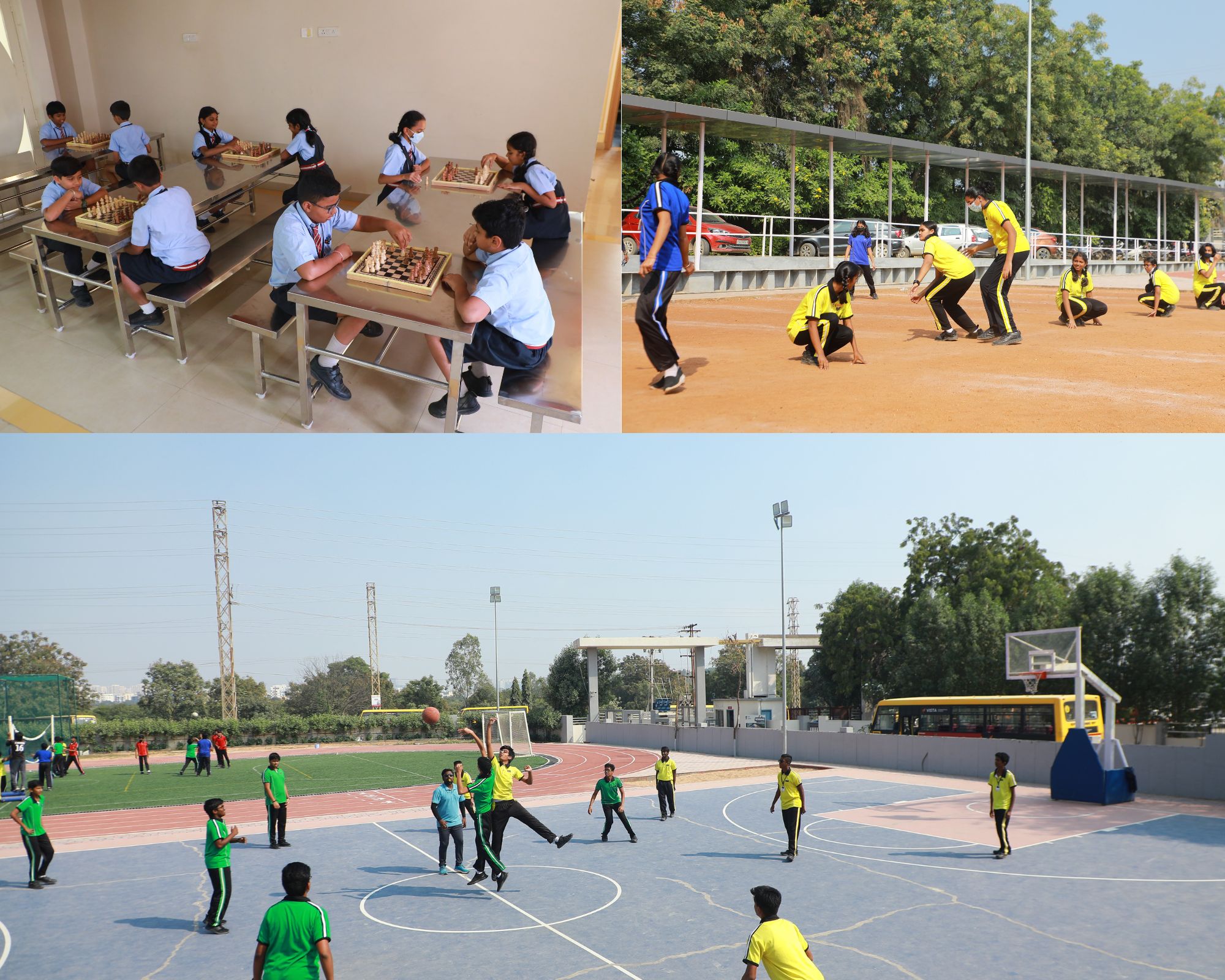 Setting benchmarks in K-12 education
Vista International School presently offers a choice of the International Baccalaureate (till grade 5, with plans to expand it to middle and high school in the future) and Central Board of Secondary Education curricula. VIS' Primary Years Programme encourages children to ask questions and seek solutions instead of relying on knowledge gained from textbooks. High emphasis is placed on language and arts education for effective communication. Experiential and project-based learning supported by Yardstick kits encourages collaboration and team-work. For senior students, VIS offers online exchange programmes and after-school clubs, and promotes global awareness and empathy by encouraging community service.
As a high potential emerging school that has carved a niche for itself in India's K-12 education landscape, VIS' decade-long journey is marked by excellent milestones, steady growth and impressive achievements of its students in diverse areas. Going beyond its commitment to academic excellence, the school offers a rich sports and co-curricular education menu. VIS students have ample opportunities to engage in the arts, performing arts, sports, community service and internationally acclaimed events.
With high importance accorded to life skills education, the school strives to instill sound values and morals in students right from the primary grades through life skills classes. The senior classes are offered life skills education through work education which enables them to develop a sense of identity and responsibility. An inclusive school, VIS hosted the first-of-its-kind Inclusive Summer Camp in the school campus from April 27-May 17, 2022.
Moreover, committed to the continuous professional development of its 115 teachers, the school ensures that they are well versed in innovative teaching-learning approaches and that they continuously upgrade and reinvent their pedagogical practices to cater to the requirements of inquisitive young minds. Regular professional development courses are organised for the teachers – both on and off campus – to help them broaden their horizons and explore new educational approaches.
"The pandemic has been a great teacher. We grew better at listening and focusing on things that truly mattered. Education has undoubtedly gone through a paradigm shift and will go through major changes in the next decade. These changes include curricular changes that determine what is to be learned by learners. Teaching will move more toward competency-based learning that has an emphasis on developing unique skills and abilities. At Vista, we focus on enhancing skill based as well as competency-based learning by exposing students to critical thinking and analytical questions and by providing opportunities for students to take part in different challenging learning opportunities such as collaboration with organisations like the initiative 'Metamorphosis to enhance students entrepreneurial skills' and creative think skills. MANUU for incorporating Skill education. We also offer JDO programmes which help students to collaborate with peers across the globe and imbibe logical and reasoning aptitude classes along with the Maker Space Lab which enables students to innovate and explore," says Mary Shanti Priya.
Vista International Laurels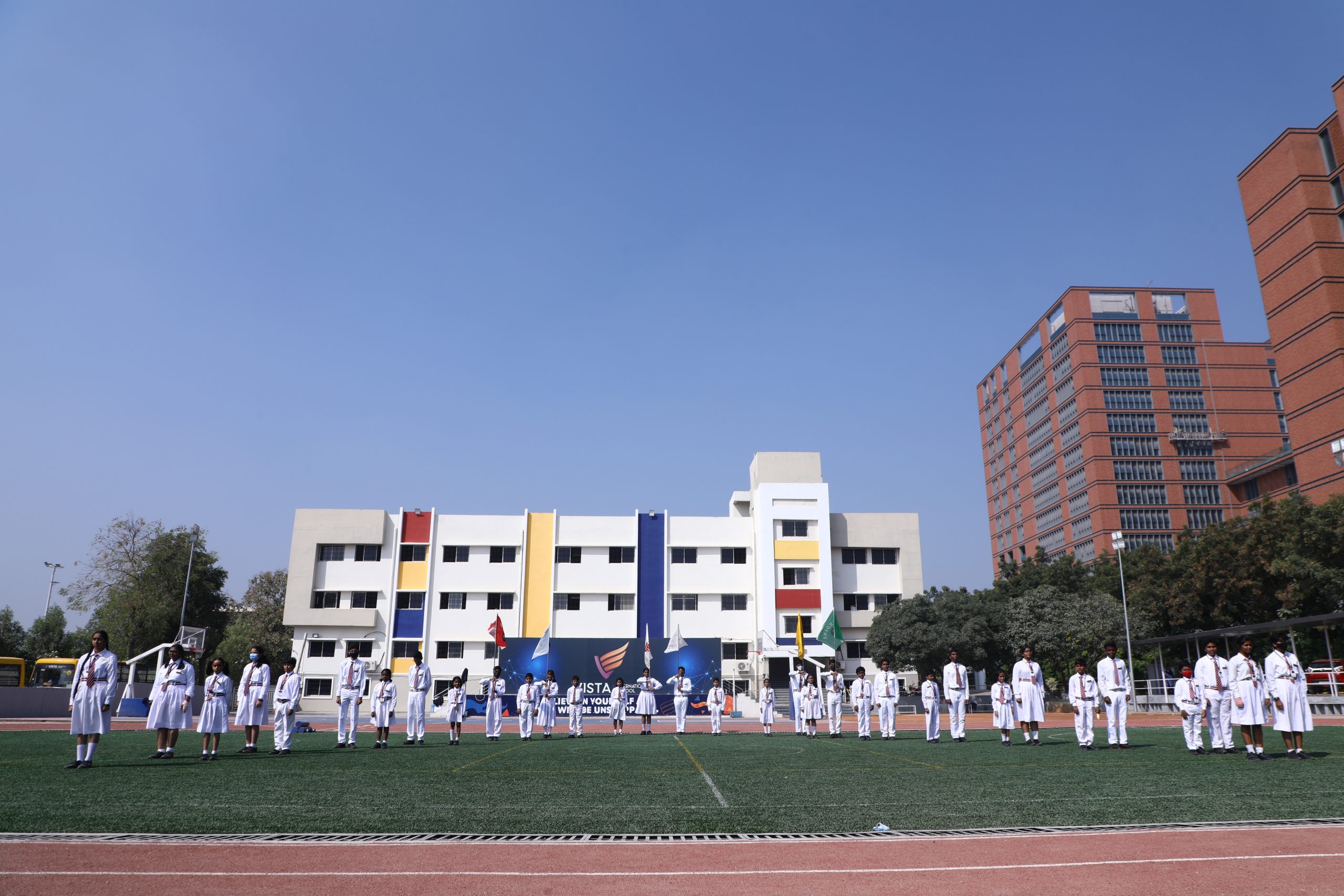 VIS was conferred with the Innovation in Academic Excellence Award 2022 of ELETS Technomedia.
Recipient of Excellence in Implementing Learner Centred Curriculum Award 2022 of Eldrok.
Nashrah Talib Hussain has achieved 98 percent in the standard II NSTSE (National Level Science Talent Search Examination) 2023 organised by the Unified Council. Her state rank was #3.
Anirudh T of class IX bagged the first prize while Vatsal Gupta IX bagged the second prize in the Talent Search Test 2022 organised by Helping Hands – a trust registered with the Government of Telangana.
Adhrit Kumar of class V bagged the third prize in Telangana State Art Competition 2022(year).
Vedant Gundu of class IX stood first in the International Tennis Meet 2022 organised by International Tennis Meet UTR tournaments in Barcelona in Spain. He also won the seven-day Tennis Championship Series organised by AITA in 2022.
Mridhini Ravishankar IX bagged Gold in the Telangana 8th Junior Athletics Meet 2022 and won the 1500 m U-17 race in the CBSE Nationals Athletic Meet 2022.
Class IV student Sudarshana bagged two Golds and one Silver in the district level and two bronzes and one Gold in the state level skating championship hosted by RSFI (Roller Skating Federation of India) in 2022.
Rushitha P of class VII won Silver in Kata and Fighting in the National Karate Championship 2022 hosted by Kiyo Japan Shotokan Karate Association of India.
Yusra Hussein bagged the Gold in the U-60 kg category and Nashra Hussein (Class X) bagged Gold in the U-30 kg category at the District Taekwondo Championship 2022 organised by FIT India World Taekwondo.
Gunda Praharsha of class VIII stood first in the state championship trials of Sub-Junior Artistic Gymnastic Championship 2022 organised by the Gymnastics Association of Telangana.
Lakshit of class II stood first in the U–8 category, Ayan of class III stood first in the U-10 category and Viyan Karthik class IV stood first in the U–12 at the All-India Open Skating Tournament 2023 hosted by Youth Roller Skating Foundation.
Sawmaya Yadav of class IX stood first in U–13 National Sub. Junior Grappling Championship 2022 organised by the Wrestling Federation of India.
Mokshit P of class IX stood first in the U-15 boys category in the SFA Chess Tournament 2022.
Also read:
Vista International School student surpasses all expectations
Campus
,
News