Exasperated by spreading urban blight, post-liberalisation India's expanding and increasingly affluent middle class is becoming enamoured with boarding schools typically sited in the country's still salubrious hill stations, and/or pristine unpolluted campuses on the outskirts of gas chamber cities – Dilip Thakore
The law of unintended consequences works in mysterious ways. Over seven decades ago despite the Indian subcontinent having experienced successful free markets and free enterprise for several millennia which made it the richest region of the world for over five centuries, independent India's first national government led by prime minister Jawaharlal Nehru ill-advisedly grafted the inorganic Soviet-inspired centrally planned and controlled economic development model on to the body politic of the newly independent nation.
The adoption of the socialist model resulted in over 300 government-owned public sector enterprises (PSEs) occupying the "commanding heights of the Indian economy". India's post World War II private industry — the business houses of Birla, Tata, Walchand Hirachand, Lala Shri Ram, Sarabhai, Jamnalal Bajaj among others — which had grown into formidable multi-business conglomerates in the teeth of opposition from the British government of India and were poised to conquer Asian markets and challenge Western industry, were chained and bound in red tape by a newly emerged neta-babu brotherhood.
Consequently, several newly emergent economies of Asia — South Korea, Malaysia, Taiwan, Singapore, reconstructed Japan and Indonesia, and even communist China which were industrially way behind India in 1947 — quickly overtook us and are now ahead on all metrics of the annual Human Development Index of UNDP (United Nations Development Programme).
The damage caused to the high-potential Indian economy by central planning and licence-permit-quota raj has driven over 300 million citizens of free India into extreme poverty (earning less than $1.25 or Rs.100 per day as per the World Bank definition). But this is only one of several acts of omission and commission of the neta-babu brotherhood which refuses to dismount from the back of the groaning Indian economy. With an overwhelming percentage of the annual revenue and resources of the Central and state governments deployed into perpetually loss-making PSEs (including public sector banks) and establishment expenses, governance has suffered grievously. Investment in the law, order and justice machinery is grossly insufficient, and has resulted in crime and criminals running amok countrywide. Likewise investment in public health (1.4 percent of GDP) and education (3.5 percent of GDP) is arguably the lowest among all democracies worldwide resulting in rock-bottom industrial, agriculture and government productivity.
More fundamentally, with the adoption of the Soviet-inspired socialist model (which imploded in the Soviet Union in 1989 and has failed the world over) and the Central and state governments propping up loss-making PSEs, government has criminally neglected one of its most important functions — civic governance. As a result India's 27 cities with populations of over 1 million experiencing continuous migration from cruelly neglected rural India, have grown in a haphazard, unplanned manner transforming into blighted habitations — highly polluted gas chambers hazardous to the health and well-being of their inhabitants, especially children.
According to a 2016 report of the Geneva-based World Health Organisation (WHO), measured by the level of PM 2.5 (particulate matter less than 2.5 micron size) in the air, 14 of the world's most polluted 20 cities are in India. Although it's well-known that Delhi — the national capital — is the world's most polluted megacity (population of more than 14 million) in terms of ambient PM 10 (less dangerous than PM 2.5), Kanpur, Faridabad, Varanasi, Gaya, Patna, are even more polluted and under-governed. And to this list of endangered cities add Lucknow, Agra, Muzaffarpur, Srinagar, Gurgaon, Jaipur, Patiala, and Jodhpur in that order. And although none of peninsular India's cities are ranked among WHO's Top 20 filth list, Bangalore-based environment activist Leo Saldahna believes that complacency about this in the so-called garden city is unwarranted. In a plea made in May for greater regulation by pollution control authorities, he said that "environment regulation has been so badly affected in the last two-three years, nobody is even bothered to check water, air or other form of pollution" in Bangalore (pop. 12 million).
The open, uninterrupted and continuous mismanagement of India's cities fast filling up with economic refugees from the developmentally neglected rural hinterland has had an unintended fallout in the K-12 education sector. British-style boarding schools, some of them of over 150 years vintage and famous for spartan (cold showers and caning) education supplemented with heavy emphasis on co-curricular and sports, which in the early decades after independence were falling out of fashion, are staging a comeback. Exasperated by urban blight — heavy air pollution, aggravations of road traffic, unplanned growth, lack of playing spaces — post-liberalisation India's expanding and increasingly affluent middle class is becoming incrementally enamoured with boarding schools typically sited in the country's still salubrious hill stations and/or pristine, unpolluted campuses on the outskirts of gas chamber cities.
Residential schools are becoming popular once again. Within the country's middle class there's emerging awareness that our rapidly deteriorating cities experiencing heavy pollution, perpetual traffic jams which require day school children to endure long commutes, and shrinking play spaces, are robbing them of their right to enjoyable and fulfilling childhood. In particular, girls boarding schools which offer high quality education in safe and secure environments, are experiencing a resurgence as crimes against women and girl children are rising unchecked in the country's chaotic cities. Moreover, boarding schools which draw students from all castes and communities appeal to liberal and educated parents because they tend to be secular and progressive institutions offering lifelong friendships and networking opportunities for children," says Dr. Sumer Singh, the highly-respected former principal of the co-ed, wholly residential Lawrence School, Sanawar, the co-ed day-cum-boarding Daly College, Indore, and currently an Indore-based education consultant.
The phenomenon of revived public interest in boarding schools is endorsed by Vivek Shukla, director of the Kolkata/Delhi-based Afairs Exhibitions & Media Pvt. Ltd (estb. 1994), a pioneer company which showcases India's best schools and colleges by staging education events and exhibitions across the country and in Thailand, UAE, Bangladesh, Nepal and South Korea.
"Currently, boarding schools within India are stagnating because a large number of high quality day schools have mushroomed in tier-II and tier-III cities. However there is rising interest in neighbouring countries in India's top-ranked traditional and new international residential schools which offer globally comparable infrastructure, English medium education, affiliation with foreign examination boards and excellent climates for playing sports and games all year round. But with India's cities polluted and hazardous to the health of children, boarding and international residential schools have a great opportunity to attract children from middle class and elite households by re-orienting their marketing strategies to publicise their usually green and unpolluted locations as their unique sales proposition," says Shukla a commerce graduate of Calcutta University who together with innovative entrepreneur Sanjeev Bolia has masterminded the growth and development of Afairs Exhibitions (annual revenue: Rs.40 crore) into a transnational company, set to showcase India's top-ranked schools in the US and Europe.
With cities of the plains rapidly transforming into dystopias hazardous to the healthy growth and development of children, on-the-ball managements of private residential schools have begun to advertise their salubrious environments. In the bumper September issue of EducationWorld which featured the EW India School Rankings 2018-19, several boarding/residential schools including the Mody School, Rajasthan, N.H. Goel World School, Raipur, and the Sagar School, Alwar (Rajasthan) among others pointedly advertised their clean air, water and green environments.
The growing appeal of legacy boarding and international residential schools sited in India's still salubrious hill stations (which are fighting spirited battles against invading real estate land sharks) apart, a rising class of go-getting edupreneurs driven by the spirit of enlightened self-interest and/or philanthropy are investing their life savings, time and resources to establish eco-friendly, green residential schools. This tribe is unusually well aware of the importance of fulfilling the potential of 21st century India's children in wholesome, enabling schools delivering globally comparable academic, co-curricular and sports education.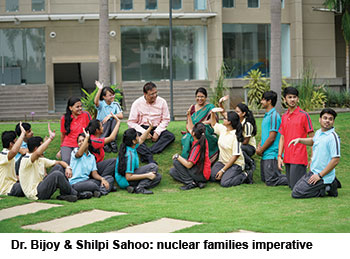 A case in point is Bijoy Sahoo, a former chartered accountant, promoter of the JSS Group (Odisha's first BPO company) and the state's first private software technology park, who switched tracks to start the CBSE-affiliated Sai International School, Bhubaneswar in 2008. Within a decade, SIS has established itself as the #1 co-ed day-cum-boarding school in Odisha, routinely ranked among the national Top 10 in the annual EducationWorld India School Rankings league tables. Moreover, since then, Sahoo has also promoted the feeder Sai Angan preschool (est. 2015) which he claims is the world's largest pre-primary, and more recently the wholly residential CBSE-affiliated co-ed class V-XII Sai International Residential School (SIRS) sited on an emerald 50 acre campus in the Chandaka Reserve Forest skirted by the River Mahanadi, on the Bhubhaneswar-Cuttack highway, a mere 20 minutes drive from Bhubaneswar.
"Two new social realities have deeply impacted the lives of middle class children in India. One is that cities have become very child-unfriendly in terms of clean air and opportunities for co-curricular and sports education. Second, in nuclear families with both parents working, children are left to their own devices for long stretches of time which prompts Internet addiction, and adversely affects their cultural and extra-curricular education. In SIRS our objective is to provide children academic education for eight hours per day and co-curricular and sports education for seven hours in an unpolluted and growth conducive environment. This will enable their all-round growth and development and prepare them to emerge as culturally-rooted and values-driven leaders of society," says Sahoo. In April SIRS, which has a full capacity of 600 children, admitted its first batch of 160 students mentored by 45 teachers.
A tried, tested and committed educationist driven by similar ideals, is Sanjay Padode, promoter-director of the Dalal Street Journal, India's pioneer stockmarkets focused magazine and the Bangalore-based IFIM Business School (estb. 1995), ranked among the country's Top 50 private B-schools in the EducationWorld B-schools Rankings survey 2017-18.
Moved by the pitiable living conditions — air pollution, choked roads and trains and lack of play spaces — that children in Mumbai, the country's commercial capital, are obliged to suffer daily, Padode is finalising construction of the greenfield wholly residential, co-ed class V-XII Vijaybhoomi International School (VIS) affiliated with the Singapore, CAIE (UK) and IB (Geneva) examination boards on a 20 acre verdant campus in Jamrung, on the outskirts of Karjat in the foothills of the Western Ghats, a mere 90 and 128 km from central Mumbai and Pune on either side. According to Padode, this state-of-the-art international residential school with weekly boarding option which will admit its first batch next June, will take middle class households in Mumbai and Pune by storm.
We have selected the site of VIS with great care and consideration in nature's paradise which offers the cleanest air, water, sunlight, rivers, rocks and hills, trees and greenery and rushing waterfalls. The school's campus designed by internationally acclaimed architect and designer Alok Shetty, the youngest recipient of the Lucille Smyser Lowenfish Memorial Award for Design Excellence (2011), is surrounded by hills on three sides with a valley in the west. The entire space has been designed to ensure holistic development of children in communion with nature, who will learn to enquire, endeavour, equip and empower themselves to adapt to change, the only constant of life. The primary school will follow the curriculum of the Singapore Global School group of international schools led by Singapore educationist Jaspal Sidhu, while the secondary school will be affiliated with the Cambridge Assessment International Education board, UK. Higher secondary students will write the International Baccalaureate exam," says Padode who has budgeted Rs.40 crore for completion of the first phase next year when the school will admit 200 boys and girls into classes V-VIII.
Meeta Sharma, an alumna of North Eastern University, Shillong and University College London with teaching experience in The Doon School, Dehradun and hitherto principal of the high-ranked all-girls Mody School, Lakshmangarh — a unique 265-acre oasis in the desert state of Rajasthan — is already on board to recruit 20 teachers for the first phase.
In this connection, it's also pertinent to note that new genre residential schools are springing up in locations far removed from the traditional hubs of boarding and residential schools such as Dehradun, Ooty, Nainital, Shimla among other hill stations. Business savvy new generation edupreneurs are well aware that India's sprawling landscape offers excellent climatic conditions and unspoilt environments conducive for well-rounded education. Thus the state-of-the-art SIRS, Bhubhaneswar has sprung up in the educationally under-served state of Odisha. Similarly the globally-benchmarked and environment-friendly wholly residential Assam Valley School, Balipara (estb.2003) is set amid a green tea garden and has quickly established a reputation to be numbered among the country's Top 5 co-ed boarding schools in the latest EW India School Rankings 2018-19.
The point to note is that nature-friendly, new genre residential schools are mushrooming all over the country, and well within motoring distance of metros and large cities which eliminates the pain of children traveling to distant boarding schools. This phenomenon enables school managements to offer the option of weekly boarding and family reunions during long weekends which reduces the traditional pain of separation associated with boarding school education.
"There are several reasons behind the spurt in demand for high quality boarding school education. Educated middle class parents are becoming increasingly aware that mere academic excellence doesn't guarantee a good future for children. The development of life skills, holistic personality and ability to communicate effectively are crucial skills for 21st century children. Boarding schools offer greater opportunities for children to develop these additional life skills. Taurian World School, Ranchi was conceptualised and built with nature playing a pivotal role in the development of children. We chose the site carefully, in a serene valley amid hills and greenery. We didn't cut a single tree while building the school. Instead we have planted 10,000 trees within the campus in the past few years. As a result, we have thousands of birds breezing freely through our campus and our students wake up to the chirping of birds instead of an alarm clock," says Amith Bajla, an alumnus of the London School of Economics and IIM-Ahmedabad, and promoter-chairman of the Taurian World School, Ranchi (TWS, estb.2008).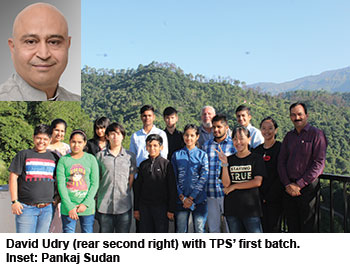 Sited on an expansive 64-acre nature-friendly campus in the educationally backward state of Jharkhand carved out of Bihar in 2000, this co-ed boarding school affiliated with CBSE has quickly established a national reputation for providing its 425 students mentored by 65 teachers, high-quality holistic education. In the EducationWorld India School Rankings 2018-19, TWS is ranked #11 among co-ed boarding schools countrywide and #1 in Jharkhand (pop. 36 million). Designed and landscaped with futuristic buildings, the school has demarcated 30 acres for playing fields and sports (athletics, badminton, basketball, cricket, football, squash, swimming and horse-riding among others), and the management prides itself on its dairy of 52 cows, and for growing 40 percent of its food on a captive 12 acre organic farm. "It's unfortunate that the majority of middle class children countrywide grow up in the confusion of three Cs — content, concrete and computer, living far from nature. In TWS we live like a family in our own forest, growing most of what we eat," adds Bajla.
While the mushrooming of environment-friendly traditional and new genre international schools deliberately sited in carefully chosen clean green environments across the country is one reason why there is a resurgence of interest in residential schools within the prospering middle class, another reason is that even well-established boarding and residential school managements have transformed into ardent champions of green schooling. For instance, a major USP of the Rishi Valley School, Chittoor (Andhra Pradesh, estb. 1926), repeatedly ranked India's # 1 co-ed boarding school in the annual EW India School Rankings, is its eco-friendly curriculum and championing of green causes.
Similarly all top-ranked vintage and state-of-the-art international boarding and residential schools are big on environment education and causes and host strong and active green clubs on their campuses. Moreover although seldom proclaimed, it's well-known that managements of legacy schools use their networks of alumni who have risen to high government positions to ensure that polluting and environment damaging industries and companies don't spring up in their neighbourhood. Thus almost all of the country's top-ranked vintage boarding schools such as the Doon School, Dehradun, Lawrence Sanawar and Lovedale, Mayo Ajmer and even Daly College sited in the heart of Indore, have been conspicuously successful in keeping their campuses clean and pollution free.
Yet another major cause of the comeback of boarding schools is the high calibre and impressive track records of the new generation of educationists and edupreneurs promoting globally benchmarked residential schools across the country. Although trendy leftists, socialists and jholawalas who dominate academia, as well as self-styled journalists given to hyper-ventilating on the idiot box believe that they are exploiters of the middle class and the poor, the plain truth is that most latter day edupreneurs tend to be successful professionals who have forsaken lucrative and promising careers to do their bit to develop the country's long-neglected, but high-potential human resource.
A case in point is Pankaj Sudan, a chemical engineering graduate of Panjab University, Chandigarh with an MBA from the highly-fancied Asian Institute of Management, Manila who began his professional career in the Delhi, Andaman and Nicobar Islands Civil Service where he served for a decade (1992-2002), before moving to ICICI Bank (2002-05), multinationals GE India (2005-12) and Dutch State mining (2012-15).
In 2014 Sudan experienced a pauline conversion to education, and together with 29 like-minded business and industry professionals registered the Change Makers Society whose members have crowd-funded the co-ed, class V-XII The Plenum School (TPS) sited on a five-acre campus in the scenic Simore district of Himachal Pradesh, on the Nahan-Shimla highway, two hours by road from Chandigarh. TPS which has already appointed its first principal David Udry, an alum of Columbia University, and former principal of the Gems Genesis International School, Ahmedabad and Mt. Litera International School, Mumbai and six teachers, admitted its first batch of 12 class VI and IX students on September 3.
"There's no doubt that India's metropolitan cities weighed down by heavy pollution have become a health hazard for citizens, especially children and the elderly. However the reality of contemporary India is that tier-II and tier III cities such as Moradabad, Kanpur, Shahranpur etc are in even worse condition. They are filthy and crowded and prompt aggressive behaviour and child abuse on a huge scale. This reality of urban India enabled me to persuade 29 like-minded former government servants and industry professionals to jointly promote TPS in the meticulously chosen environment of Nahan, nestled in the Himalayan foothills in a pine forested valley offering excellent vistas of the snow-capped Churdhar mountain range. This wholly residential co-ed school offers only international pedagogies and curriculums and will be affiliated with CAIE, UK and IB, Geneva," says Sudan.
The silver lining of the country's failing education system which raises the spectre of this benighted republic becoming a supplier of ill-educated, low-skilled coolies to the world, is that the passion to establish high quality private schools to nurture future generations is spreading to small town India, despite the hostility of the neta-babu brotherhood and jholawallahs who prefer to ignore the fact that private education in India is priced lower than in any other country worldwide.
An illustrative example is the Tejas International Residential School (TIRS, estb.2017) in Bagalkhot, a small, untidy town (pop.150,000) set in arid and developmentally neglected north Karnataka. Constructed on a 22 acre green campus on the outskirts of the town by local industrialist Murugesh Nirani with the "core goal to teach and guide our students to lead healthy, satisfying, balanced and high-quality lives", this co-ed day-cum-boarding school affiliated with the Delhi-based CBSE, currently has 200 children mentored by 27 teachers led by Amit Singh, a former housemaster at the top-ranked Welham Boys School, Dehradun, on its muster rolls.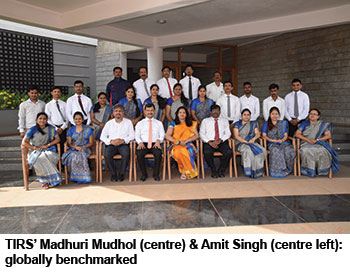 "Until TIRS was established as North Karnataka's first globally benchmarked co-ed CBSE-affiliated school last year, this region was educationally under-served and our children were obliged to go to boarding schools in Bangalore. Therefore Mr. Nirani who had entered the education sector six years ago by establishing the CBSE-affiliated Vijay International day school in Bagalkhot, promoted TIRS as a co-ed day-cum-boarding school for the children of this and other districts of North Karnataka. In keeping with the best traditions of top boarding schools, we have built an environment friendly KG-VII campus on which we have planted over 100 new trees. Moreover TIRS is equipped with modern fully-wired classrooms, labs and excellent facilities for all games except horse-riding," says Madhuri Mudhol, a law grad of KLE University, Hubbali and prominent businesswoman of Bagalkhot who is a co-promoter and president of TIRS, which over the next few years will be converted into a wholly residential school "comparable to the country's best".
With the neta-babu brotherhood which has almost destroyed the country's 1.30 million government schools through casual corruption and conversion into employment exchanges for ill-qualified kith and kin, having also levelled down India's cities into chaotic, dystopian gas chambers injurious to health, boarding school education which provides children the increasingly rare luxuries of fresh air, clean drinking water, safety and security, is making a comeback in the middle class consciousness.
Although carping criticism from obsolete lefties is unlikely to abate in the near future, a combination of factors including spreading urban blight, public awareness of the value of high quality holistic education, rising purchasing power of the fast-expanding middle class and emergence of a new generation of eduprenuers driven by enlightened self-interest, is sparking public interest in boarding /residential education far from the country's madding crowds. Undoubtedly the nation will be the better for it.
India's spreading urban blight
The latest updated urban air quality database for 2016 released by the Geneva-based World Health Organisation (WHO) in May, is a telling indictment of the neta-babu brotherhood which has micro-managed the Indian economy for almost seven decades under the Soviet-inspired central planning socio-economic development model. The WHO report unambiguously states that Indian cities have become death traps because of very high levels of PM 2.5 (particulate matter less than 2.5 micron size) in their atmosphere. PM 2.5 infiltrates the heart and lungs of citizens causing heart disease, chronic obstructive pulmonary disease and lung cancer.
According to WHO, of the 20 most polluted cities in the world, the top 14 are in India. The Top 20 list includes Kanpur, Faridabad, Varanasi, Gaya, Patna, Delhi, Lucknow, Agra, Muzaffarpur, Srinagar, Gurgaon, Jaipur, Patiala, and Jodhpur — in that order. Although India's national capital Delhi, which has become globally infamous for its high levels of pollution every winter, is ranked #6 in India, it is the world's most polluted megacity (population over 14 million) with the highest PM 10 pollutant, marginally less damaging than PM 2.5.
A few years ago the neta-babu brotherhood whose pet public sector enterprises established at huge cost to the nation mired the Indian economy in the "Hindu rate of growth" (3.5 percent per annum) for over 40 years after independence, used to derive some comfort that China's cities were more polluted than India's. But since then the Chinese have substantially cleaned up their act. "While in 2013, as many as 16 Chinese cities were among the 20 most polluted cities in the world, including Beijing, now there are only four Chinese cities among the top 20 in 2016. It is just the reverse trend for India. In 2013, about three Indian cities were among the top 20 which has now increased to 14 cities in 2016, according to the updated database," writes Anumita Roychoudhury, in the well-known monthly Down to Earth (May 2) published by the Delhi-based Centre for Science & Environment.
Government and public response to the spreading urban blight phenomenon is a mixture of oriental fatalism and helpless despair, providing a ready excuse for the country's over-subsidised feckless middle class to cut and run Westward. Never mind that its college and university education has been heavily subsidised by the poorest of the poor, and that the Western nations rolled up the welcome carpet years ago.
The best available option for saving India's sinking cities is to give teeth to the 74th Amendment to the Constitution enacted into an eponymous Act of Parliament in 1993. In sum, the 74th Amendment Act devolves powers on civic municipal corporations to tax and administer the country's crumbling cities through empowered ward committees. This model, under which local committees comprising bona fide property owners are empowered to levy and spend a substantial proportion of property taxes developing their wards, is working very effectively in most Western countries.
But this enabling legislation has been torpedoed by the neta-babu brotherhood in the states which ensures that party-backed candidates not subject to the property ownership qualification, are elected to ward committees. This arrangement in which property taxes accrue to state governments for downward disbursal to municipal wards, provides sufficient opportunities for leakage and canalisation of urban property taxes into rural bailiwicks. Hence the pathetic — and worsening — conditions of India's 8,000-plus cities and towns.
Also read: India's top-ranked co-ed boarding schools 2020-21