High blood pressure or hypertension is a growing public health concern across the globe today. The so called 'silent killer' has so far been able to establish itself primarily in the low and middle-income countries. Lifestyle factors such as excess salt in the diet, excess body weight, smoking, and excessive alcohol consumption are the largest contributing factors for hypertension. Today, on the occasion of World Hypertension Day — incepted by The World Hypertension League (WHL) — Dr. Pradeep Haranahalli, chief consultant cardiology, Manipal Hospitals, Whitefield, Bangalore speaks to our correspondent Odeal D'Souza about the causes, prevention and treatment options for hypertension.
With over 12 years of experience in the field of medicine and cardiology with specialised training in cardiac interventions, Dr. Haranahalli is one of the leading interventional cardiologists in the city. He completed his MD – Internal Medicine from the Rajasthan University of Health Sciences, Jaipur in 2008 and DM – Cardiology from the LPS Institute of Cardiology, GSVM Medical College Kanpur in 2013. Prior to commencing his practice in Bangalore, Dr. Haranahalli worked with the erstwhile Escorts Heart Institute, New Delhi.
Hypertension symptoms
The two types of hypertension are primary hypertension and secondary hypertension. Primary hypertension is also called essential hypertension that amounts to 90-95 percent of people with hypertension where there is no single reversible or treatable cause. Secondary hypertension amounts to five to ten percent of people where there is an identifiable treatable cause.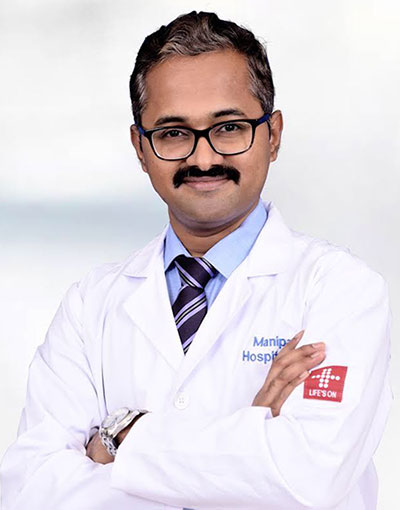 According to Dr. Haranahalli, some of the commonly reported symptoms of hypertension include severe headache involving back of the neck, fatigue, confusion, lack of concentration, lack of sleep, pounding sensation in the head and ears. Sometimes it is detected only when the person experiences complications such as stroke, heart attack, or heart failure. Thus, it can enormously affect the quality of life and productivity of a person.
Reasons for hypertension
"Hypertension is mainly caused due to the nicotine present in the cigarettes that can elevate the blood pressure by 10-20 mmHg. Consumption of excessive alcohol, dietary habits, and dietary sodium intake increases blood pressure, while it decreases with dietary potassium intake. Fetal under-nutrition and low birth weight with reduced kidney development are considered to increase risk of BP in the later years. "Hypertension is a clearly defined risk factor for stroke, heart attack, heart failure, atrial fibrillation and kidney failure. 62 percent of strokes and 49 percent of Coronary Heart Disease (CHD) are attributable to hypertension," says Dr. Haranahalli.
Impacted age group
Dr. Haranahalli says, "The age group affected is young adults between 17-25 years, middle aged typically 30-50 years and older adults post 55 years. Based on the current data around one billion people suffer worldwide. It is estimated that the number of people affected with it could reach 1.5 billion people by 2025, which amounts to one-third of the world's population, out of which 80 percent will be living in the developing nations."
Dealing with high blood pressure
Management of high blood pressure involves continuity of care with your physician, periodic clinic/hospital visit for consultation and checkup, regular use of medications. "Apart from taking medicines, regular physical activity involving a minimum of 30-45 minutes of brisk walk daily for at least 5 days in a week, weight loss measures, low salt potassium rich diet, regular practice of relaxation techniques, avoiding cigarette smoking and restriction of alcohol use and quality time spent with family are of utmost importance," says Dr. Haranahalli
Ways to avoid it
According to Dr. Haranahalli, the Dietary Approaches to Stop Hypertension (DASH diet) is a prescription for life-long eating pattern designed to help prevent or treat hypertension. It emphasizes on right portion sizes of a variety of food and nutrients. DASH diet encourages reduction of dietary sodium content and promotes calcium, potassium and magnesium use thus help lower blood pressure. DASH diet is based on the use of whole grains, several servings of vegetables, fruits, low fat dairy products, lean meat, poultry, fish, nuts, seeds and legumes. It limits alcohol use to no more than two drinks a day for men and one or less for women. Regular physical activity involving a minimum of 30-45 minutes of brisk walking or equivalent daily for at least five days a week, avoiding smoking cigarettes and excessive use of caffeine in soda, maintaining optimum body weight are the most effective ways of avoiding cardiovascular disease.
Let's walk! Proven health benefits of walking
International
,
News