In 2010, the United Nations (UN) declared October 15 as "World Students' Day" to mark the birthday of APJ Abdul Kalam. A prominent Indian scientist and a visionary, popularly known as the "missile man", Kalam served as the 11th President of India from 2002 to 2007.
He is also a Bharat Ratna awardee, which is the highest civilian award in the country. He was presented with the honour for his contributions and research in the field of science as well as his work with the Indian Space Research Organisation (ISRO) and the Defence Research and development Organisation (DRDO).
"Teaching is a very noble profession that shapes the character, calibre, and future of an individual. If the people remember me as a good teacher, that will be the biggest honour for me." – Kalam.
Also an author and teacher, Kalam truly believed that education is the fundamental right of every Indian child. But there's a section of society, where illiteracy is still a prevalent cause. As per government statistics, as of 2011, India's literacy rate is at 74.04 percent, which means more than 20 percent of Indians don't have the means to receive proper education.
Despite various initiatives taken by the government to encourage children to join school, the efforts are not completely futile. However, there are a few evangelists in the country who, having faced poverty themselves, have not stepped back when it comes to imparting education to the underprivileged.
Recommended: Remembering late APJ Abdul Kalam, India's missile man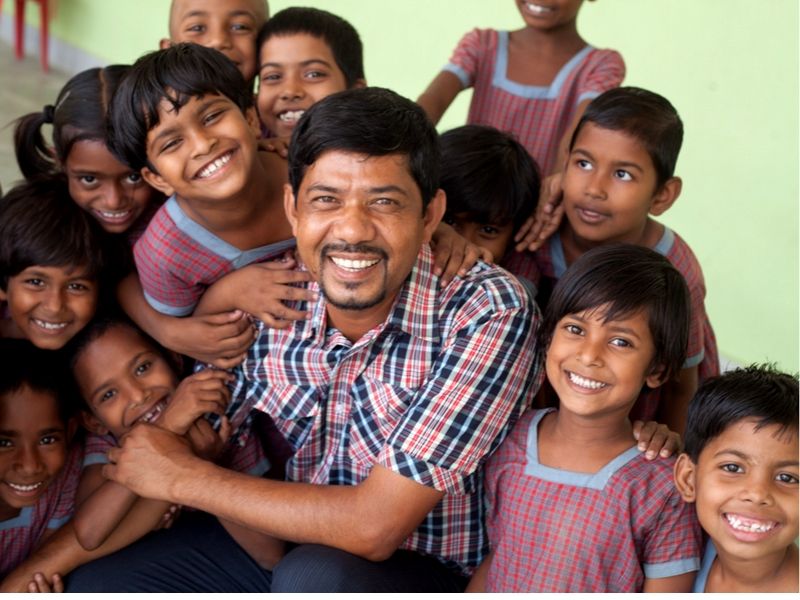 One such organisation is Piali Ashar Alo, a primary institution which provides education to underprivileged girls in West Bengal. Founded by Anup Gayen and his wife, Mojca in 2008, it started with 12-15 students, two rooms and a teacher. Now it has developed into a full-fledged school with 160 girl students enrolled in it, 8 teachers and classes starting from nursery to 8. It is also well-equipped with computer labs and conducts extra curricular classes such as dancing, singing, and theatre. "We are planning to make higher classes as well," says Anup.
Piali Ashar Alo, which means light of hope, truly stands to its name as it saves girls from child marriages and trafficking. "The parents of girls belonging to poor families feel that girls require no education," adds Anup. The Gayens felt that the scenario needs to change and thus started the mission of educating the underprivileged kids.
Anup says that "since it is the mother who takes care of the entire family, we believe she should be literate as that is how the children can grow in good human beings . If the mother is literate, the whole world will be literate. That is our concept."
"A person may be class 8 educated or a graduate, but if he doesn't know basic manners, humanity, and to be responsible for your family, then what is the point," says Anup. He also says that giving back to society and being a good human being is what truly describes one's worth.
Similiarly, Delhi-based Lakshmi Chandra has been imparting free education to 300 underprivileged children, classes for which he has been conducting under a metro bridge near the Yamuna riverbank in Delhi. His main motive is to ensure that these children get basic education and has been running the school for the past 13 years.
Named as The Free School Under the Bridge, it currently teachers 300 students including both girls and boys. Consisting of seven teachers, they have volunteered to teach the students aged between three to fourteen years, in their free time.
Chandra says, "We have started the school for the betterment of children belonging to the poor strata of society. I believe education is the best way children can move forward. I too grew up in poverty and realise the importance of education to change lives. I always tell my kids that it is only knowledge that stay with you lifelong." Most of the students are children of ragpickers, beggars or auto rickshaw pullers, who cannot afford basic education for their children.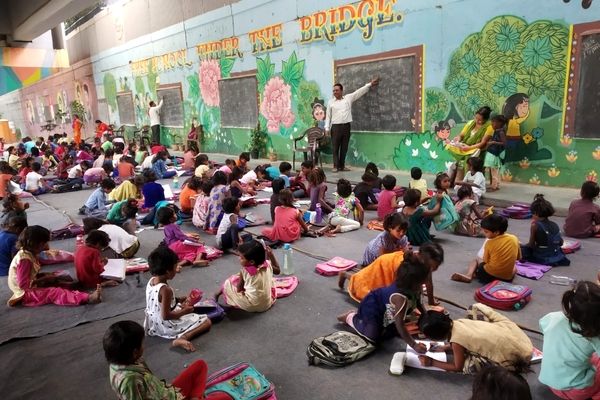 Chandra also visits various household from the slums and check if they have a child who is 3 years or older and whether that are getting any proper education. "I then convince the parents of these kids to allow them to study as it will do nothing but help them in the future following which they send their kids here." he says. Taught in Hindi, classes of every subject are conducted her including science, math, hindi, history, geography and sanskrit.
International
,
News