Runa Mukherjee Parikh (Ahmedabad)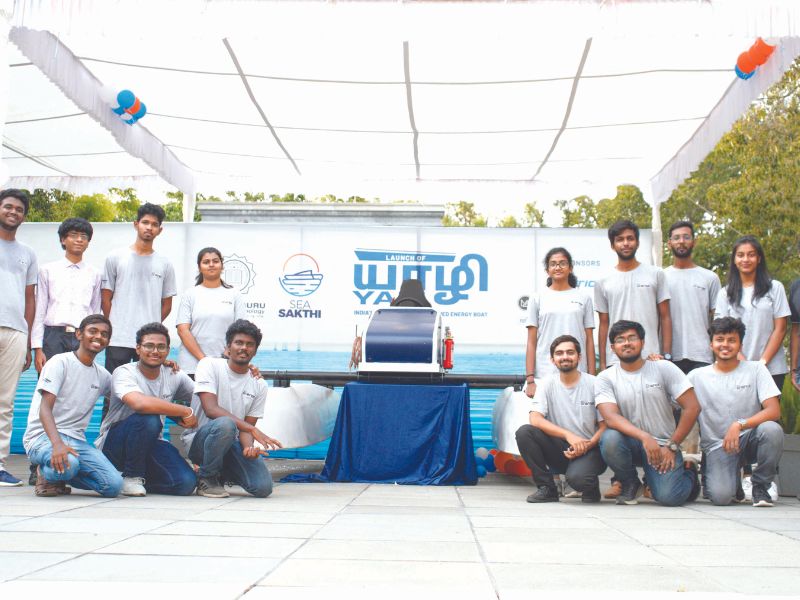 A 14-member team of Kumara­guru College of Technology, Coimbatore (KCT, estb.1984) bagged the communication prize (€2,000) in the Monaco Energy Boat Challenge (MEBC) international competition, in which technical uni­versities from 21 countries partici­pated. This year's MEBC version 9.0 held in Monaco on July 6-9 required participating teams to build sustain­able boats within specific design parameters and race them against each other. Among 16 teams in the en­ergy class category, KCT's Team Sea Sakthi was ranked #6 based on their performance in the qualifiers, endur­ance and slalom races.
Team Sea Sakthi— comprising engineering under­grads Mohan, Anjana Prasad, Manav R. Samant, Kishore K, Swamina­than C, Pratigya S, Shakthieswaran M, Anandh B, Vikash S, Naveen V, Gerontius Leo L, Vekash S, Barathraj M and Sanaa Mohammad — was mentored by KCT Garage, a stu­dent research and innovation hub established to prepare teams for national and international-level sports competitions. Technically and financially supported by the Pune-based Legrand India Pvt. Ltd, a com­pany that manufactures electrical and digital building infrastructure, and Quench Chargers (Ador Diga­tron Pvt. Ltd), an electric charging solutions company and several other firms, the team submitted its pro­totype to MEBC in December 2021, and after it was approved, designed and fabricated their speed boat using a zero-emission energy propulsion engine.
"We decided to use aluminium to build the cockpit of our boat christened Yali. The boat is pro­pelled by a Torqeedo electric motor of the Netherlands-based Rim Drive Technology powered by a 200AH lithium iron phosphate battery and flexible solar panels as a secondary source. Yali was successfully tested in Chennai port prior to the competi­tion," says Sanaa, spokesperson of Team Sea Shakti.
Now back in KCT, members of Team Sea Sakthi are enriched by the experience. "Designing, fabricating and racing our boat against college teams from 21 countries was an in­valuable learning and benchmarking experience. It provided validation that our engineering programmes are as good as any in the world," says Sanaa.